After years of uncomfortable and sometimes dangerous run-ins between parts of Billings' transient population, the police, employees and the lunch-eating public, the downtown Hardee's has fenced off its outdoor patio.
The restaurant plan is to soon tear out the patio.
The patio was a favorite spot for some of downtown's transients; it provided cover and a place to sit away from the street. But for that reason it became a popular spot to drink and for some to pass out, said Tony Nichols, one of the downtown bicycle patrol cops. 
"It was definitely a hot spot for people to go," he said. 
Hardee's has long tried to mitigate the problem. For a while one of the past managers would patrol the patio himself, asking people to leave and sometimes calling the police when they refused. It helped for a while but over the years it become more dangerous and a liability to the company. 
Rob Baker, the regional manager for all the Hardee's restaurants in Billings and in the surrounding area, said the patio and the area around it simply got too dangerous.
"Someone was stabbed in our drive-thru," he said.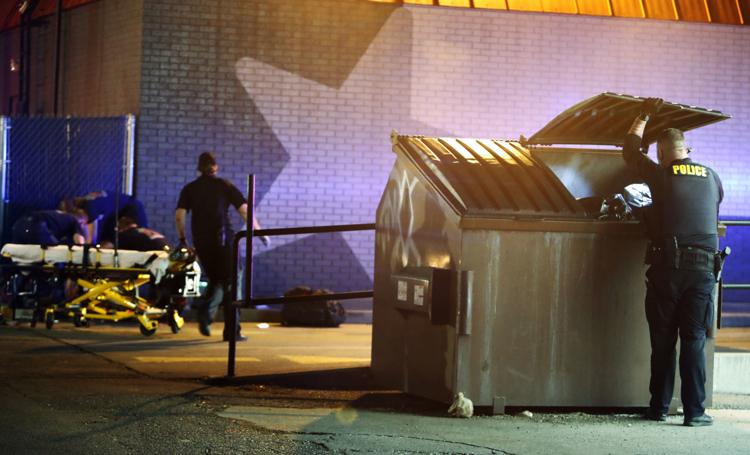 Before that, an employee ended up in the hospital after being assaulted when he tried to help a man who appeared to be incapacitated in the parking lot. Baker said the best solution at this point is simply to remove the patio area and take away the incentive to congregate around the restaurant. 
"We're going to remove everything out of there," Baker said. "We're just going to take it all down to the ground."
You have free articles remaining.
Baker expressed some frustration at having to remove the patio area. 
"I wish the city would do something to help us solve the problem," he said. 
The patio area is adjacent to a parking lot owned by Billings Clinic, and Baker hoped he could maybe sell it to the hospital. But he said they haven't expressed interest. 
"We'd love to sell it to them," he said. 
Nichols acknowledged that removing the patio will help the loitering problem that's often associated with that corner of North 27th Street and Sixth Avenue North. But it won't solve the problem, he said. 
"They'll find another place to go," Nichols said. 
It's an issue Billings has long tried address. Shelters, resource centers and mental health services have been placed or relocated downtown to help alleviate the problem. Nichols explained that part of the problem now is that the county jail is at capacity and so those transients who get in trouble for drinking in public or loitering are only cited and aren't taken to jail.
And many of them know that jail isn't an option, Nichols said, so that's reduced how effective he and his partner can be as they interact with some of the transients. 
"It's frustrating for everyone," Nichols said.  
Yellowstone County Commissioners on Thursday told leaders from the Community Crisis Center and the Hub, both downtown social services, that an…