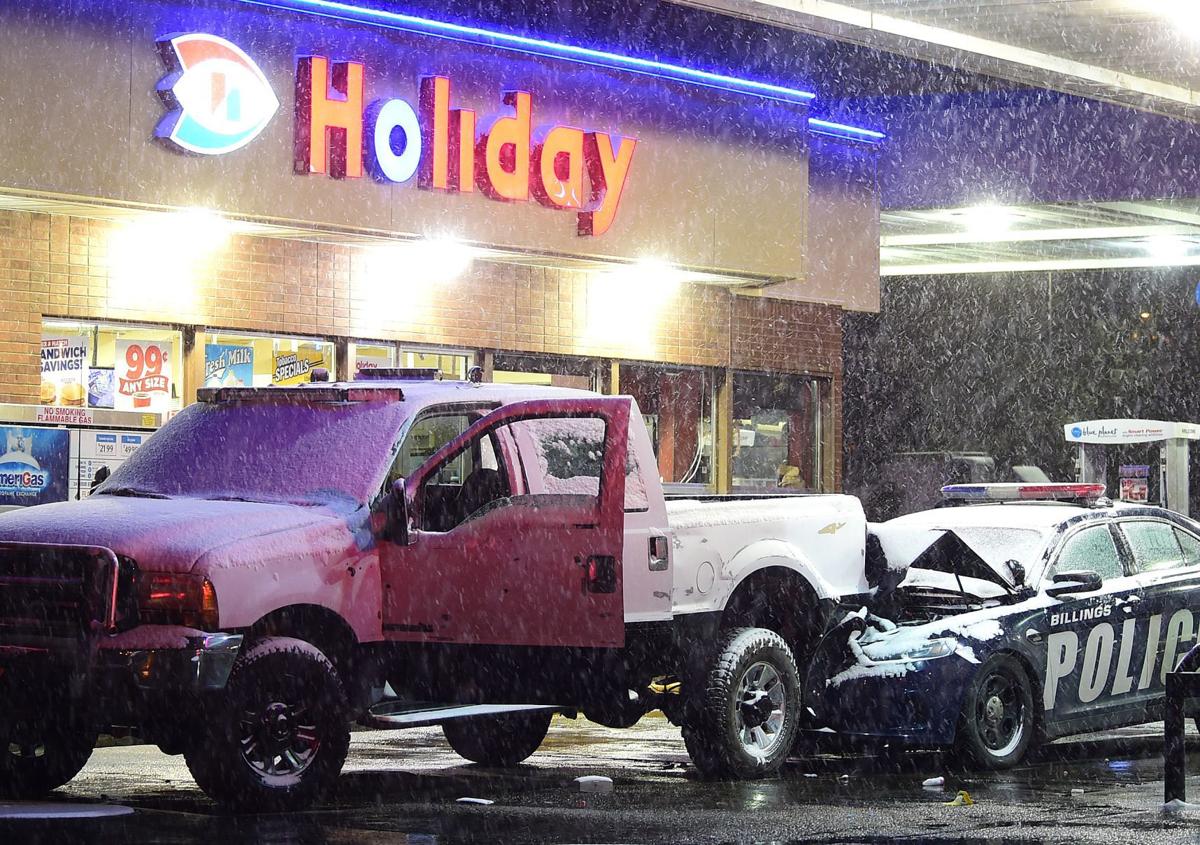 A man driving a vehicle reported stolen this week rammed police vehicles early Wednesday morning before officers shot at him multiple times in a gas station parking lot, according to Billings Police Chief Rich St. John.
The incident sent the man and a police officer to the hospital with injuries.
Police initially approached the vehicle at about 2:45 a.m. because it matched the description of a Ford F-350 involved in a recent burglary, St. John said in a press conference Wednesday morning. The shooting took place at the Holiday Gas Station located at the corner of Sixth Avenue North and North 27th Street.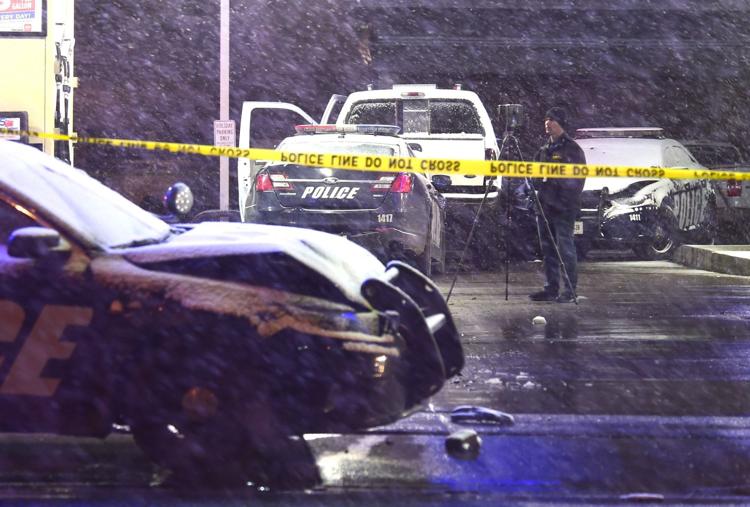 St. John didn't identify the suspect, pending charges, but described him as a 30-year-old white Billings man known to police who was on probation and had multiple outstanding warrants. The man who was shot did not have life-threatening injuries but was still hospitalized late Wednesday morning.
Officer Tracy Icard, a 44-year-old BPD officer with more than 20 years of law enforcement experience, was also hospitalized.
Icard was released from the hospital later Wednesday morning, St. John said. Police were not wearing body cameras. St. John said the incident, including audio, was recorded on car cameras, and that surveillance video from two businesses also shows some of the incident.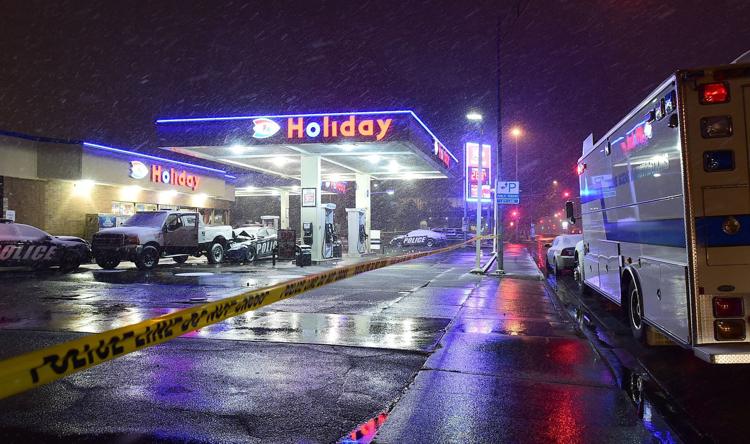 Icard did not shoot at the suspect, but two other officers did — Jeremy Boeckel, a 38-year-old officer with nine years of experience, and Brett Hilde, a 28-year-old officer with three years of experience. As of the press conference it was still undetermined who fired which shots and how many were fired, St. John said. Answering that question would be part of the investigation conducted by Billings police detectives, St. John said. St. John said that to his knowledge neither officer had been involved in any previous shooting incidents.
The results of the investigation will be forwarded to the Montana Department of Justice and the Yellowstone County Attorney's Office for a third-party review, he said.
In April 2018 BPD had the second highest rate of fatal police shootings since 2015 for U.S. cities with a population between 100,000 and 200,000, with a rate of 6.35 incidents per 100,000 residents. That rate was driven in part by five fatal shootings during the previous year, the Gazette reported in 2018.
St. John said the information he was relaying to press Wednesday morning was preliminary. He then described the minute in which the violent incident took place. Police who were following a vehicle they thought could be connected to an earlier burglary found themselves in the path of a Ford F-350 pickup being driven in a way that made them fear for their safety, St. John said.
Before any shots were fired, Icard had spotted the truck near Seventh Avenue North and North 27th Street and saw it turn into the Albertsons Parking lot and cross Sixth Avenue North into the Holiday parking lot. "It appeared to him that the suspect vehicle was trying to cut through parking lots to get back on 27th and continue heading south," St. John said.
Icard followed the truck and positioned his car along the parking lot entrance it had used.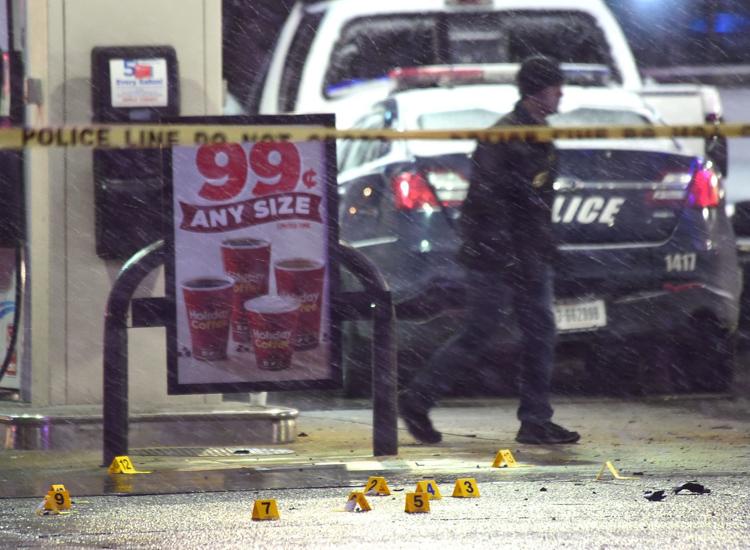 At about the same time Hilde pulled into the Holiday parking lot from North 27th Street and shortly found his vehicle nose to nose with the pickup, St. John said. The truck then "reversed and rapidly accelerated backward, swinging to the left and in doing so rammed Officer Icard," St. John said.
The suspect then accelerated forward through a chain-link fence separating the Holiday parking lot from the Ryan's Used Car Lot, which borders it to the east. The truck took out 40 feet of fence, knocked down or pulled over 10 posts, and hit a car parked in the Ryan's lot, St. John said.
Hilde approached the car on foot thinking it was caught in the fence, St. John said. Boeckel arrived and parked behind Hilde and also approached the truck. The truck then reversed about 100 feet into Hilde's car with enough force to deploy the airbag and push it into Boeckel's car, St. John said.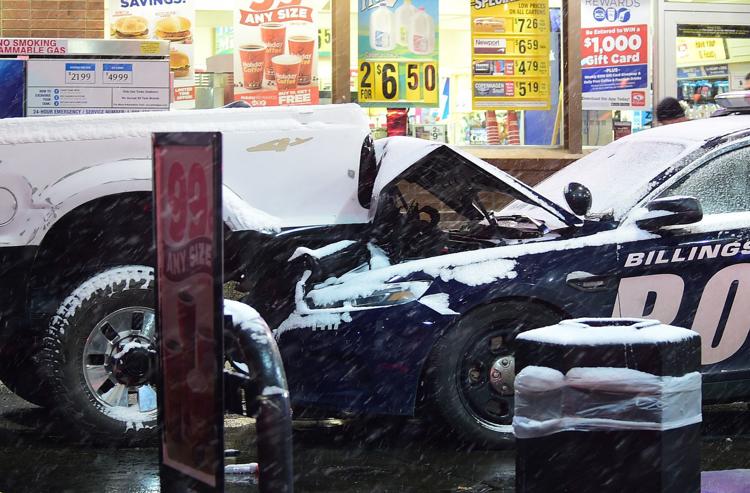 The truck continued, pushing one of the vehicles partially onto North 27th Street. The impact hooked and pinned Hilde's car under the truck, St. John said.
The truck then drove forward, dragging Hilde's car as Icard moved into a blocking position. Boeckel and Hilde believed the truck was preparing to ram Icard again and that other people were at risk, St. John said. Boeckel and Hilde fired on the driver's side of the truck, St. John said. The truck slowed but continued forward and hit Icard again.
Police "secured the suspect" took him to a hospital, St. John said.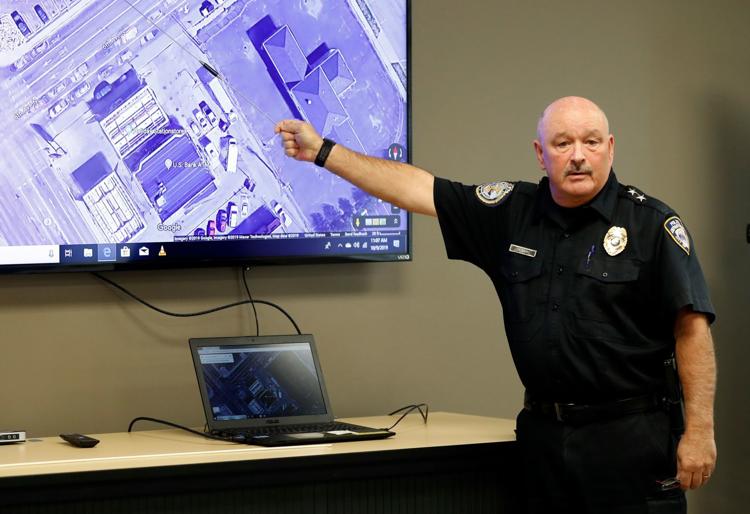 St. John said that police are not in a hurry to charge the suspect but intend to thoroughly and properly investigate the incident. He said a variety of offenses took place during the incident.
In particular St. John singled out the truck's backing up into Hilde's car and driving it and Boeckel's vehicle across the parking lot as a sign of violent intent.
"The second time when he backs into those police cars, it's my opinion, and my opinion only, that was an intentional, aggressive act to injure or kill police officers," St. John said.
The information that the pickup was reported stolen earlier this week was new as of the press conference, the chief said. He said he did not have more information on that incident.
The car Hilde had been driving appears to have been totaled, St. John said. All three vehicles had visible front end damage as they sat in the Holiday parking lot Wednesday morning amid accumulating snow. Detectives were still on scene as of 9 a.m. The entire parking lot was blocked off with crime scene tape. At least 10 evidence markers could be seen on the ground several feet to the west of where the pickup was stopped. A police car was in front of the truck and another was behind it. The BPD crime scene investigation van was parked nearby. Some morning commuters slowed in their vehicles on Sixth Avenue North to look at the crime scene or take cellphone pictures.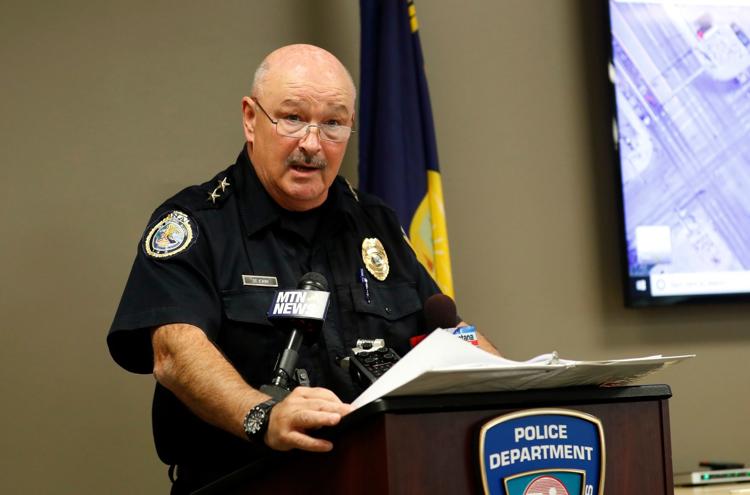 Hilde and Boeckel were placed on administrative leave per department policy toward officers involved in a shooting. Icard is expected to miss time as he recovers from being hit, St. John said. The loss of three officers could put the department on minimum staffing.
"Minimum staffing requires us to go to work with no less than nine," St. John said. "And if we don't have nine then we're either holding people over or calling people in."
"It significantly affects our operation," St. John said. "Captains and lieutenants are pretty nimble at making things work and we always, always have been able to answer the bell when somebody calls."
This is not the first shooting incident at the Holiday Gas Station at 2620 Sixth Ave. N. In 2011 Daniel Valenzuela was fatally shot at the gas station by Cleveland Benjamin Boyer. In 2012 Michael Brandon shot at police officers at the same gas station before police fatally shot him during an exchange of fire in the Dude Rancher Lodge.
Get local news delivered to your inbox!
Subscribe to our Daily Headlines newsletter.