River levels on the Yellowstone and Clarks Fork of the Yellowstone are trending away from flood stage, Tuesday forecasts showed.
That news has left top disaster and emergency officials in Carbon and Yellowstone County optimistic.
"It seems like we got away with not too much damage," said Brad Shoemaker, Yellowstone County emergency services director after a flyover of the county Tuesday.
"What I would tell everyone is if you got sandbags and you did preparations, I would keep them until the historical end of runoff, which is usually mid June," he said. "There's nothing wrong with being extra prepared through the end of this. Don't go disassembling everything yet, but it looks like we're doing pretty well."
A flood warning continued Tuesday for the Clarks Fork of the Yellowstone near both Belfry and Edgar where the river remained at minor flood stage. 
The emergency operations center that activated Friday in Carbon County for potentially historic Clarks Fork flooding remained active Tuesday but would not continue meeting unless the forecast or river levels change, said Carbon County disaster and emergency services coordinator Tom Kohley.
"The situation overall is much improved," but, "A large rain event could have a pretty significant effect on this," Kohley said. 
The Clarks Fork on Tuesday was believed to be at about 8.8 feet near Fromberg, where Kohley and other officials hosted a community meeting Monday night in the high school gym. During the meeting, Kohley announced that evacuation warnings would be issued if the river hits 9.3 feet. If the waters reached a geographical boundary, what Kohley described as their line in the sand on the eastern side of town, evacuations would become mandatory. 
Forecasts last week of a historic crest above 10.4 feet would have put about 47 structures at risk in Fromberg, Kohley said. 
At Edgar, the Clarks Fork was at 9.11 feet by 4 p.m. Tuesday. Minor flood stage is 8 feet at Edgar.
You have free articles remaining.
Keep reading for FREE!
Enjoy more articles by signing up or logging in. No credit card required.
At Belfry, the Clarks Fork was at about 8 feet Tuesday by 5 p.m., compared to a height of 8.55 feet Monday. Minor flood stage is 8.5 feet at Belfry.
Both locations were forecast Tuesday to have the river drop below flood stage Saturday. 
The Yellowstone River at Billings was running at a height of about 13 feet Tuesday afternoon and forecasts from the National Weather Service extending through June 8 did not show the river reaching even minor flood stage.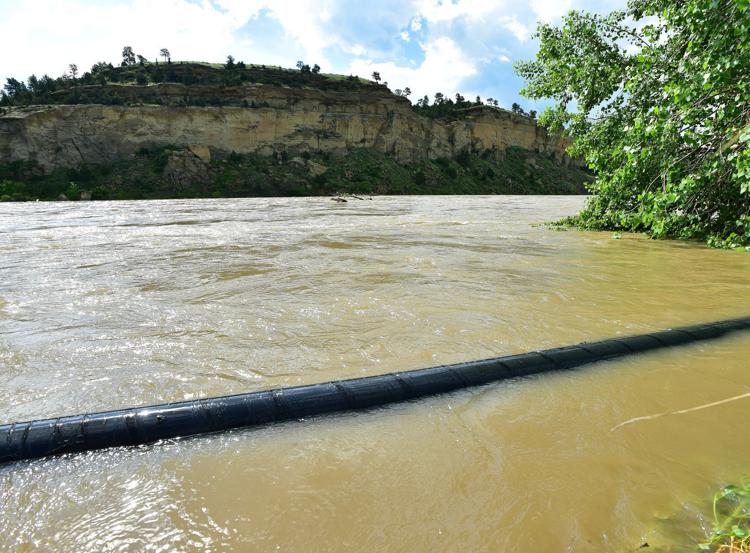 The river reached up to 13.38 feet on Memorial Day, still shy of the 13.5-foot threshold for minor flood stage. A weather system that was previously expected to drop significant precipitation over Yellowstone County ended up shifting away from the area Monday.
Still, Billings set a daily record for Memorial Day precipitation with 1.13 inches of rain, breaking the record of 0.51 inches set in 1982. 
When floodwaters recede, detailed examinations of levies and bridges will take place to inspect for damages, Shoemaker said.
Bank erosion remained a concern for parts of Mullowney Lane and in Laurel. Some walking paths along the river in Billings had been damaged, including an approximately 10-foot-wide gravel path near Josephine Crossing that appeared to have been halved by erosion.