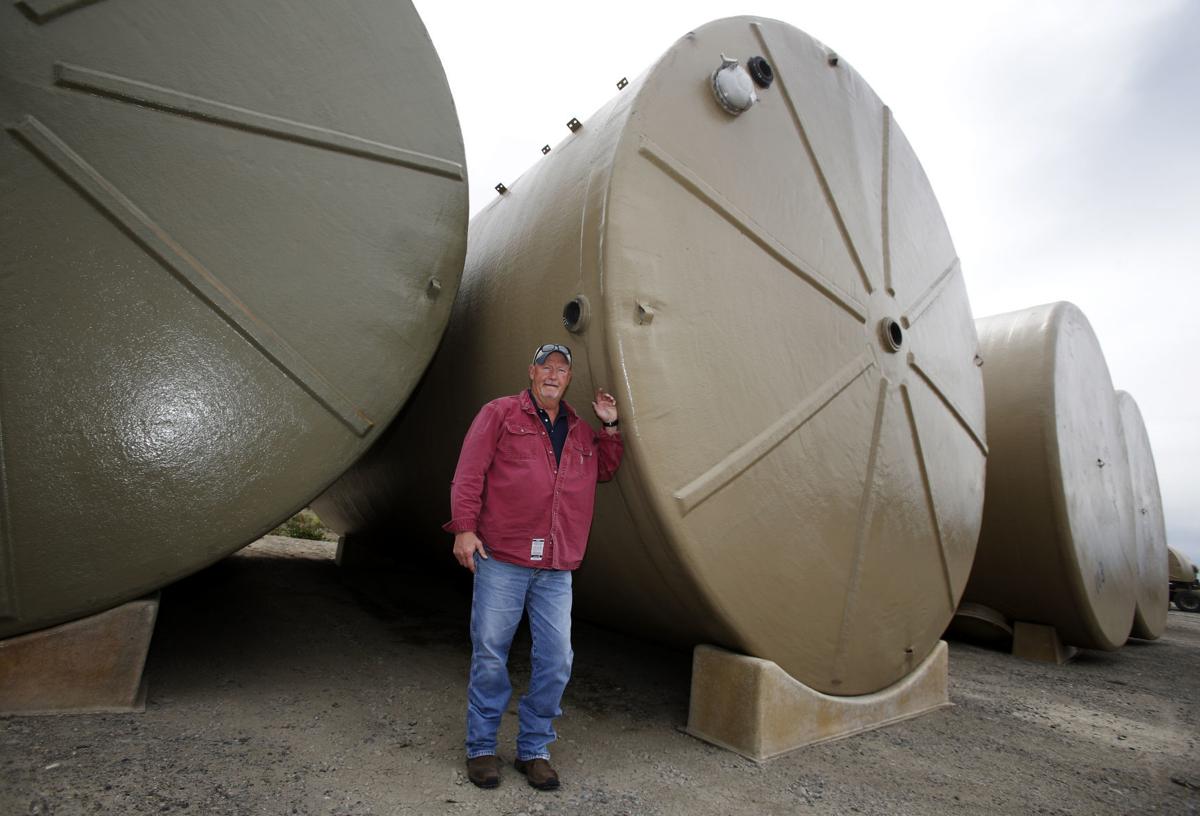 After oil market prices around the world fell below zero last Monday, Fiberglass Structures, Inc. of Laurel had to furlough about a dozen workers and lost about 90% of its oilfield business in a week.
The company manufactures salt brine tanks used in the oilfield to collect water produced when oil wells are drilled. And now that more and more wells are shutting down, the business is taking a major hit, said company president Rob Harris. The company makes tanks for other purposes, like chemical storage and agricultural use.
Oil prices dipped into rare negative prices recently because of the COVID-19 pandemic forcing most people to stay home, resulting in less demand for fuel for everything from cars to cruise ships to jetliners.
Multiple nations and the Organization of the Petroleum Exporting Countries (OPEC), an international organization comprised of 13 countries, agreed to cut nearly 10 million barrels of oil production before the crash on April 20, according to the Associated Press. 
Oil production cannot be stopped completely, and starting wells back up can be expensive, too. Even as oil prices slowly start to creep up again, many small well and operating businesses in Montana and the region wonder what's next.
Harris has been involved in the oil industry since 1976, and has never seen a downturn like this. The pandemic only adds to industry headaches.
"It's 40-plus years that I've been involved with this and there's been nothing comparable," Harris said. "It's a double-whammy."
A number of the oil wells in central and north-central Montana have been "shut in," which temporarily halts production of a well that can easily produce again, according to Alan Olson, executive director of the Montana Petroleum Association. He estimates that about 1,000 Montana wells have been shut in at this point.
"These are Montana-based companies, these aren't national corporations," Olson said. "These are little mom and pop operators."
Olson said the current downturn is worse than the oil collapses of the 1980s and 1990s.
"This is by far the most disruption I have ever seen in this industry," Olson said.
Central and north-central Montana have the largest share in small oil producers in the state. Crude oil in central Montana was priced at -$43.92 on April 20, while oil in north-central Montana was priced at 25 cents a barrel the same day. In 2019, oil was priced around $50 a barrel.
There's an oversupply of oil, and as tanks fill, places to store oil are disappearing. Many traders in the U.S. last week had to pay to take the oil off their hands.
Nationwide, crude oil volumes in storage reached an all-time high during the week of April 17 at 518.6 million barrels. During this time last year, about 460 million barrels were on-hand.
Many motorists, however, are welcoming the low prices at the gas pump. Gas at Costco and Sam's Club was selling for as little as $1.65 a gallon on Friday, according to GasBuddy.com. Gas at most other stations in Billings wasn't much higher at $1.74 a gallon.
Tom Hauptman, president of KGH Operating Co., headquartered in Billings, said that about 95 percent of the 50 wells he operates in Colorado, Utah and Nebraska have been shut in since the downturn began last Monday.
He can't afford to keep employees working and can't make enough money to keep wells operating.
"I can't break even with these prices," Hauptman said.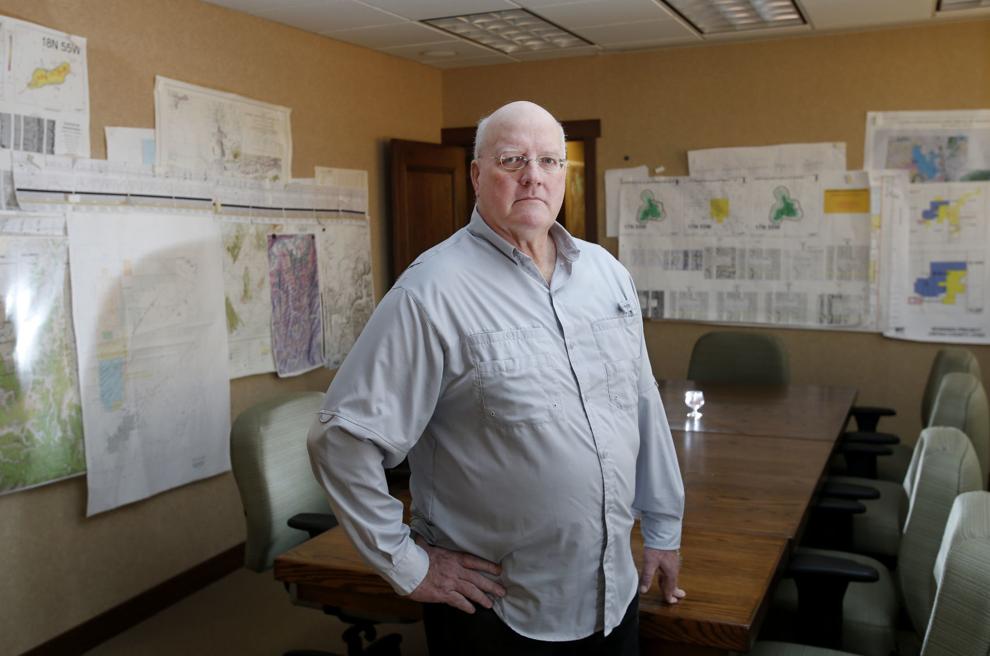 Dave Ballard, president of Ballard Petroleum Holdings, headquartered in Billings, is one of the largest oil producers in the Powder River Basin. With a production office in Gillette, Wyoming, the company operates about 120 wells in the Powder River Basin in Wyoming and the Williston Basin in North Dakota.
While Ballard hasn't had to layoff any employees, he's had to shut in about a dozen wells. That hasn't happened since the company started in 1992.
No one saw plummeting oil prices coming, Ballard said.
"I didn't think there was anything like that possible in the markets — that you'd ever have to pay people to take your oil away," Ballard said. "That was new for a lot of us."
Most oil operations involve some sort of bank debt, Ballard said. It's an expensive business to start operating in, and when oil prices fall, banks are less likely to lend money to an operating company.
Depending on the type of well, completing a well and purchasing a pump can cost $5 to $9 million.
A change in cash flow and what banks will lend affects future plans.
"When both of those variables change — the amount of cash flow you have and the amount the banks will lend you — it puts a pinch in the go-forward plan for these companies," Ballard said. "Virtually all of these companies are working through those conversations with their bankers and working out a plan to be able to get six or 12 months down the road."
Ballard said with downturn, he's had to start having conversations with his bankers. Decisions will be made soon on if other wells will be shut in.
Companies have to pay for electricity, field staff, chemicals and other expenses to keep lines clear of a byproduct called paraffin, and hauling water that's produced during extraction.  
Ballard has 17 employees in Gillette, and about 28 in Billings, and the possibility of losing employees is still on the table. But he's optimistic that the oil industry will improve.
"There's always that worry and the possibility," Ballard said. "We just sort of know that in this business you try to solve your problems a few months at a time here. There's a lot of times where you're not worried about your viability, but during a downturn, you are."
Refineries are also feeling the pinch of the downturn, but Olson noted that there is no anticipation of shutting any refineries down in Montana. 
The ExxonMobil refinery in Billings continues to meet its contractual commitments, according to ExxonMobil spokesperson Dan Carter. The company doesn't comment on specific unit operations or production rates, Carter said.
Laurel's CHS Inc. refinery also doesn't comment on specific refinery operations. A spokesperson for CHS said the company constantly monitors market conditions and adjusts operations to ensure diesel and gasoline supplies.
Many wells operate in smaller communities, and the taxes that come from oil businesses is essential to keeping those towns alive, Olson said. About 4,600 wells operate in Montana where they average a production of only 15 barrels a day. Still, these wells employ locals and feed families.
"Some of these little companies have been in the same families for multiple generations," Olson said. "Their children and grandchildren have worked there."
Olson said he sent a letter to Gov. Steve Bullock requesting clarifications and assistance, but did not ask for tax concessions or financial help from the state. He asked about extensions for paying tax bills and royalties if needed, and allowing electronic signatures for reports on well status and production. Olson said he hasn't received an answer from the governor's office yet.
Communications director with the governor's office, Marissa Perry, said in an email that recommendations and comments from nearly every sector of the state's economy have been submitted to the governor's Coronavirus Relief Fund Task Force. The task force is "looking at petroleum industry impacts alongside other industry sectors."
But as the industry improves, and more businesses start opening up as Bullock implements his three-phase reopening plan, the economy will get strong again.
Before the collapse, Harris said that the company, and its corporate owner, LF Manufacturing, was preparing for the worst about a month ago. Harris said that his furloughed employees are welcome to come back to work when the economy improves. 
"Our corporate people said that we need to hang on, because this thing is going to get bad and it did," Harris said.