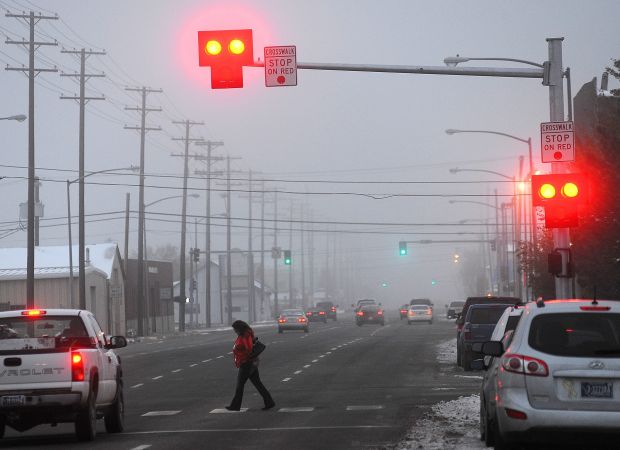 Six months after an experimental crosswalk signal was installed on Fourth Avenue North, motorists apparently are still getting used to it.
Erin Claunch, an engineer with the city of Billings, said a lot of people clearly don't understand yet how the signal works. The good news is that people seem to be erring on the side of caution.
"These people who are doing it wrong are still doing it safely," he said.
The HAWK signal, as it is called, is the first of its kind in Montana. It was installed last May at Fourth Avenue and North 20th Street, just down the block from the new U.S. Interior Department office building at 2021 Fourth Ave. N.
The signal is activated when a pedestrian pushes a "walk" button, which triggers a flashing yellow light. That changes in a few seconds to solid red, advising motorists on Fourth, an eastbound one-way street, to stop.
The light switches to flashing red after another interval, which is intended to tell motorists they can proceed through the intersection, after stopping, if there are no pedestrians in it.
The most frequent misunderstanding, Claunch said, involves the flashing red. Most drivers think they must remain stopped until the light shuts off.
If one person knows the rules and proceeds on flashing red, Claunch said, "everybody follows suit. ... It takes that one person to take the first step."
And if some motorists don't understand the signal, many pedestrians, Claunch acknowledged, still don't use it.
Between 7:30 and 8 a.m. Wednesday, only three pedestrians activated the signal. Between 11:50 a.m. and 12:20 p.m., only three individuals or groups of pedestrians activated the signal. Many other people at both times of day crossed the street in the middle of the block or simply didn't use the signal to cross at North 20th Street.
One person who did use it was Marie Blumhardt, who works for the Bureau of Indian Affairs. She and two colleagues used the crosswalk shortly after noon, and Blumhardt said she uses it every time she parks south of Fourth Avenue.
"It's better than trying to hopscotch along where people don't stop," she said.
Kira Harris, a Bureau of Reclamation employee who used the signal a bit later, said she almost always parks on the south side of Fourth and always uses the signal.
Motorists, she said, are "definitely not used to it. You can get two lanes across and have a car whiz by, or slam on the brakes and almost hit you."
And though she hasn't heard of anyone being hit at the intersection, "I know there's been a few close calls," she said.
Claunch said there's nothing engineers can do about people crossing the street in the middle of the block. That happens whether there's an uncontrolled intersection nearby, or a traffic signal or a pedestrian crosswalk, he said.
People will naturally cross the street without a signal if there are no cars in sight, he said, but "when it's extremely congested, that's when you're going to see it used."
The city put the HAWK signal (for "High-intensity Activated CrossWalK") there because a regular traffic signal was not warranted under federal guidelines. And they knew that with 360 employees but only 165 on-site parking spots, the new federal building would add a lot of foot traffic to the area.
Claunch said the Public Works Department is hesitant to put up a sign explaining exactly how the sequence of lights works, thinking it might be too wordy and only add to the confusion. 
He said engineers will continue to monitor the situation, and hope that a majority of drivers eventually get the hang of it.
"We're slowly starting to see more and more people figure it out," he said.