A 700-pound grizzly bear draped its arm over a silvery keg in the grass, his head turned slightly, dark eyes staring into the distance.
It was the perfect portrait.
How did Bruno the ZooMontana grizzly bear get his paws on a keg?
"Empty kegs make great bear toys," ZooMontana executive director Jeff Ewelt said in an email. 
That photo of Bruno provided the inspiration for a Red Lodge Ales label — the same brewery that gave the keg to the zoo's bears. 
Slapped all over with brewery stickers, the photo captured a seemingly pensive, relaxed moment in the life of the 7-foot-tall omnivorous mammal. Zoo-goer Cathy Spahn snapped the picture one day and shared it with ZooMontana. The photo made it onto Facebook, and Red Lodge Ales shared it in February 2016.
"It was probably our most-liked Facebook photo ever," Red Lodge Ales owner Sam Hoffmann said.
It was a hit with fans of both bears and beer, so the brewery used the image as the inspiration for the label on their current seasonal offering, Bruno's Montana IPA.
The beer — a dry, fruity, five-hop offering brewed with a touch of honey — should hit shelves next week. 
"This year it finished out a little above 7 percent (alcohol),"  Hoffmann said. "So it's definitely a stronger one."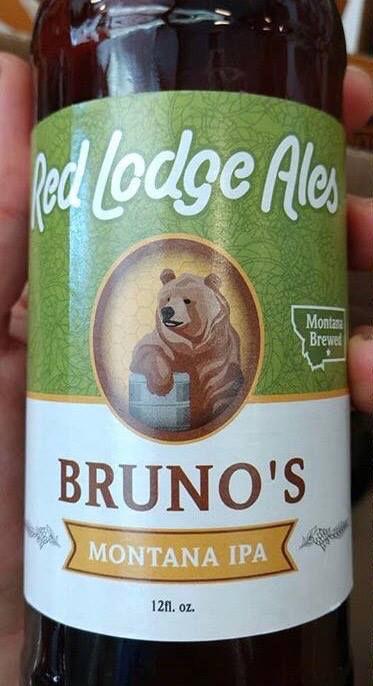 Hoffman said he has known Ewelt since he worked at the Yellowstone Wildlife Sanctuary in Red Lodge. 
"So we've kept up a little," Hoffmann said. That's how the empty beer keg came into Bruno's orbit. 
Massive Studios out of Bozeman designed the image, which shows a grizzly with its arm draped over the keg. Yellow honey-comb hexagons form a golden background for the bear's portrait. The rest of the label is green and illustrated with curling vines laden with hops. 
The hops and a few other touches, including barley strands framing the beer's name, are new features for a Red Lodge Ales beer label. Some of the design elements on Bruno's Montana IPA label could be seen on many more Red Lodge Ales products in the future, Hoffmann said.
Honey used in the fermenting process came from Sunshine Apiary in Columbus, and Hoffman said the beer is made with a base malt fueled by barley grown in Montana's Golden Triangle. 
It's on tap at Red Lodge Ales, and should be more widely available next week. Retailers selling the beer include Albertson's, Lucky's Market, Evergreen IGA and 3G's. Hoffmann, who also owns Last Chance Cider Mill and Pub, said the beer should be on tap there next week.
This is the second year Red Lodge Ales has offered the Montana IPA. 
Bruno's Montana IPA has a deep golden color, a dry texture and falls on the less bitter end of the IPA spectrum, Hoffmann said. The combination of hops give it a fruity hop character and aroma. The beer is slated for availability for March and April. A few cases have been known to survive into May, but Hoffmann said the Montana IPA is one of their more popular seasonal beers. 
Bruno won't be getting a taste of the brew, but Ewelt guessed that a few of his zookeepers might be interested in sampling the beer. Hoffman said he has donated a keg for a zoo fundraiser next month. 
On top of that, Red Lodge Ales has donated another old keg to the bison at the Yellowstone Wildlife Sanctuary. 
"Who doesn't like a keg to play around with?" Hoffman said.