While recent reports of stolen mail stoked rumors of ballot theft, the U.S. Postal Inspection Service has not found voters to be a target.
"This event started with some complaints of thefts of ballots, which didn't actually turn out to be legitimate ballot theft," said U.S. Postal Inspector Jeremy Leder.
Billings police received at least 10 reports of stolen mail around Oct. 19, some of which included absentee ballots. The calls came from various Billings neighborhoods, and police didn't see an immediate pattern to the thefts. Some had ballots stolen, others had not.
The reported thefts led someone to launch a full-page ad in The Gazette, which offers a $5,000 reward for information about stolen mail from the Augusta Ranch area. The ad doesn't mention ballots and provides a phone number for the Billings Crimestoppers hotline.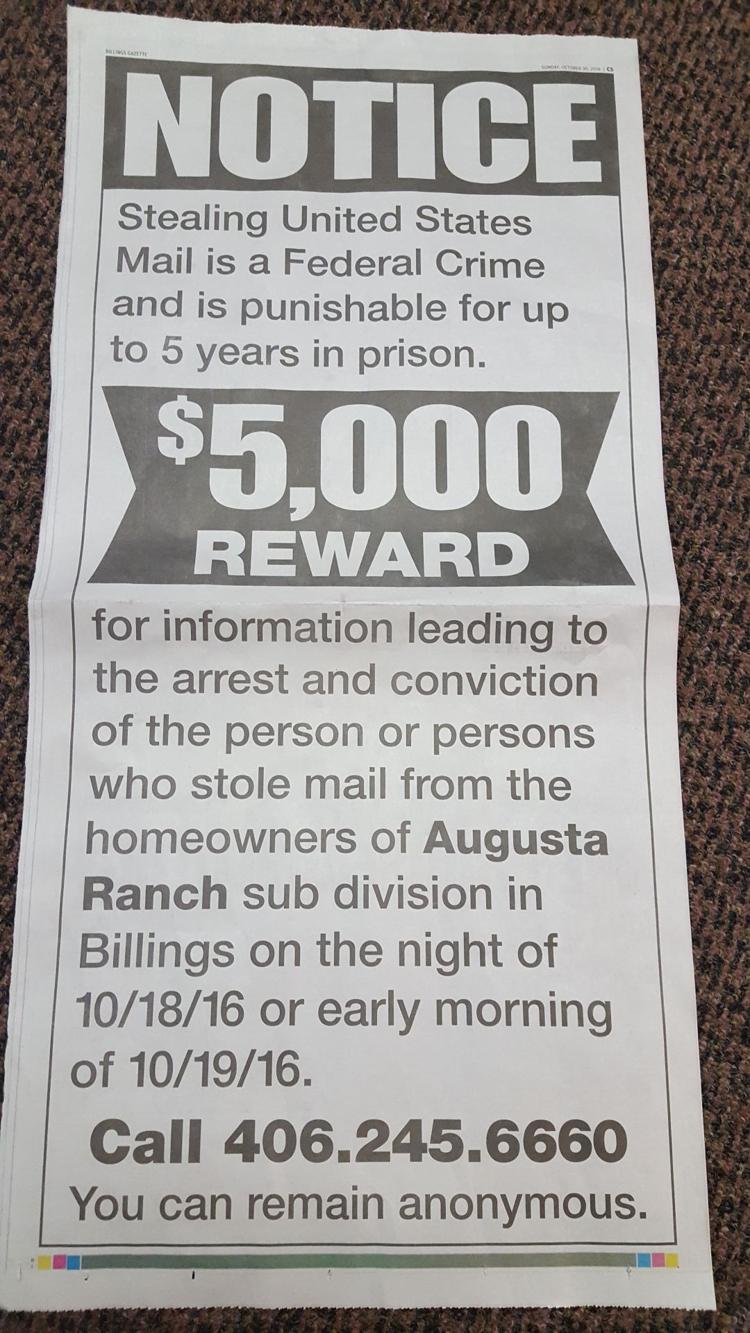 Leder said Billings' local postal inspector, who is a federal officer, has worked with police in the matter. Mail theft is a federal crime, and he said the Postal Service takes the reports seriously.
But he said that there was no evidence that thieves were targeting ballots.
"That wasn't the case," Leder said, "but it certainly made us want to go out and dispel that rumor."
You have free articles remaining.
Keep reading for FREE!
Enjoy more articles by signing up or logging in. No credit card required.
Yellowstone County Elections Administrator Bret Rutherford said he hadn't received additional reports of absentee ballot thefts or calls to invalidate a potentially stolen ballot.
"I would assume that if the police department gets reports they would talk to us, too," he said.
By Monday his office had received nearly 40,000 returned absentee ballots. About 20,000 are still out, Rutherford said.
This election season has seen high-profile politicians, such as Republican presidential nominee Donald Trump, openly question the safety of the election process.
The narrative has been present in Montana politics this year, especially after reports earlier this month of volunteers offering to take voters' ballots to elections offices in Missoula and Livingston.
At the same time, elections officials have denounced claims of widespread fraud. Montana Secretary of State Linda McCulloch likened them to conspiracy theories.
Leder said the Postal Service conducts security reviews on the handling of ballots. While ballots have been stolen before, he said he hasn't seen an "organized attack" to do so.
"They understand how important these things are to get delivered," he said. "We very rarely have any issues regarding the security of ballots with the Postal Service."