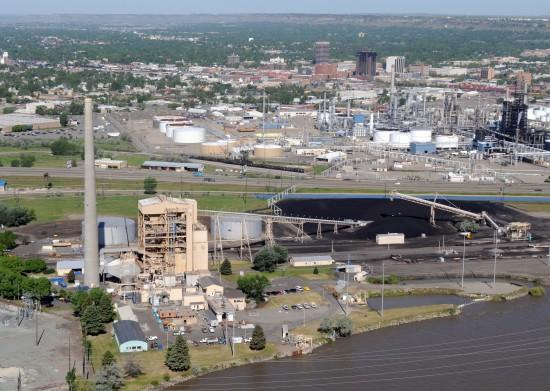 The J.E. Corette power plant in Billings will be mothballed in April 2015 because it will be too costly to operate under new emission reductions required by the Environmental Protection Agency, says plant owner PPL Montana.
The company said Wednesday that it will operate the 154-megawatt coal-fired plant until the EPA's regulations take effect in April 2015.
"Our detailed analysis has shown that to meet the emission reductions required by EPA's mercury and air toxics standards, we would need to invest $38 million in the Corette plant," Pete Simonich, PPL Montana vice president and chief operating officer, said in a news release.
"We simply cannot justify that level of spending in the current wholesale power market in the Northwest."
Wholesale power prices have been depressed in the Northwest because of declining electricity use and new wind energy projects, which are subsidized by federal production tax credits, he said.
David Hoffman, PPL spokesman, said Thursday that the Corette plant has been off line "a substantial period of time" this year because of the oversupply of power in the Northwest markets, including power from wind energy, and a flat or lower demand for electricity.
The price for electricity is also low because natural gas is so cheap, Hoffman said.
To comply with the air toxics rules, PPL would have to install a "bag house" that it estimates would cost $38 million, Hoffman said. A bag house is a pollution control device that removes dust.
The Corette and PPL Montana's Colstrip plants already are in compliance with the mercury rules based on the 2009 Montana regulations, Hoffman said. PPL Montana spent about $3 million for mercury controls at Corette, he said.
The Colstrip power plants are not affected by the Corette decision and are better positioned to meet the new EPA standards, the company said.
If the price of electricity were higher, a bag house on the Corette plant would begin to pencil out, Hoffman said.
That's one of the reasons for mothballing the plant, rather than shutting it down permanently, Hoffman said. If conditions change, PPL could restart the plant, he said.
PPL also has considered converting the Corette plant to run on natural gas rather than coal but "it turns out not to be an option" because of numerous design and engineering issues, Hoffman said.
The Corette plant, which uses low-sulfur coal from the Powder River Basin, has 35 full-time employees. Simonich said there are no immediate plans to change the number of jobs. The plant began operation in 1968.
PPL will work with employees on the transition.
"They do such a fantastic job, and they are so dedicated to this plant," Hoffman said.
The company also wanted to give the community notice because of the secondary jobs the plant provides through vendors and the effect on the tax base, Hoffman said.
PPL paid about $1.7 million in 2011 property taxes, said Max Lenington, Yellowstone County's treasurer.
Hoffman said the company would still pay property taxes but there probably will be a significant reduction in the amount if the plant is not operating.
PPL also will work with the Montana Department of Environmental Quality to keep Corette's permit current, Hoffman said.
DEQ Director Richard Opper said Thursday that he knew that complying with the EPA regulations would be expensive but was surprised at PPL's plans to mothball the plant.
"I didn't realize they would be shutting down. It's always a sad thing for the state when an industry closes down. I certainly didn't want to see the plant mothballed," Opper said. "They had a business decision to make and you have to respect the company's decision."
Opper also noted that the easy pollution controls already have been done. "We don't have big black clouds being belched out of power plants. We don't have rivers on fire," he said.
EPA's regulations, which are designed to protect public health, are at the point where additional improvements to air and water are smaller and more expensive, Opper said.
"People can argue back and fourth about where that break-even point is. Is the additional benefit worth the cost? I don't weigh in on that, but it's a legitimate question to ask," Opper said.
PPL's decision also prompted comments from other state officials and local groups.
Travis Kavulla, chairman of the Montana Public Service Commission, who said he was speaking as an individual commissioner, said EPA's rule will cost several dozen people their jobs and ultimately raise the cost of power in the market, "all for an unnoticeable effect in emission reductions."
Kavulla said two large wildfires in southeastern Montana this summer produced more than 25 times the amount of particulate pollution than the Corette plant would in a month. "The bottom line is that this EPA rule is not in line with the realities of life in Montana," he said.
John Brewer, president and CEO of the Billings Chamber of Commerce/Convention & Visitor's Bureau, said the chamber was disappointed with the news and blamed federally subsidized wind development and increased EPA regulations.
"We support the further development of our free-market system rather than artificially modifying our power supply through increased federal subsidy for competing solar and wind power," Brewer said.
Tax credits for wind energy are due to expire at the end of the year.
The Northern Plains Resource Council, a conservation group that organizes citizens to protect the environment, was critical of PPL.
"If Pennsylvania Power and Light were really committed to jobs, it would bring the 44-year-old Corette plant up to standards and keep it open. This is just a political stunt to pit Montanans against each other," said Ed Gulick, an architect and past NPRC chairman.
In February, the U.S. Supreme Court unanimously overturned a Montana Supreme Court decision that PPL Montana was required to pay rent for using three of the state's riverbeds. After winning that case, PPL raised its 2011 earnings to $1.495 billion or $2.70 per share, nine cents higher than before.
In PPL's 2011 annual report, Chairman and Chief Executive William Spense said that two recent acquisitions nearly doubled the company's assets and increased its annual revenues by 70 percent.
PPL Montana owns more than 1,200 megawatts of coal-fired and hydroelectric generating capacity across Montana and has offices in Billings, Butte and Helena. PPL Montana has 500 employees.