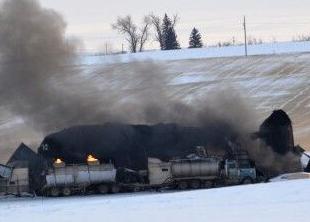 The president of an oil processing company whose Eastern Montana plant exploded in 2012, injured workers, and burned for days, was sentenced Friday to serve 18 months in federal prison.
Peter Margiotta of Edmonton, Alberta, Canada, was also ordered by U.S. District Court Judge Susan Watters to three years of supervised release, to pay yet-to-be-determined restitution to two workers, and a $50,000 fine. He was released pending assignment to a federal prison.
Margiotta, 63, was found guilty by a jury in September 2019 of conspiracy and two Clean Air Act violations. He was president of now-defunct Custom Carbon Processing business near Wibaux, a company that recycled waste oil often using natural gas liquids. 
On the day of the explosion, Dec. 29, 2012, a load of natural gas condensate had been delivered to the facility, something shift foreman Joshua Garrison warned company management the facility had no room for. He also warned management the lines to outside storage tanks were frozen. But, the company ordered Garrison to store the natural gas anyway. 
The condensate was pumped from the delivery truck into a shaker, filling the building with flammable vapors that were ignited from a heater in the break room. Two workers were injured and the fire burned for eight days, according to court documents. 
Prosecutors argued the facility was dangerous from the beginning, and that Margiotta failed to install explosion-proof wiring and proper ventilation. Mark Hurst, who acted as project manager in the facility, knew of the risks posed by the facility's design, and noted them several times to Margiotta, according to testimony. Hurst reported in an email to Margiotta in July 2012, "We also run the risk of killing someone, not only our operators but also customers."
Hurst, also a Canadian citizen, was sentenced for violating the Clean Air Act in U.S. District Court in Billings in 2019, resulting in two years of unsupervised probation, a $5,000 fine and restitution to both Garrison and Osborne.
Prosecutors said that despite these warnings, Margiotta allowed the facility to operate and accept the natural gas condensate. Rather than take the proper steps in constructing and maintaining the facility, he chose "cheaper routes," according to document. He "controlled the money and made the final decisions."
Margiotta's wife, Lisa Margiotta, and his defense attorney Palmer Hoovestal, described him as a "hardworking" and "tenacious" company man.
"He lived and breathed that company," Lisa Margiotta said.
Hoovestal blamed the injured worker Garrison, saying it was he who hadn't followed standard procedures the day of the explosion. 
"It was a gross deviation from protocol," Hoovestal said of Garrison.
On Friday, Hoovestal pointed out that a fire marshal deemed the fire accidental and reiterated that Margiotta was not present when the fire occurred. He asked the judge to consider probation.
In court pre-sentence documents, the defense attorney acknowledged the law was broken, but said, "accidental conduct, however, does not merit punishment."
In seeking a lenient sentence, Margiotta's defense attorneys in court documents cited Roger Stone, the flamboyant friend and ally of President Donald Trump who has a tattoo on his back of his hero Richard Nixon.
Stone was recently sentenced to just over three years in prison following a conviction for lying to Congress, tampering with a witness, and obstructing the House investigation into whether the Trump campaign coordinated with Russia during the 2016 presidential election, according to the Associated Press.
The Justice Department overruled its own prosecutors in the Stone case who had recommended he be sentenced to up to nine years in prison.
"It is clear the Department of Justice now concedes that if following the guidelines would cause a non-violent felon's sentence to disproportionately escalate to something more apt for a violent felon, a court should take that into account," Margiotta's defense attorney argued. 
On Friday, Trump commuted Stone's sentence. 
A commutation does not erase Stone's felony convictions in the same way a pardon would, but it would protect him from serving prison time as a result.
Garrison, Margiotta's injured foreman, made a statement over the phone during Friday's sentencing. He sustained burns and other mental trauma saying that after 15 years working in the oil field, he's had to find other jobs. Right now, he works part-time as a mechanic and spent some time unemployed. However, he said he doesn't "harbor any resentful feelings" toward Margiotta.
"It's not only scarred me physically and mentally, I've also experienced financial burden," Garrison said.
In a related civil lawsuit, the company settled for an undisclosed sum in 2016 with Garrison and Aaron Osborne, a second worker injured by the explosion and fire.
Osborne said Friday he also has had to find work in a different field.
"I had to learn to do things, like be around people and trust people," Osborne said in the courtroom.
Watters, the judge, agreed there was a lack of ventilation in the facility, noting that employees often had to keep the six bay doors open to release fumes from facility operations. The day of the explosion, some of the doors were closed to keep workers warm, causing fumes to accumulate and eventually ignite.
She noted that Margiotta came to the United States to start a business and should have followed operating laws and heeded the warnings from employees.
"Those concerns were not ever addressed," Watters said.
Not only was Margiotta responsible for how the facility operated, it was also Garrison's responsibility to ensure it did so properly, Watters said. The condensate could have been stored in a tank outside using the truck's hose, but was instead offloaded into a shaker, which was not standard protocol.
Margiotta said in a statement before sentencing that he didn't know why Garrison made the choices he did. He said it may have been because employees were paid production bonuses.
"Condensate is a flammable liquid, and it went into a system that it shouldn't have gone into," Margiotta said.