When Charlene Sleeper saw on Facebook Tuesday that two of three banners posted around Billings advertising the upcoming pride festival had been slashed up, she felt spurred to action.
She was angry and wanted to do something. Armed with tape and scissors, Sleeper resolutely began taping up a ripped sign on the corner of Grand Avenue and 13th Street West, which was hung on the chain link fence of the Lewis and Clark Middle School.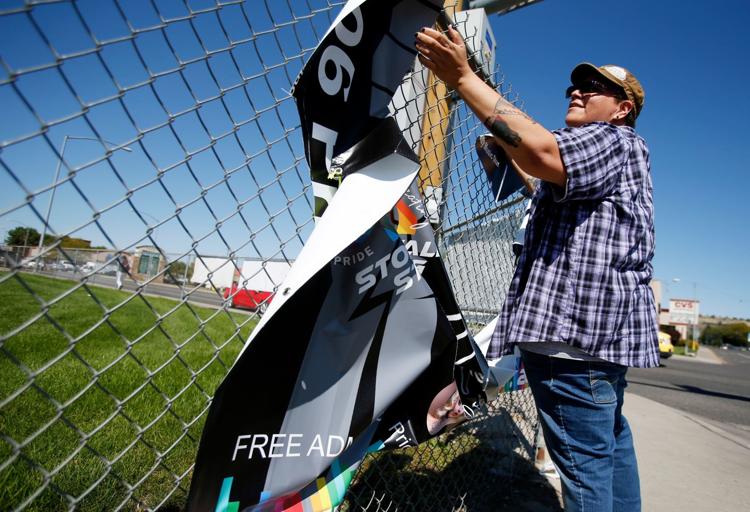 "I'm not going to sit here and tolerate it anymore," Sleeper said. After taping up the sign, Sleeper was on her way to Senior High, where a tattered sign hung at Daylis Sadium.
Sometime between Monday and Tuesday, two of three 406 Pride Banners advertising the upcoming pride festival on Saturday had been vandalized. One was stolen from West High School on Sunday.
Shauna Goubeaux, president of 406 Pride, called the vandalism "disappointing." 406 Pride is putting on Billings' Stonewall Strong: Celebrating 50 years of Pride Festival and Parade, which happens all day Saturday.
"It's disheartening," she said. "In the 50th year of the Stonewall riots and that we're still facing this bigotry." 
Goubeaux saw the signs early Tuesday morning and said she felt heartbroken. She feels the vandalism clearly targeted the LGBTQ+ community. No other banners hung in the same three locations were vandalized.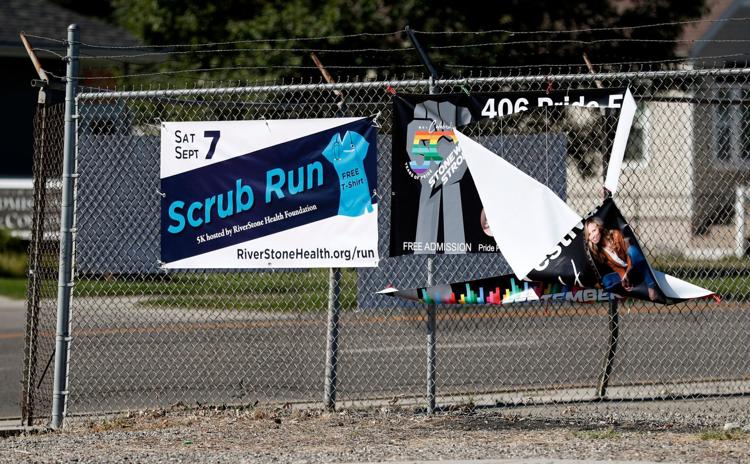 "I know this is the reality in Billings and the homophobic undertone exists, and it's why I helped create 406 Pride and was so passionate about it," she said. 
A police report has been filed, and Goubeaux felt heartened the police were taking it seriously. 
In a press release sent Tuesday, the Billings Police Department said there have been no suspects identified in the vandalism. The BPD said it takes all crimes seriously but especially those committed with a bias based on race, creed, religion, nationality, sexual orientation, gender identity or involvement in civil and human rights. 
"These hateful activities have no place in our community," the press release closes. 
You have free articles remaining.
The banners won't hold the festival back, and three replacement banners are already on the way, despite about $400 in damages.
"This is an attempt to intimidate us and make us afraid," she said. "And we won't be afraid. Pride will still happen." 
All three signs were hung off fences at Billings schools. Billings District 2 superintendent Greg Upham said that the event was not school sanctioned, and he said the schools weren't even aware that the banners had been posted on their fences.
Speaking at about 6 p.m. on Tuesday Upham said he believed the signs were posted without going through the school's protocol for signs and banners. Regardless, Upham said the school doesn't support any kind of vandalism.
Goubeaux said the vandalism targeted the LGBTQ+ community's most vulnerable members: youth.
"That's detrimental to our society. Little kids are driving by and seeing this," said Sleeper, as she finished taping the poster at Lewis and Clark and made her way to Senior High.
Statistically, LGBTQ+ youth are more likely than their heterosexual peers to consider suicide, face mental illness, or even die by suicide. Suicide is the third leading cause of death in youths ages 15 to 24.
Nearly one-third, 29%, of LGBT youth had attempted suicide at least once in the prior year, compared to 6% of straight youth, according to the Centers for Disease Control and Prevention.
"If you see someone be targeted by homophobia, step up and step in. Be a good ally. If you belong to the LGBT community and you're afraid, please come see us, we will help you," Goubeaux said.
Goubeaux felt now the festival was more important than ever to show those most afraid and vulnerable that they are supported by the community. She said the organization has been receiving some support since word of the vandalized banners have gotten out, and she urged those who might be affected by the vandalism to go to the 406 Pride Resource Center for support. 
"I'm hoping even more people come so that those among us who are most afraid won't be afraid," she said. "Because acts of hate make it even scarier to go to events like Pride and to be out."