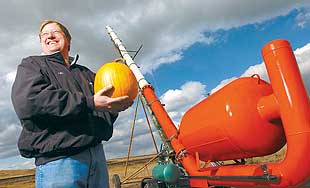 BROADVIEW - Leo Bogden doesn't talk a lot about his pet project. People might think he is a little crazy if they knew too much.
The contraption has 40 feet of barrel pointed toward the sky and a bright orange tank hooked to an air compressor that hums in the background. Looking at it, some would think Bogden is right: This thing is crazy.
Then he opens up the loading port and drops in a hefty pumpkin. If everything goes right, the pumpkin - which has to be smaller than 10 inches in diameter, or about 31 inches around, to fit in the barrel - will end up about a half-mile away.
It is safe near the pumpkin launcher, but listening to the whir of air filling the tank and thinking about the pressure that will push the pumpkin out of the barrel makes the uninitiated unconsciously step back from the 3,500-pound launcher.
Then Bodgen counts down from five and "phlunk!"
The pumpkin goes flying - probably more than 2,000 feet high and, unless the wind pushes it aside, at least that far forward.
"You can hear that pumpkin coming in," says Larry Johnson, who has had the honor of being a spotter to measure distance. "It's just like a missile."
Watching the pumpkin fly, one realizes Bodgen isn't crazy: He is a pumpkin-launching genius.
"This is fun!" his wife Judy says.
An electrical engineer, Bodgen says "the idea is simple" to make the gourd glide.
"When you open the valve, there's 7,000 pounds pushing on that little eight-pound pumpkin so it has to go," he says.
There is so much pressure that a dozen bolts, each an inch around and about 6 inches long, are used to hold the barrel and valve together.
Bodgen got the idea for the air-powered pumpkin launcher from a Discovery Channel television show and has been refining his model for about five years. Friends and co-workers have helped. Today, he will tow the launcher down to the Acton Bar and take park in the sixth annual Punkin Chunkin contest.
Bodgen says he sat out of last year's events because he was "competing against myself" and wanted a more powerful launcher. This year he added about 30 feet of pipe to the existing 9-foot barrel. The addition boosted his distance from 1,300 feet to 2,500 feet. Bodgen had to add the loading port because it isn't practical to climb the 40 feet of barrel to drop in a pumpkin.
Acton Bar owners Duane and Lou Cowdin encourage anyone who is interested to join the Punkin Chunkin contest this weekend. Not all entries are as technical as Bodgen's. Some are built like sling-shots while others are trebuchets, the medieval-style weapons with a bucket at one end of a long arm that hurls the pumpkins. There is also a catapult category.
All it takes to enter is a little creativity to make a launcher and then "just show up and go to shootin', " Duane Cowdin says.
"Those air cannons are the most fun," he admits. "Those guys have spent some time on those things, and some money."
Contestants line up behind the bar and some will shoot their pumpkins, well, not very far. Others, like Bogden are likely to send them over the hill and "plumb out of sight," Cowdin says. "It's just hilarious."
The Cowdins bring in about 700 pounds of pumpkins for the event so spectators should be ready for an afternoon of fun.
"Oh hell, they'll be out there all day long blazing away," he says.
If you go
The sixth annual Punkin Chunkin at the Acton Bar begins at 1 p.m. Saturday.
Contestants will spend several hours getting ready to launch their pumpkins - some a few feet and others up to a half-mile.
Anyone is welcome to join the event in which "punkin chunkers" compete for bragging rights and the occasion T-shirt or hat. Entry is free and the bar provides the pumpkins. The launcher categories are catapult, sling-shot, air-powered and trebuchet.