Ryan Zahn has a new way of flat track motorcycle racing, not because he found a better way, but because he had no other way.
In dirt flat tracking, there are essentially two rules — stay off the brakes and always be twisting (the throttle).
Pro racers can hit 140 mph in the straights and dive at 90 into the corners, where sliding is actually the point. When the bike starts to yaw into a turn, racers lock their left elbow to push their weight down on the bike for traction. And then they gun it for the second or two it takes to hit the next turn.
Zahn was born without arms. On his right side he has a partial arm and hand with two fingers, enough to twist the throttle. But what he has in common with all the best racers is a fearlessness, an innate athleticism, and an indifference to being taken away in an ambulance.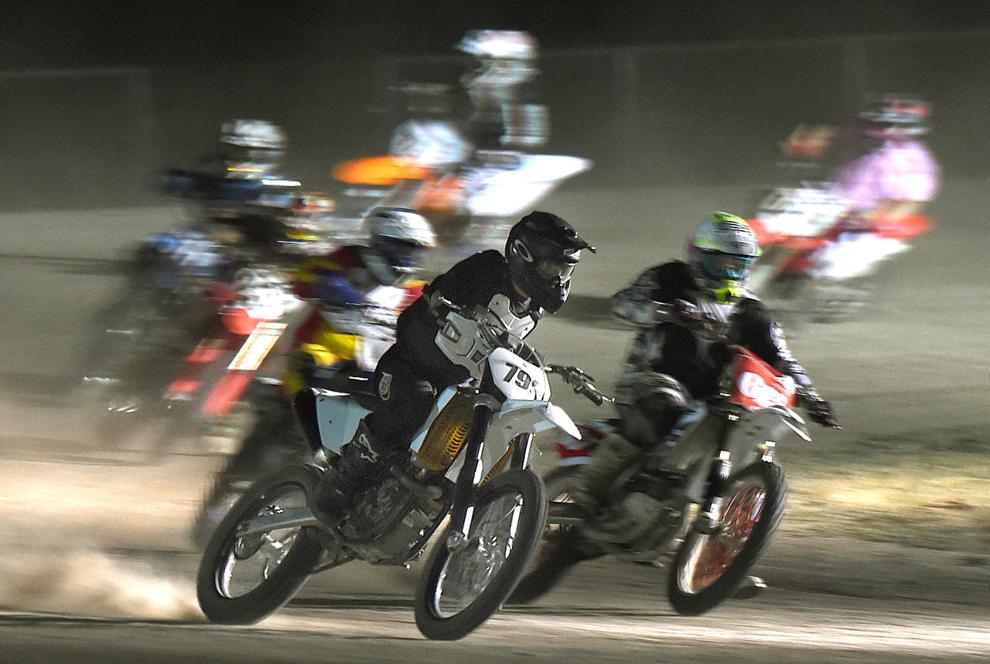 A lifelong obsession
Zahn has been a motorhead for as long as he can remember.
"I was just obsessed with anything with an engine," said the now 32-year-old Zahn. "And basically, through my obsession, I learned to ride a bike."
As a teenager, an injured Zahn did not want his dad to know he was getting back on a dirt bike. He was still mending from a terrible four-wheeler accident. As a junior in high school he was driving a four-wheeler that collided with a truck. He broke both femurs, his hip and his partial arm.
He spent four months recovering, managing the terrible pain with morphine drips and pain pills. He needed intensive physical therapy to be able to walk again. A dirt bike was out of the question.
"I don't know how long I was thinking about it, but as soon as I was mobile enough to go outside I wanted to see if the bike would start," he explained. A friend had to kick start it for him.
Eventually, his father did find out about his clandestine dirt bike rides — when he crashed again, this time tearing his meniscus. His doctor, the same one who had treated his broken legs, was baffled by Zahn's relentless desire to ride. Everyone was, except for Zahn.
His obsession was launched in the third grade when he took over the 75cc mini motor bike he and his younger brother owned together. He taught himself to ride it and when it wouldn't start, he taught himself how to fix it.
"My dad just didn't have a lot of time and if the bike wasn't running I had to figure it out," said Zahn, who laughed about the process of being self-taught. "There was a lot of wasted time kicking it and waiting for magic to happen."
But during the repetition of taking things apart and putting them back together, he figured out how the engine worked: the fuel, the spark, the air. He would also learn from watching others fixing their bikes.
And, all along he never stopped riding. While in high school he would trail ride at the Ah Nei Recreation Area near Shepherd. While studying mechanical engineering at Montana State University, he would tear off on the trails around Bozeman. He figured out how to modify his dirt bikes with an automatic clutch, and use his partial hand to anchor himself over the handlebars and balance himself by hooking his right foot under his brake, a practice that has worn a hole through his boot. He has to patch the hole with tape before every ride.
When he graduated from college in 2017, he returned home and joined the Billings Motorcycle Club. One night just for kicks, he and a buddy took off on the club's flat track just to see what it was like. Because he has to lean so far over the handlebars anyway, to accommodate his short arm, the position was a natural fit for flat tracking. After figuring out a few other ways to make flat tracking work for his unique situation, he entered his first race on the club track in 2018. It wasn't his finest performance.
"It was pretty entertaining," he recalled with a smile. "If there were 15 riders that night I was in the bottom three."
But, once again, Zahn was hooked.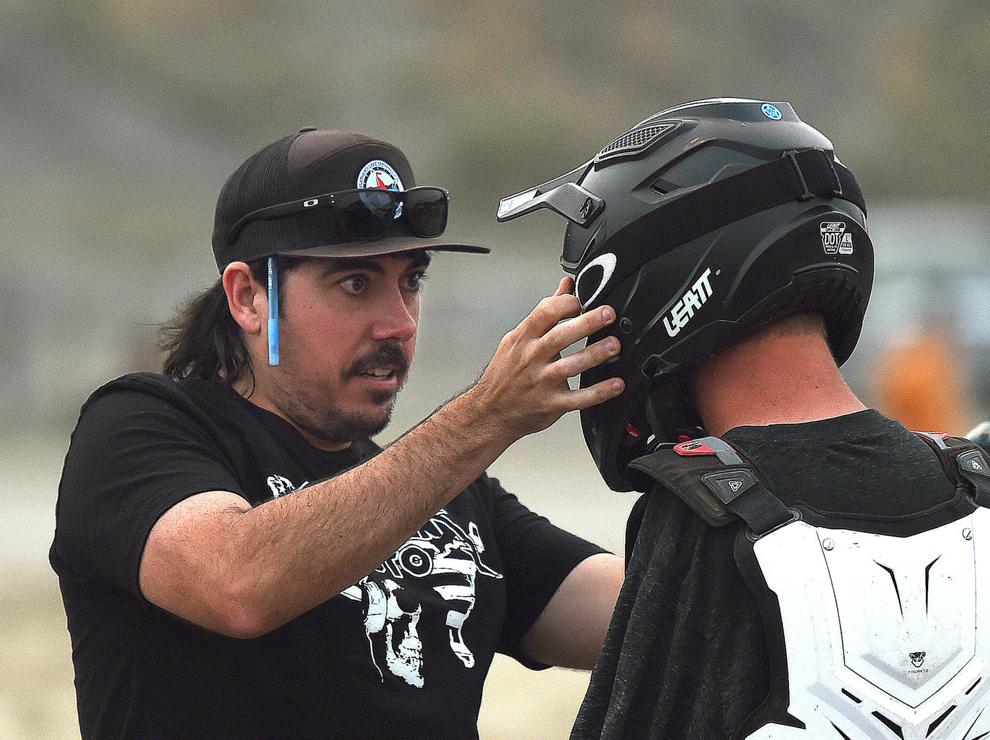 Never held back
Zahn's life on two wheels started early. Before he and his little brother even knew how to twist a wrench, they used a hammer to break the training wheels off their bicycles. Then he was off on skateboards, learning how to balance himself and do tricks.
He never questioned whether or not he could do anything, and his father didn't either. His dad did, as any dad would, urge him to be safe.
It was people outside his family who sometimes weren't believers, and occasionally Zahn would be left out of activities or even cautioned by other parents. But, that never held him back.
"Perhaps the only difference between my life and my disability, and other people and their disabilities, I didn't get held back," Zahn said.
Along with working on his own motorcycles, he builds and races remote-control vehicles and drones. He even built his own off-road truck, taking a 1997 Ford Ranger body and putting it on top of a 2014 Jeep Wrangler suspension. He takes on some gnarly trails and obstacles in the truck.
Even with all his adaptations, crashes have been a hard part of the process. He's suffered more than 10 concussions, partly from having no arms to protect his head in a tumble and partly because he's going so fast. He fears another significant concussion could put him off motorcycles for good. He averages a couple of crashes a year on the flat track. But he learned tenacity early on and always comes back to things he loves.
As a kid on a skateboard, he and his friends played a game where one would land a trick move and the rest would have to copy it. When it came to a basic trick called a kick flip, he could never land it. He would give up and walk away. And then, come back.
"I still wanted to skateboard even though I wasn't as good as my pals," he said. "I still loved it."
He did eventually land a kick flip in high school.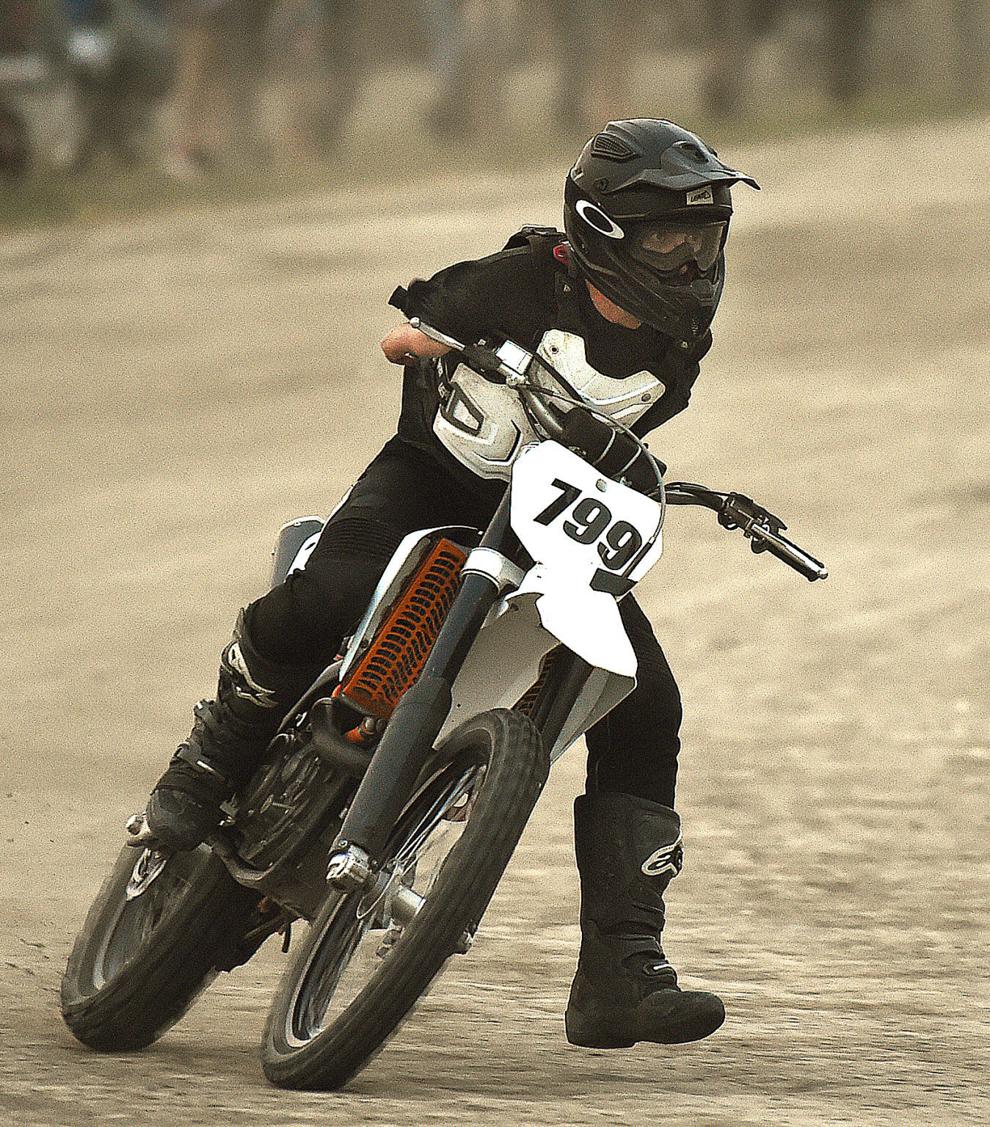 A way to compete
Flat track dirt racing is exactly what it sounds like. Track lengths vary, usually a quarter-mile, sometimes shorter, and are raked smooth. Over time, the corners can become packed and slick from the worn rubber of tires. There are time trial races where a racer competes solely for the fastest time. But, most often, a pack of 10 or so racers take off at once for a multi-lap race with everyone wanting to be the first one into the turn.
Entry-level racers, open amateurs where Zahn has competed, use knobby tires and go a bit slower, if sliding at 60 mph can be considered slower.
After his first less-than-stellar race, Zahn caught on quick. He discovered he could avoid braking by releasing the throttle, sliding into the corners leaning over his left leg, and then goosing it. Around the track, he picks off opponents one at a time, occasionally in those first two years finishing just inches behind first place.
His hold-up was the explosive race starts. Most flat trackers, when the start flag is lifted, rev their engines past the red line and then when the flag drops they "drop the clutch," launching like a rocket. Without an arm and hand, Zahn has no clutch to drop.
So, he taught himself a "brake stand" where he stomps the brake while revving and then essentially drops the brake to launch. He practiced that move for hours and within a year, he started finishing in the top three. By 2020, he was consistently taking second and third place.
During the 2021 season, he twice finished first. Now, he's moving to the next level.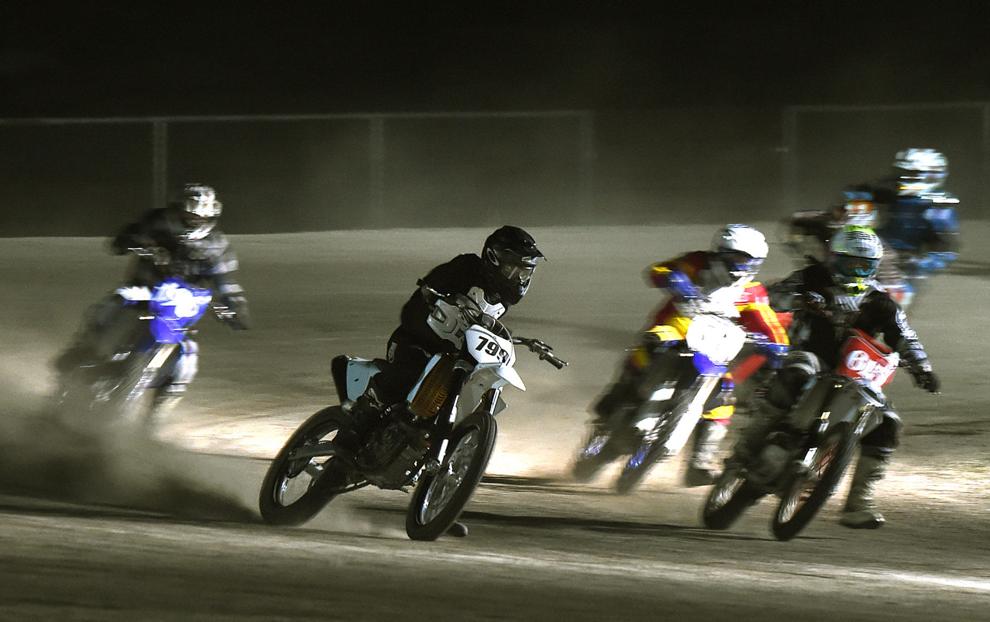 A tougher class
On Nov. 27, Zahn will travel to Puyallup, Washington, with a 450cc dirt bike he rebuilt himself. Instead of the amateur knobby tires he's used to, he'll race specialty pro-style flat track tires. Bigger engines, faster tires, and better racers will all be new to him. But, now he's racing for more than pride. The 450 pro circuit, although still populated by amateur racers, pays money to top finishers.
"This puts me into payout classes against a higher level of competition," said Zahn. He added he'll be "having fun and making some dough."
There are no delusions of grandeur. Zahn's certain he'll be starting at the bottom again. He's been practicing with some fast competition in Billings and has found himself not only slow off the start but losing ground after each lap. He's had to refine his technique, looking for ways to shave time. And, he practices and practices.
Within a year or two, he hopes to be back in the top five, or top three. Eventually, he intends to win.
"I think I'm going to find the limitations of what my physical limitations will do to me," he said. "Weight transfer [and] moving on the bike are going to cost me tenths of seconds. I'm afraid I won't find those small corrections to make my dreams come true."
He's excited and nervous to travel out of state and compete in a tougher field. But, he's not racing for a pat on the back.
"It's always about pushing it to eleven, and this flat track endeavor is possibly the first time that I'm finding that," Zahn said. "Because, during the summer when the weather's nice I'm spending two evenings a week, up to three evenings a week, practicing on the flat track and I've never put that level of dedication into anything before."
While Zahn is humble and reserved, his riding buddies see him differently. Raleigh Grebhard — who has ridden with Zahn at the motorcycle club for the last four years and has been flat tracking for five, including two at the 450 pro level — says Zahn is among the fastest racers he's ridden with.
"We're almost evenly matched," said Grebhard. "He sells himself short a lot, but he's one of the fastest motorcyclists at the club."
Riding with Zahn is always challenging, Grebhard said. Zahn's constantly riding hard, taking notes, tweaking his bike and looking for an edge. He's aided by an inherent "racer's instinct" and he's always competitive — even at practice.
"We ride together a lot," Grebhard said of Zahn. "He's fast, tough to get around and he helps me improve."
The two don't race together though. Grebhard, who's 42, has left the 450 pro class behind and now races vintage bikes. His current ride is a 1980 Yamaha YZ250 on a Viper racing frame.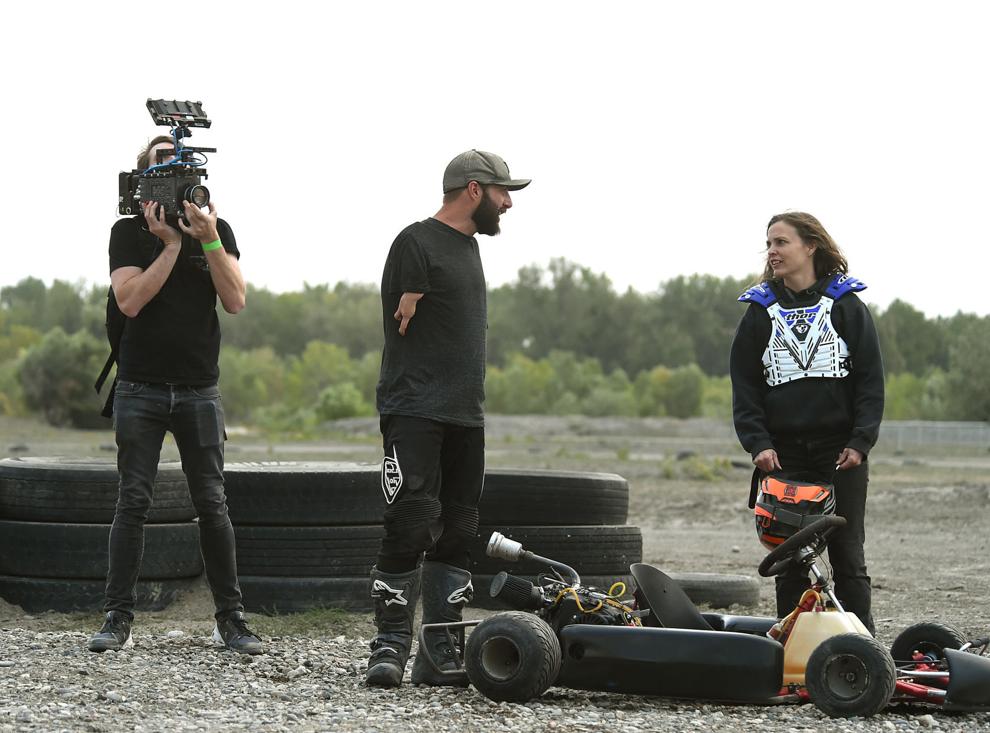 'Just be present'
Zahn doesn't care much for unearned accolades. He avoids talk of disability and the "inspiration porn" of so many of the stories about people with disabilities. Whatever he's wanted to do, he does it.
It was that way growing up, especially with his father who hardly ever talked about his disability. He was simply included in everything.
So when he sets out to race, he said he's "in it to win, and not for the pat on the back."
Asked what he would say to a young person with a disability, he responds, "Oh, man, that's rough, probably nothing."
Then, after considering the question a little more thoroughly, he said:
"If I was trying to do anything to prompt or promote [someone], it would be to just talk or hang out with them… To just chill, for sure. That's probably the most valuable thing that's happened to me is that you don't have to say anything, just be present."
Editor's note: For more about Ryan Zahn and Montana photographer and filmmaker Jessica Jane Hart's documentary about Zahn, visit http://ryanzahn.com.