For people who catch COVID-19, one thing health care workers know is that it affects everyone differently. 
When Nathaniel and Blake Kaiser were hit with COVID, the virus took a vicious hold of hearty and healthy Nathaniel, 32, leading him right up to death's doorstep with two intubations.
Nathaniel and Blake, who is halfway through her second pregnancy, came down with COVID in late June. Initially, they chalked their symptoms up to a head cold passed to them from their 14-month old baby who had the sniffles a few days before.
Being in their early 30s and generally healthy, neither thought they would catch the virus, or if they did they never imagined it would affect their life so drastically.
"I was not expecting that this would be the thing that would nearly kill me," Nathaniel said.
In the beginning, neither Blake nor Nathaniel had a fever or loss of taste or smell, some of the most well-known identifiers for the virus. At first, the sinus and chest congestion seemed manageable.
Blake, who has asthma, said she's used to shortness of breath and the use of her rescue inhaler seemed to help. She let her husband try a puff to see if it would ease his breathing. It did not.
What was certainly not expected was that the virus would overcome Nathaniel, landing him in the intensive care unit, a long-term acute care site and a rehabilitation center over the span of two-and-a-half months.
After a week of symptoms that were not improving, the couple went in to get tested. On July 5, 2021, both tested positive for COVID-19. Two days later as Blake was starting to feel better, Nathaniel was declining rapidly.
"The night before (going to the emergency room) I was lying in bed listening to his breathing and I knew this wasn't good," Blake said. "His breathing was heavy and loud … I was just kind of confused, thinking 'why is this affecting him more than me.'"
On July 7, Blake drove him to the emergency room where he was put on oxygen, admitted to the hospital and put into isolation right away.
Within days Nathaniel was put on a ventilator in the ICU to help him breathe.
Some COVID patients may need to be on a ventilator for a few hours, while others are intubated for weeks at a time. In early 2020 at the start of the pandemic in the US, about 75% of COVID patients were intubated and half of those needed the help of a ventilator within 24 hours of admission, according to one study.
Doctors told Blake that her husband would be sedated and intubated for at least a couple weeks. When he started to improve within a few days, everyone was surprised.
In three days, he had recovered enough that doctors made the decision to extubate him, but before things got better, Nathaniel took a turn for the worse.
Being put on a ventilator is considered high-risk due to the complications that can arise, such as pneumonia. When Nathaniel began to decline again, doctors found he had both COVID-19 viral pneumonia and bacterial pneumonia, Blake said.
Secondary pneumonia that occurs during COVID-19 hospitalization has been reported in up to 15% of cases, and, from the available data, bacterial infections are more common in fatal cases than recovered cases.
Within three or four days, Nathaniel crashed again and doctors decided the best treatment plan was to intubate a second time. Doctors even discussed flying him to Denver for a lung transplant, but the chances of him surviving the flight were questionable, Blake said.
"The day they were going to intubate him (the second time) was the day they released him from isolation," Blake said. "I was able to go inside his room … I could tell he was really desperate for air because he was really purple in the face," Blake said.
He could only eke out one word at a time and even then it was barely a whisper.
"When they told me I was going to be intubated a second time I was more or less resigned to the fact that I probably wasn't going to survive it," Nathaniel said. "They were talking about how it was a pretty low chance for survivability."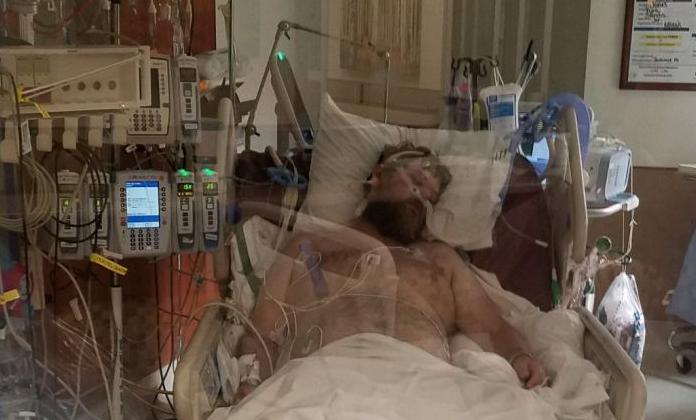 Nathaniel even resisted the second intubation, telling doctors that he would rather try to tough it out, but the threat of a tracheotomy convinced him that going back on the ventilator was the best choice.
When sedated for intubation it's not uncommon for patients to become delirious. Nathaniel doesn't remember pulling on the tubes and fighting the intubation, but doctors ended up having to paralyze him to keep him from resisting care.
He was intubated for six days the second time.
Nathaniel was in the ICU from July 7 to July 29. During that time he developed common comorbidities associated with severe COVID illness including hypertension and increased blood sugar. His heart rate increased, making doctors worry he could have a heart attack.
Humility
Before becoming sick, Nathaniel was very active outdoors with hunting, hiking and fishing being some of his favorite hobbies. He enjoyed MMA fighting and spent a lot of his time weightlifting.
"I've gained a great deal more humility," Nathaniel said referring to his time in the ICU. "You take the proudest person … and all of a sudden there's way more people than I would ever be comfortable with seeing me naked, bathing me, looking at every part of my body."
His first shower after being admitted into the hospital after a month and a half took four CNAs to help him do it. The injuries to his pride were a significant part of the experience.
Though he has never been one to struggle with depression or anxiety, the loneliness got to him after 20 days of isolation while dealing with severe illness.
"I can't stand having a door closed any more ... I can't do it," Nathaniel said. "I got through it with a lot of prayers and a lot of tears honestly."
But Nathaniel said staunchly that he was never alone through his illness. His faith in God helped ease his fears and prayers for his recovery stretched thousands of miles through the help from his church family.
The experience has only strengthened his faith, adding that he knew that if he were to die, enough people would surround his wife and kids and their shared faith would support her.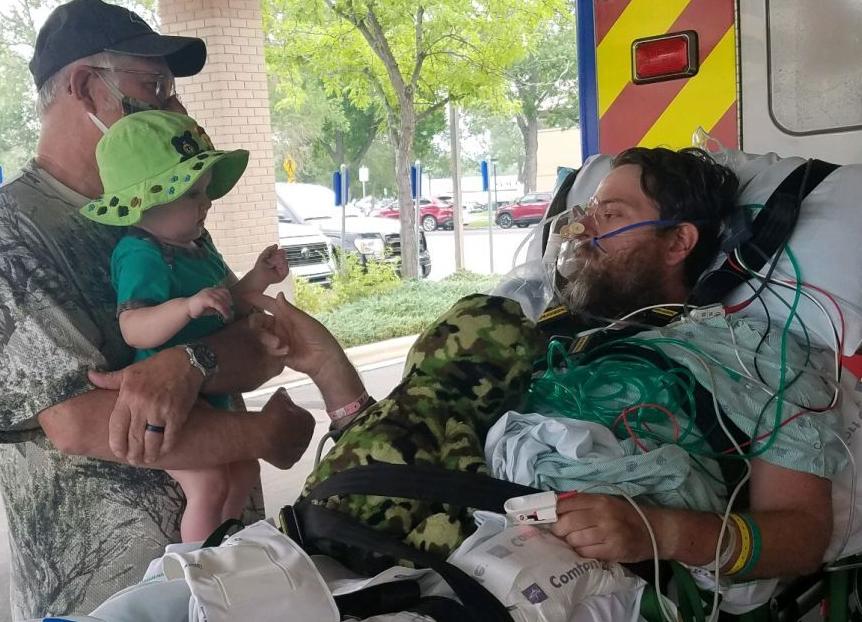 Blake and Eden
During Nathaniel's illness, Blake acted as a single parent while also halfway through her second pregnancy. At times, the anxiety and depression became overwhelming for her.
"Our daughter, Eden, made me cry the first several weeks because she'd hear the front door open and close and she'd go running to the door saying 'daddy, daddy,'" Blake said.
It took three weeks before Eden realized that her dad wasn't walking through the door.
The second intubation was when Blake hit her darkest point.
"I had to psych myself up saying 'this is a possibility, you may end up being a 30-year-old widow with a daughter and another one on the way,'" Blake said. "It was devastating to think that our little daddy's girl wouldn't ever see her dad again."
Early on during his hospitalization, Blake and Eden sent Nathaniel a camo teddy bear, which became a great comfort for him. It sat propped in the corner of his bed at the rehabilitation center.
"He's been with me for the whole process. He's going to have some stories to tell our kids," Nathaniel said.
Acute care and rehab
From the ICU Nathaniel was moved to long-term acute care at Advanced Care Hospital of Montana where he stayed on their high observation floor on high-flow oxygen at 40 liters per minute and 100% oxygen, indicating the severity of his respiratory failure, Blake said.
The stress of the move and the thick smoke of the summer sent him back into distress where he teetered on a fine line of either decline or recovery.
He spent two weeks in acute care before being moved to physical and occupational therapy where he stood up for the first time in months.
"Prior to COVID I was deadlifting 4 or 500 pounds, I could squat 4 or 500 pounds. I could do insane amounts of weight … going from that to now, struggling to stand up or struggling to walk or struggling to take stairs without a team around me. It is whole new experience relearning how to walk, relearning how to do basic functions, basic movements," Nathaniel said.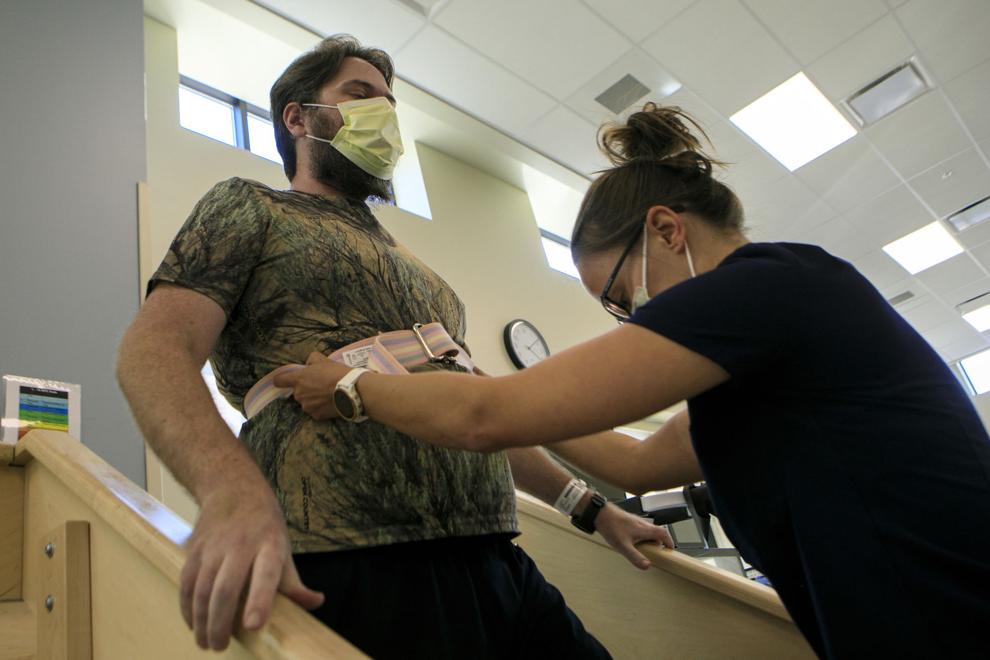 The rehab hospital has worked with about two dozen recovering COVID patients, according to Dr. Greg Vigna, medical director at The Rehabilitation Hospital of Montana. Some patients arrive straight from Billings Clinic or St. Vincent Healthcare while others come from acute care facilities, like Nathaniel.
After months of acute respiratory failure, patients are extremely deconditioned and increased oxygen needs means just walking or bathing can be extremely fatiguing.
Other patients who develop sepsis from being compromised in the ICU, their nerves actually die, which results in decreased reflexes and strength, burning in their feet and they have problems transitioning from sitting to standing, said Vigna. Over time, these symptoms usually get better.
Patients with thrombotic complications, or blood clots, need physical therapy to recover from strokes or amputations. He also treats patients struggling with profound delirium and confusion from having too little oxygen in the blood.
During the Nov. 2020 surge, the rehab center was busy with the elderly and the occasional person in their 30s and 40s. Vigna is bracing for the second wave of patients to move out of the hospital and into its halls. Vigna expects them to start trickling in over the next couple weeks.
For Nathaniel, he will never recover from the damage done to his vocal cords from the intubation.  His lungs have significant scarring that may take up to seven years to fully improve. He expects he'll be on medications to support his heart and lungs for the rest of his life.
"It bums me out that I probably won't have the lung capacity to chase elk in the mountains probably for a few years without some assistance. I probably won't be able to do martial arts for a few years because of the oxygen requirements. It's going to be a few years before I'm able to get back to those things simply because I can't breathe," Nathaniel said.
The huge accomplishment of walking up and down the hallway outside of his room without a wheelchair was the signifier that he is almost ready to leave the hospital and go to his in-laws house, which has fewer stairs than his own.
"I'm both stubborn and patient," Nathaniel said. He plans to work hard to speed up his recovery to get home and into the mountains as soon as possible.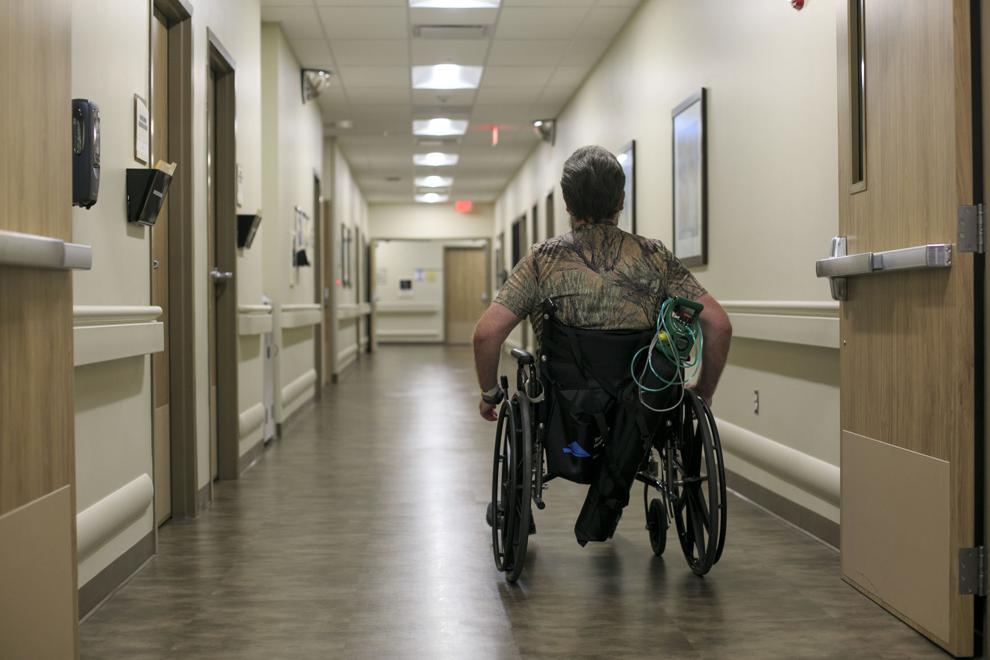 Personal views
Nathaniel and Blake ask people to make informed and educated decisions about their individual health. From there, protect yourself however you see fit, they said.
"Now that it's hit home for us how scary this can be for people, it makes me fearful for our health care responders," Blake said. "I definitely wouldn't wish what's happen to us to happen to anybody else."
But both still feel some vaccine hesitancy as they wrestle with the choice to get vaccinated or not.
"Maybe I would have done things differently and gotten a vaccination if I had known this would be what I would go thorough, but I don't know about that either," Nathaniel said. "Do your research, this isn't a joke, make your own informed decisions and for the love of God, cherish the life and the time you have."