A red flag warning was issued Saturday with higher temperatures, low humidity and gustier winds in the forecast.
Fire crews are working to gain control of multiple fires before the arrival of the wind and heat. Low humidities, heat, strong gusty winds, and shifting wind with two cold fronts could create erratic fire behavior and cause new fire starts.
Saturday's temperatures could reach triple digits, with low 10% relative humidity. Saturday winds will hover around 10 to 15 mph with gusts around 30 mph.
Red Flag Warning is in effect today from Noon to midnight. Expect hot temperatures, low humidity, and gusty winds for the warning area. Grasses and other fuels across the region are very dry. Be careful out there !! pic.twitter.com/EpAdNP4RUy

— NWS Glasgow (@NWSGlasgow) September 5, 2020
The red flag warning is expected to expire Sunday night as cooler temperatures creep in for Labor Day. Monday could see a high in the 50s with a 90% chance of rain through Monday night.
Air quality in Billings, Bozeman, Birney and Broadus were listed as "moderate" on Saturday morning. People sensitive to smoke in the air should consider limiting prolonged outdoor exertion, according to the Montana Department of Environmental Quality. In Colstrip, a high school football game Friday evening against Big Timber was canceled due to the smoky, unhealthy air quality.
Gov. Steve Bullock issued an executive order declaring a state of emergency Friday morning that can mobilize the Montana National Guard to support firefighting and community protection efforts.
Bobcat fire
The Bobcat fire near Roundup is approximately 15,766 acres, and is 0% contained according to a Saturday morning update on the Musselshell Disaster and Emergency Services Facebook page.
Four homes have burned, along with four other structures, according to a post early Saturday morning.
A stretch of US Highway 87 was closed south of Roundup early Saturday evening.
Highway 87 from its intersection with Highway 12 in Roundup on the north side all the way south to the intersection with the Old Divide Road was closed to traffic by the Mussellshell County Sheriff's Department and Montana Highway Patrol due to the Bobcat Fire.
The Bobcat fire was reported to be moving erratically with shifting winds. Officials are asking people west of US 87 to be aware of the rapidly changing situation and be prepared to evacuate quickly if conditions change.
Fire behavior was active Friday night on the northwest side of the fire, expanding off of Beard Road of Highway 87. Firefighters fought aggressively to slow the spread, stopping it on the south side of Beard Road.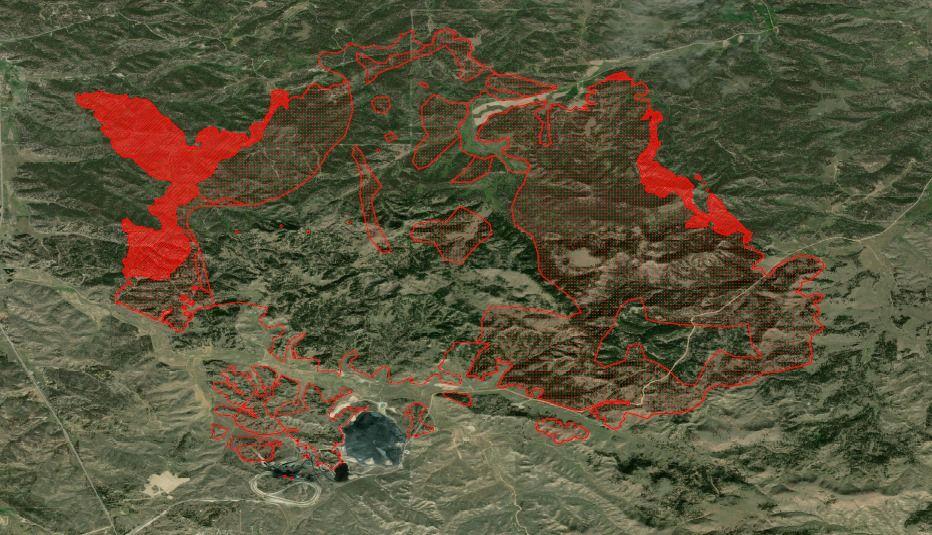 On Friday morning, Northern Rockies Team 4 took over command of the fire. According to Musselshell County DES, "operations corrected the estimated fire perimeter along the south and east sides. While the fire is on the south side of Fattig Creek Road, the perimeter does not include Hidden Meadows Lane or Hidden Springs Road at this time."
An area closure remains in effect for Hidden Springs subdivision, residences on Johnny's Coal Road, Fattig Creek Road, Turkey Trot Drive, Bruner Mountain Road, Pine Cone Lane, Lookout Lane, Taylor Mesa Lane, Spring Hollow Lane , and Otter Trail. Residential areas currently threatened by fire spread are Johnny's Coal Subdivision, Bruner Mountain Subdivision, Old Divide Subdivision, and remote structures dispersed along Fattig Creek Road and the Signal Peak Coal Mine.
Friday evening, Musselshell County DES announced that entrance passes would be issued to evacuated and displaced residents to collect at the Roundup High School parking lot between 7 and 9 a.m. Saturday morning. The passes would allow them to return to their homes for any items they want to collect. The window for those with passes is open from 9 a.m. to 12 p.m. before they have to once again evacuate.
According to the announcement, weather conditions show the "worst possible conditions" Saturday in containing the fire, and officials urged those returning to their property to adhere to the timeline.
"The fire could rapidly and dramatically change course and easily overwhelm fire breaks that have been put in place," the announcement read.
Bridger Foothills fire
The Bridger Foothills fire is estimated at 400 acres and is 0% contained, according to a press release from the U.S. Department of Agriculture on Saturday morning.
The fire was reported Friday afternoon northeast of Bozeman. Structure protection was in place overnight, and will continue Saturday.
The Gallatin County Sheriff's Office is evacuating residents in Bridger Canyon near the Bridger Foothills Fire, including a special message for all residents of Jackson Creek Road to evacuate immediately.
A
post
on the sheriff's office Facebook page Saturday at 5 p.m., reports that the fire has jumped Bridger Canyon Road.
"We are losing structures and continuing to evacuate residents," the post states.
Bridger Canyon Road is currently closed to non-residents between Story Mill Road and Sedan.
People are also asked to not call 911 unless they are directly impacted by the fire.
Highway 86/Bridger Canyon Road is closed from the intersection of Story Mill/Bridger Canyon Road to Kelly Canyon/Bridger Creek Road. Local resident travel only is allowed until further notice.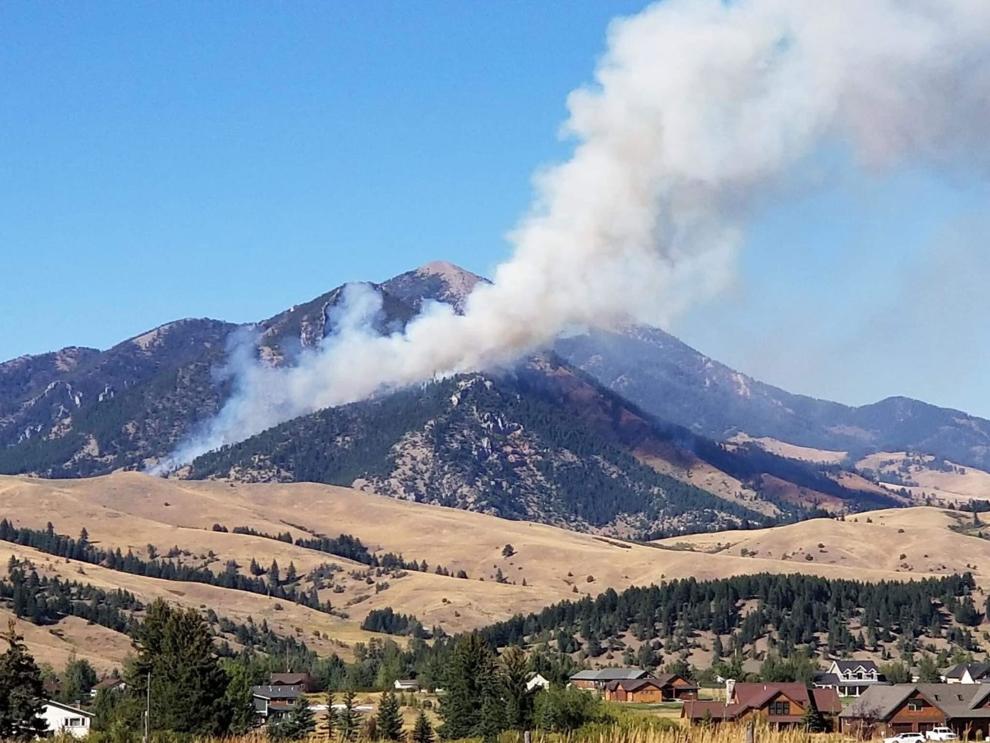 National Forest crews swept the trails in the fire area Friday, and all hikers have been accounted for.
On Saturday afternoon, the Custer Gallatin National Forest announced that all trails in the Bridgers are closed.
The fire is about two miles up Bridger Foothills Trail and is actively burning timber. Firefighters are building fireline focused on the eastern flank of the fire, with additional hand crews and air support.
Two large airtankers, four single-engine air tankers, four helicopters, the Midnight Sun Interagency hotshot crew, smokejumpers, and hand crews are fighting the fire, with more crews arriving Saturday.
The Salvation Army Bozeman is accepting donations for firefighters. Bottled water, individual Gatorades, and single-serving non-perishable food like granola or energy bars and trail mix can be take to the old Salvation Army store at 32 S. Rouse in Bozeman. They will be open to take donations 1:30 - 5 p.m. Saturday and 1- 5 p.m. Sunday.
A Red Cross evacuation center has been at Christ the King Lutheran Church, 4383 Durston Road in Bozeman. Red Cross responders will provide families with water, snacks and updated information and connect them with community resources. Masks are required.
Families who need services should call the Montana Red Cross at 800-272-6668.
Snider and Rice fires
On Saturday morning, incident commander David Hamilton of Montana Department of Natural Resources and Conservation reported that crews are continuing their work to contain the fires in Rosebud County north of Ashland. The Snider fire has burned about 31,588 acres and is 50% contained. On Saturday, fire resources will focus their efforts along the southern portion of the fire along the Tongue River.
The Rice fire is 30% contained and is 12,318 acres. Engines and heavy equipment are working north to contain the perimeter of the fire. The southeast area of the Rice fire is secure, according to a press release from Hamilton.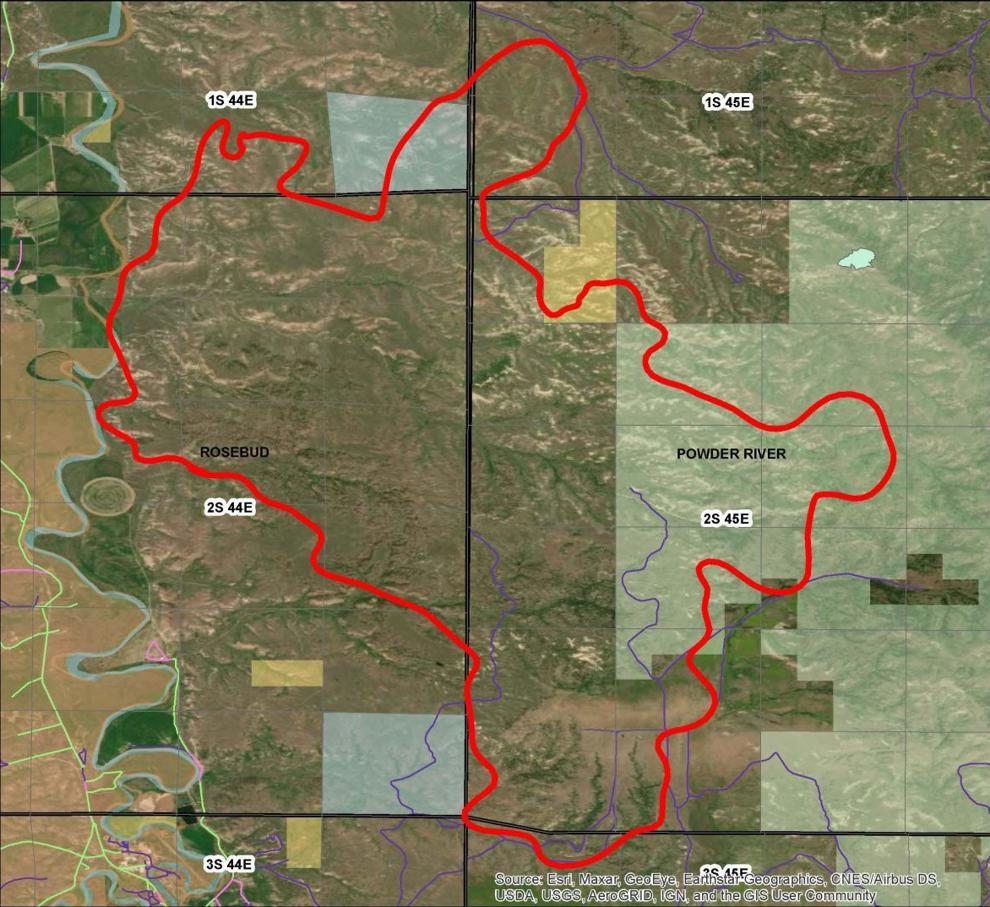 Management of the fire was transferred to the Department of Natural Resources and Conservation and the county assist team. A fire camp is set up off of Tongue River Road, according to the Rosebud County Sheriff's Office Facebook page.
Resources currently working on the fire are four helicopters, 26 engines, three water tenders, seven smokejumpers, six hand crews of twenty people each and five pieces of heavy equipment.
An evacuation of Ashland was lifted early Thursday morning.
Oil Fire
The Oil Fire started northwest of Sumatra, about 60 miles east of Roundup in Rosebud County, by a downed power line on Wednesday. The fire grew to about 10,000 acres, or about 15 square miles, however, crews were able to contain and control it. Fire resources were pulled from the area Friday morning, according to Rosebud County fire warden Rodney Dresbach.
No evacuations were issued, and no structures were burned, Dresbach said. Numerous oil well sites and one ranch were threatened, but fire crews were able to direct the fire around them.
Huff Fire
The Huff Fire in Garfield County was listed at 46,892 acres as of 7 a.m. Saturday morning, according to InciWeb. The fire is 55% contained and crews continue to secure the perimeter.
Temporary flight restrictions over the area have been lifted, according to the Garfield County DES Facebook Page.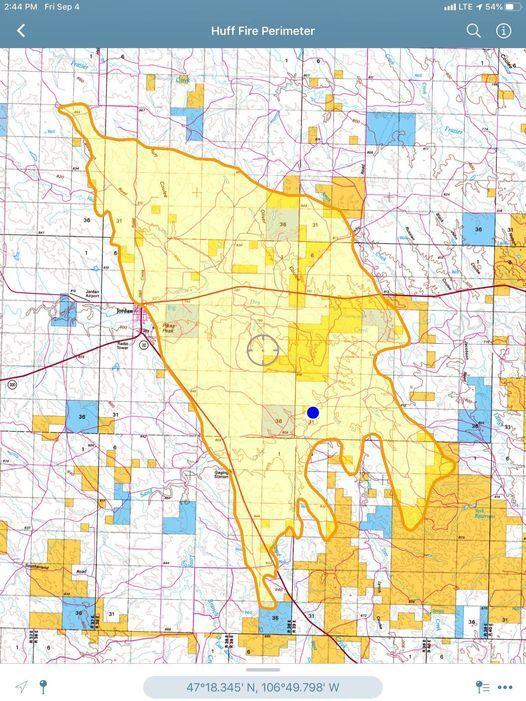 Residents can contact Jeana Stanton about sack lunches at 406-230-1672. Those needing assistance with livestock can call Anne Miller at 406-853-3610.
Sarpy fire
As of Saturday morning, fire officials are estimating the Sarpy fire located on the Crow and Northern Cheyenne Indian reservations to be 50,000 acres. About 20,000 acres are located on the Northern Cheyenne Reservation, and about 27,000 acres are on the Crow Reservation. About 145 acres are managed by the state, and about 32 acres are managed by the Bureau of Land Management, according to an update Friday on the Northern Cheyenne Agency Bureau of Indian Affairs Forestry and Wildland Fire Mangement Facebook page.
The fire started Wednesday south of the Westmoreland Absaloka coal mine on the Crow Reservation and traveled into the northwest corner of the Northern Cheyenne Reservation.
The fire grew in the northeast corner on Friday.
As of Friday evening, aircraft including two single-engine tankers and two helicopters were dumping water and fire retardant on the edges of the blaze, according to an announcement from Crow Agency BIA Fire and Aviation.
The fire on the Crow Reservation had no containment Friday afternoon, and crews are working to strengthen fire lines on the south end of the fire, moving east, said Randy Pretty-On-Top with the Crow Bureau of Indian Affairs Wildfire and Land Management. No evacuations have been issued, and no buildings are threatened at this time.
"We're looking to sort of corral it," Pretty-On-Top said.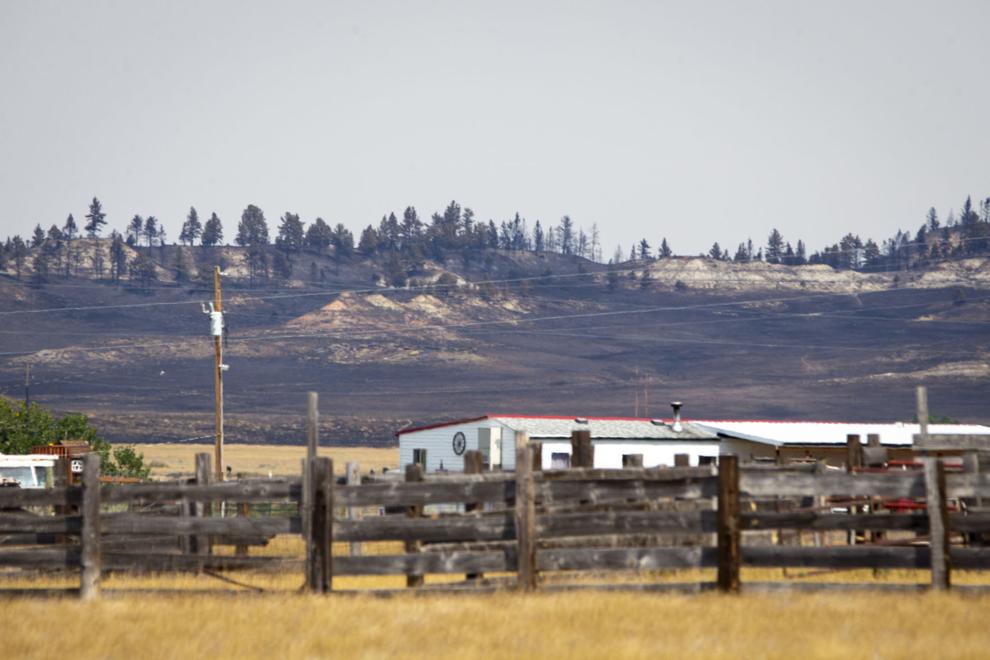 Pretty-On-Top said that there are plans in place to keep workers safe while battling the fire and mitigate the risks of spreading COVID-19. Ground crews will consist of 20 firefighters in each group, so social distancing is important while they're in the field.
Personnel wear masks and participate in symptoms screenings and temperature checks every day.
A closed base camp at the powwow grounds in Busby is resupplying firefighters. No visiting is allowed in the camp to prevent the spread of COVID-19.
The Sarpy fire is defined as a Type 3 incident, which is a measurement of a fire's complexity and a guide for how to manage fires. Type 5 incidents are the least complex, while Type 1 incidents are the most complex and require more planning and assistance.
Zook fire
Crews continued to reinforce fire lines on the Zook fire, located about eight or nine miles southeast of the Snider fire.
The fire has burned 4,600-5,000 acres as of Saturday morning, according to Custer County DES coordinator Bud Peterson.
"Everything's looking good," Peterson said.
"Barring any big big winds, we should be able to hold it."
Custer County fire crews shifted their focus onto the Zook fire after state resources took control of the Snider fire in Rosebud, Powder River and Custer counties.
Engines from the county, the Bureau of Land Management and Ismay, Montana, have helped with the fire. There is a 20-person hand crew, eight smoke jumpers, 4-5 Custer County fire trucks and a couple of pieces of heavy equipment working the fire.
There are no reports of injuries, no structures are threatened at this time and no evacuations have been issued.
Lone Star fire
The Lone Star fire in Yellowstone National Park, first reported on August 22, became more active on Friday, and has grown to 1,220 acres.
The lightning-caused fire is expanding along its eastern flank and burned southeast toward Shoshone Lake.
A smoke column was visible from Old Faithful and Grand Loop Road.
The Wyoming Type 3 team and Yellowstone resource management crews are continuing to protect buildings and other infrastructure in the Old Faithful area.
Trailheads on the Grand Loop Road between Old Faithful and West Thumb Junction remain closed to the public. Many of the campsites around Shoshone Lake and Lone Star Geyser are also closed.
---
Photos: Governor visits areas damaged by Rice and Snider fires