RED LODGE — When Tyler Smedsrud's lightning-fast finishes in the top skijoring bracket at Montana's oldest skijoring competition officially earned him the first-place trophy on Sunday, he was lying in an ambulance idling next to the track.
The 35-year-old Red Lodge native was one of several skiers in his hometown's annual National Finals Ski-Joring competition to suffer a serious wipe-out on the track at the Red Lodge Fairgrounds. His last run last in the elite "Open" bracket saw him hurtling off the third ramp, a 50-foot rope in his hands attached to a horse pulling him at upwards of 30 mph around the snow-covered track, when he lost control and crashed violently into the snow.
He ended up with a vertical fracture in his tibia, along with a possible injury to his knee and ACL tendon, his younger brother and fellow competitor Brady Smedsrud said Sunday evening. But he also claimed the top $2,000 cash prize and a bottle of whiskey, Brady noted.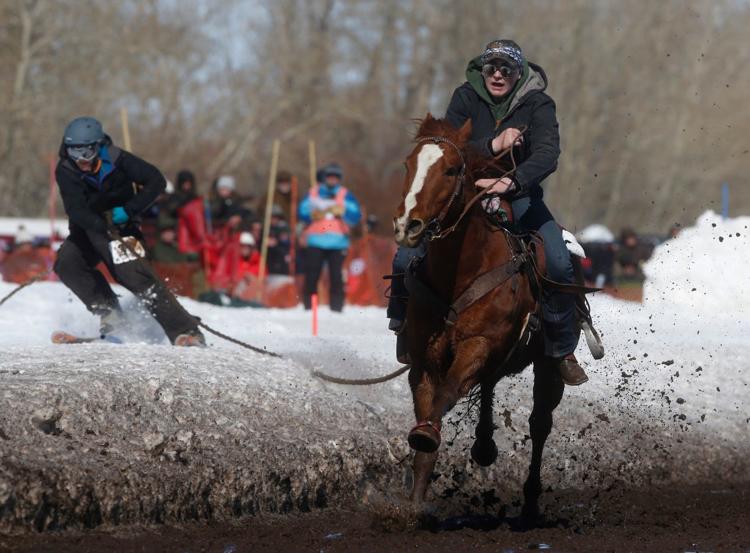 The number of top skijoring competitors that hail from Red Lodge is a point of pride for the organizers and volunteers, who make the town's well-attended skijoring competition run each year — with the exception of 2016, when it had to be canceled due to a lack of snow.
"It was a pretty big event when we were growing up as kids," Brady said. "We grew up ski racing ... but we didn't start skijoring until we were 18 or 19. It can be hard to find a horse, and it was also a bit intimidating."
The Smedsrud brothers, who still both live in Montana, return each year along with a handful of other Red Lodge natives and other competitors in the skijoring circuit from as far away as Colorado and Alberta for the annual competition.
Tammy Stevens, who was one of the original organizers that helped establish ski joring as a stand-alone competition in the south-central Montana town, said her mother competed in the sport back in the 1960s. Back then, it was more of a sideshow for the town's annual "cutter races" — horses pulling sleighs on a snow track — which were started by the Beartooth Roping and Riding Club to create a winter sport for their members.
Stevens said she got her start in the sport back in 1981, and it's since become a major part of her life and a way to stay connected with old friends.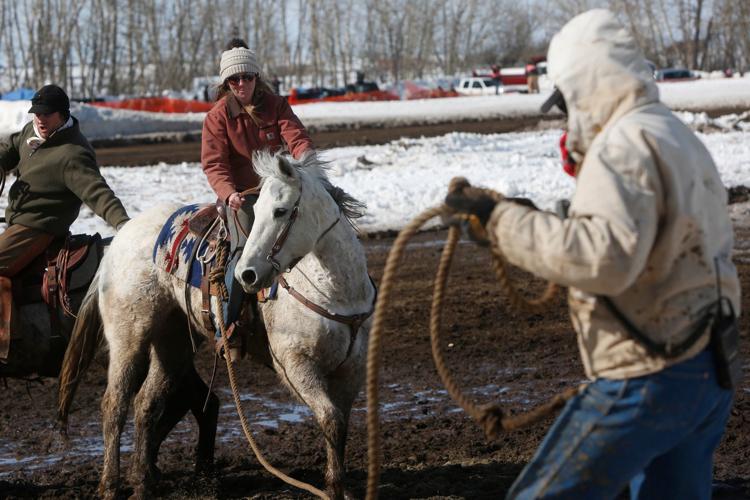 "I thought, I like skiing, and I like horses, so it makes sense to combine them. It's been a part of my whole life," she said. "I'm not going to say skiers and cowboys don't get along, but you get to throw a bunch of skiers and cowboys together, it's kind of fun. I think it's pretty special."
Brady, who also competes in the open division, said that while ski racers feel more pressure to win, skijoring has its own challenges, given the reliance on an entire, specialized team. Skiers have to negotiate several jumps and slalom-style gates along the circular track, with the riders at the same time guiding their horses at top speed in deep mud while the skier pulls at the rope behind them to move across the track.
"Some days the horse just doesn't want to go," he said. "There's so many moving components to it, that's what makes it so difficult. Everybody's got to be on the same page and has to be having a good day, basically."
Kristen Beck took the reins from Stevens after moving to Red Lodge several years ago, where she quickly fell in love with the sport and the community's commitment to the annual competition. She hadn't gotten into it intending to become one of the main organizers — the planning process typically takes about six months each year — but stepped in with a couple other dedicated volunteers after Stevens decided to take a break.
"I was like, well we have to have skijoring. It's the coolest sport in the whole world," Beck said. "And I just think it's something that brings the community together."
Besides the local camaraderie, competitors say it's also just really, really fun.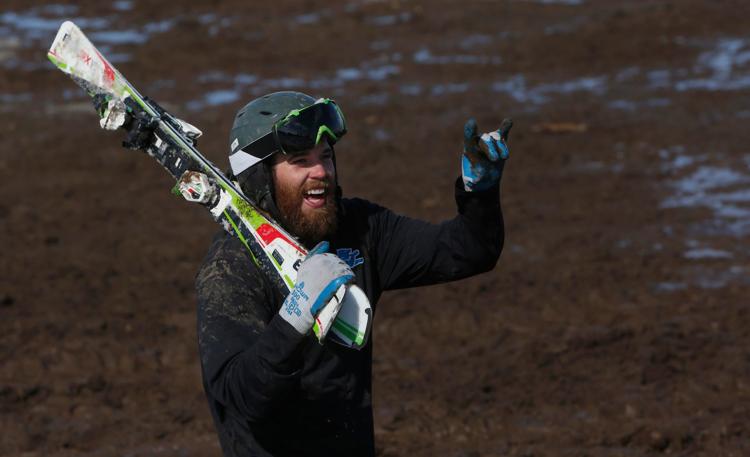 Another competitor who started out with downhill ski racing, Bozeman resident Glenn Hutchinson, said he only got into the sport two years ago. But it didn't take long for him to get addicted, and he now travels to competitions throughout the state with a group of other skijoring competitors. This winter, he's hit all of the annual events in Montana, including stops in Whitefish, Big Sky and Helena.
"That first time, the stoke level was pretty high," Hutchinson said. "You drive six hours to ski for two minutes, it's pretty crazy."