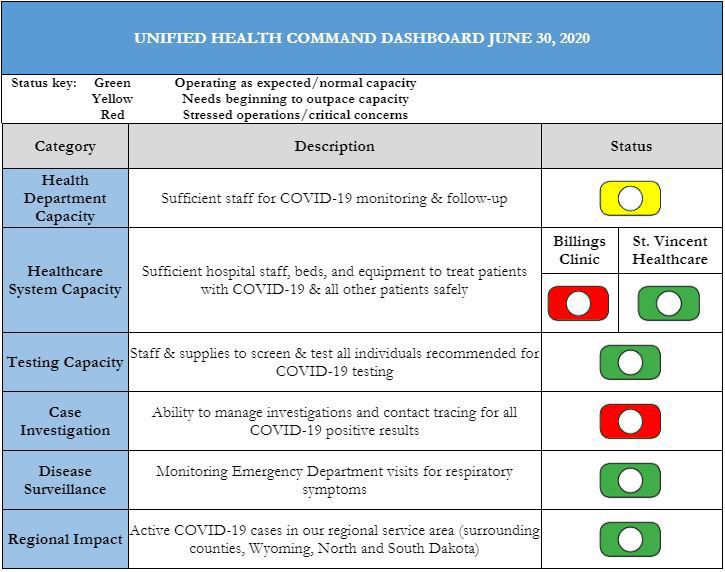 Yellowstone County health officials raised warning flags about contact tracing and health care resources Tuesday as Montana continues to see increases in COVID-19 cases. 
A dashboard used to track the state of health resources switched its "case investigation" and "health care system capacity" indicators to red, which represents stressed operations or critical concerns. 
That includes contact tracing, the process of interviewing those diagnosed with COVID-19 to recall recent close contacts and contacting those who may have been exposed to the novel coronavirus. 
Health experts have said that contact tracing is essential to the effort of limiting the spread of COVID-19. Dr. Anthony Fauci, who has led the federal pandemic response, has said that contact tracing efforts in many places in the U.S. are "not going well."
The indicator switch in Yellowstone County is reflective both of staff available for contact tracing and challenges in the nature of the work itself, Unified Health Command spokeswoman Barbara Schneeman said. 
"As our case numbers in Yellowstone county have grown, we have had to add more staff to do the contact tracing," she said. Pre-pandemic, RiverStone Health had three public health nurses for contact tracing. Now, the organization has 12 staffers doing contact tracing, including eight moved from other jobs. 
Schneeman pointed to the 17 new cases recorded by county officials between Friday and Sunday. Those yielded almost 90 different contact tracing efforts, she said. 
That includes 15 close contacts who had no available phone number and tracers couldn't contact them, she said. Tracers had to return to the originally diagnosed patients to seek additional information. 
Earlier contact tracing efforts when Montana was under a stay-at-home order were easier, Schneeman said. People simply had fewer close contacts and could recall them more easily. As Montana has moved into phase 2 of the state's reopening plan, it's become harder for people to recall their close contacts. 
Some people contacted have pushed back against contact tracing efforts, Scheeman said, though there's no concrete number about how many. 
"There's definitely been some conversations that have been more challenging than others," she said. Those calls include a two-week quarantine recommendation. 
"That's not an easy message to give, and it's not an easy message to hear," Schneeman said. 
The shift in the Billings Clinic indicator is reflective of an increase in the number of occupied beds at the hospital, according to a statement from clinic officials.
That's mostly been driven by a return of people for typical health conditions and procedures, the statement said. 
The community should not be concerned with Billings Clinic's red status for capacity, said a hospital spokesman Zach Benoit.
"Our hospital is fully ready to serve all patient needs," he said. "We have a multi-faceted COVID surge plan that could be implemented if needed, which includes the option of sending lower-acuity patients to our 14 Critical Access Hospital partners."
Health officials have continued to warn that measures like mask wearing, social distancing, and staying home if you feel ill are critical to combating the ongoing pandemic. 
"When phase 2 of the governor's plan to reopen the Big Sky State began on June 1, the rise in COVID-19 cases in mid-to-late June was predictable," said Yellowstone County Health Officer John Felton in a press release. "The primary driver of increased cases is group gatherings where prevention measures like physical distancing and mask wearing are not prevalent."
Surveillance testing of asymptomatic people hasn't yielded many positives, including a mass testing event at the Metra. Rather, new cases are stemming from large gatherings of friends and family. 
That makes adherence to health recommendations over the Fourth of July holiday critical, Felton said in the release. 
"This Independence Day weekend, we must be especially vigilant to prevent happy holiday celebrations from turning into tragedies." 
Irvin Risingsun came into the hospital struggling to breathe on June 8 amid the COVID-19 pandemic. "I knew I had it," he said. The symptoms fit too well. 
Concerned about COVID-19?
Sign up now to get the most recent coronavirus headlines and other important local and national news sent to your email inbox daily.