St. Vincent Healthcare Foundation has received a $1 million gift from retired Billings neurosurgeon Dr. John Moseley and his wife Cheryl, a retired registered nurse.
The estate gift was announced during a news conference Tuesday afternoon at the Mansfield Health Education Center.
The money will support the hospital's spiritual care program. It comes not long after the hospital's annual fundraiser, the SAINTS ball, which collected nearly $1 million to benefit the Healing Beyond Medicine Campaign that will endow the spiritual care program at St. Vincent.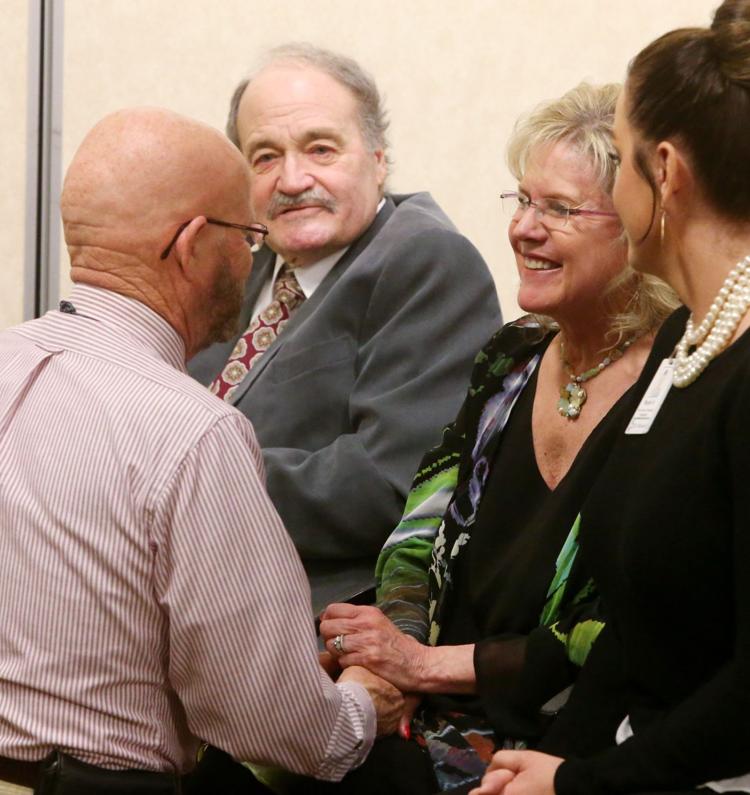 Foundation President Dennis Sulser reminded his audience that St. Vincent Healthcare, a ministry of the Sisters of Charity Leavenworth, was founded on a mission of serving the underprivileged and God.
"Today that legacy lives on through our ministry and our spiritual care program," he said.
Over the past year, the foundation embarked on an effort to raise $3 million to endow the program, Sulser said. The idea is "to enhance, engage and ensure that spiritual care is available for generations to come."
Part of that involves the accredited Clinical Pastoral Education program at the hospital, which trains chaplains to work with patients, their families and the staff.
"We recognize that true healing is not only clinical but dependent upon our spiritual well-being," Sulser said.
After he announced the Moseleys' gift, Sulser said, "It kind of takes your breath away."
Steve Loveless, St. Vincent president and CEO, said that deep spirituality has always been at the forefront of the Moseleys' practice of life.
"Today, the Moseleys are making a $1 million contribution to St. Vincent Healthcare's spiritual care program, continuing their legacy," Loveless said. "We are blessed to know them, and we'll be forever grateful for their generosity."
In an emotional speech, Cheryl Moseley talked about how philanthropy affected her own life. She recounted the many years the couple worked together, John Moseley performing surgery and Cheryl assisting him in the operating room.
Throughout the years, John was involved in volunteer care, both in California and Montana, where he donated his time and surgical talents to children and adults who couldn't afford either.
"So I know firsthand all the charitable work that my husband, John, has done," Chery said.
She also spoke about how much spirituality contributed to their life together and the effect they saw in the patients they served.
"True healing is dependent on the relationship between clinical care and spiritual care — we know that," she said. "John and I were able to provide excellent care in our careers and are now able to provide spiritual care through this gift."
Cheryl traced her spiritual journey back decades, and her time with Mother Teresa working with the destitute and dying in India.
"I had the blessing of working with her nine times over 20 years," she told her audience.
Wanting to heal people goes back even further for her and for her husband.
"In the big picture of our lives, since John and I were each 11 and 10 years old, we wanted to heal people," she said.
Their combined work with the Sisters of Charity of Leavenworth added up to 86 years.
"Mine began in 1969 when I became an RN and John in 1979 when he finished his residency at UCLA," Cheryl said. "We met doing brain surgery at St. John's (Medical Center in Santa Monica, California)."
They worked together for 14 years before marrying in 1993. That same year, the couple moved to Billings where John began his neurosurgery practice at St. Vincent.
She and John have worked with the foundation for 17 years, she said "and the trust that has been built has been incredible." The couple is pleased, knowing that 100 percent of their gift will be used in the spiritual care program.
It is a legacy that means much to both of them.
"None of us knows how much time we have left," Cheryl said. "What is left is our actions and the memories we leave behind."
Afterward, John, who spent his career helping people with their physical healing, explained that he never neglected his patients' spiritual side.
Both were equally important, he said. And there were sometimes limitations to what he could accomplish in the operating room.
"You can only do physically so much," John said. "You can fix parts of them but you can't necessarily fix all of them, and that's where the spiritual side of life comes in," he said.