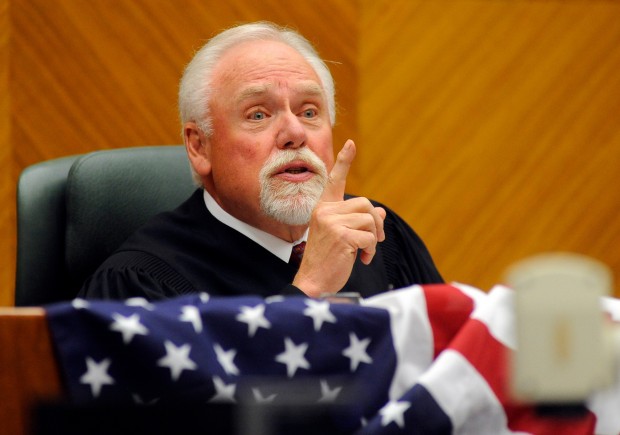 Chief U.S. District Judge Richard Cebull apologized Wednesday for sending a racist email about President Obama from his office to a few friends.
"To say it's inappropriate and stupid is an extreme understatement," Cebull said Wednesday afternoon in his courthouse chambers in Billings.
"There is no doubt it's racist. It wasn't forwarded for that purpose," Cebull said. "If anything, it was political."
The judge admitted he forwarded the racially charged email he received to seven friends, including his brother, on Feb. 20 from his office computer.
The email eventually was forwarded to the Great Falls Tribune, which published it Wednesday. The Tribune said the email text read as follows:
"Normally I don't send or forward a lot of these, but even by my standards, it was a bit touching. I want all of my friends to feel what I felt when I read this. Hope it touches your heart like it did mine.
"A little boy said to his mother, 'Mommy, how come I'm black and you're white?'  His mother replied, 'Don't even go there Barack! From what I can remember about that party, you're lucky you don't bark!'"
Cebull took responsibility, calling it "a hard lesson to learn. I apologize."
The judge said he is not a racist although he acknowledged people will think that because of the email.
"And I don't blame them. The fact is that isn't how I've conducted myself as a federal judge. Never has anybody asserted I was racist," he said.
Cebull was nominated to the bench by former President George W. Bush and confirmed in 2001. He has been Montana's chief judge since 2008. Prior to becoming a district judge, Cebull served as a U.S. magistrate judge in Great Falls and had been in private practice.
Cebull said he does not remember who sent him the email and said he had deleted it before Wednesday. The judge also said he did not write the introduction.
The judge said he was at a loss to explain why he forwarded the message.
Friends send him emails of a political nature, he said.
"It was a private communication. I didn't intend for it to go public," he said.
As a judge, Cebull said, he can't express in public political preferences but was naive to not consider the public consequences of his actions. The judge has said he is not an Obama supporter.
Cebull said he has emailed the other federal judges in Montana apologizing for his conduct. He said he will never forward or send another email from his office that isn't business related.