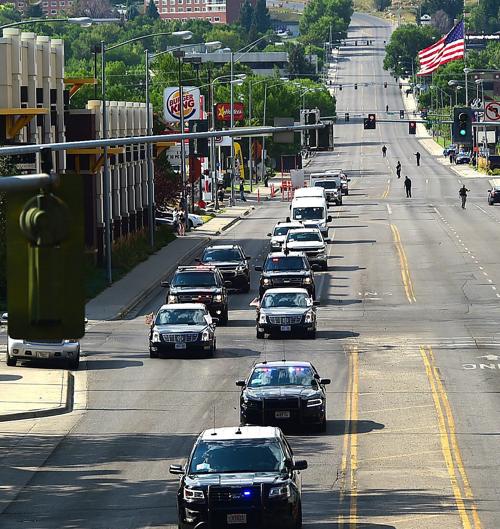 Security measures for Vice President Mike Pence's arrival Wednesday in Billings will lead to road closures and multiple downtown traffic delays.
Billings Police Department Chief Rich St. John detailed those changes to normal traffic flow in affected areas around Billings, including the downtown area, during a press conference Tuesday morning.
"If people don't want to take part in any of this fanfare, avoid the area or take an alternate route," St. John said. "This is a major disruption of downtown traffic and I want to thank everyone in advance for their patience and understanding."
St. John added that, "If for whatever reason people find themselves confused or in some place they shouldn't be, listen to and follow instructions of law enforcement."
Air Force Two is expected to arrive in Billings around noon Wednesday. A motorcade escorting passengers on Air Force Two will then depart the airport headed for the RiverStone Health campus through downtown Billings. That will be the first of multiple trips the motorcade escorting Pence will make throughout the day.
For the duration of Pence's visit to RiverStone police will block off parts of First Avenue South, South 27th Street and South 25th Street. During that visit Pence will discuss methamphetamine use in Montana.
St. John declined to provide the exact route for that trip, or others, citing security concerns.
The Montana Department of Transportation announced Tuesday evening that closures were expected to last for approximately 30 minutes at the different locations along the interstate. 
Those closures will include westbound I-90 between Lockwood Exit 452 and Zoo Drive Exit 443 and westbound I-90 between Zoo Drive Exit 443 and King Avenue West Exit 446. During those closures the on-ramps will be closed as the motorcade passes by.
St. John said downtown travel of the motorcade will lead to the closure of every intersection along the way. Closed intersections will be staffed by uniformed police officers. The motorcade route will also be completely cleared of vehicles while the motorcade is in transit.
"There will be delays while the route is cleared and the motorcade is in transit," St. John said. However, we do not anticipate stoppages to last more than 10 to 15 minutes, and we ask people to be patient and obey orders from law enforcement."
The motorcade will be in transit at least four different times Wednesday, including for a trip to the West End, meaning those approximately 10 to 15 minute traffic delays will take place repeatedly.
While those delays are temporary, there will be more long-term road closures put into effect. From 9 a.m. Wednesday morning until mid-morning Thursday, a square of streets will be closed surrounding the DoubleTree By Hilton Hotel in downtown Billings, located at 27 N. 27th Street.
Partial street closures to vehicle traffic around the hotel include First Avenue North from North 27th Street to North 26th Street, Montana Avenue from North 26th to North 27th Street and First Avenue North from North 26th Street to North 27th Street. 
The square surrounding the hotel will be available to foot traffic, but anyone wishing to pass through that area will have to go through a Secret Service security checkpoint located at the corner of Montana Avenue and North 27th Street.
Bicyclists will be treated like pedestrians, St. John said at the press conference. There will be additional security screening at the DoubleTree hotel and also at the nearby Park 2 Garage. The garage will still be open to public use, St. John said. 
There will be no rooftop parking at the Park 2 Garage or at the Empire Garage, according to an announcement sent out Tuesday morning by the City of Billings Parking Division. Monthly rooftop parking customers will have to find alternate parking locations. Vehicles must be removed by 8 a.m. Wednesday. Rooftop parking will reopen at 10 a.m. Thursday, the release says.
Interstate 90 will also experience temporary closures Wednesday as the motorcade travels between the Lockwood and Zoo Drive exits in Billings, the Montana Department of Transportation announced Tuesday afternoon. The public can expect a 30-minute closure on I-90 westbound and all on-ramps between Lockwood and Zoo Drive, and a 20-minute closure on I-90 eastbound. MDT was not clear when to expect the closures Wednesday.
"We ask travelers to be patient in the short time-span it will take to accomplish these trips in a safe and timely manner," said Rod Nelson MDT district administrator, in a press release.
Multiple other law enforcement agencies will be involved in the security effort around Billings for Pence's visit, including the Montana Highway Patrol and the Yellowstone County Sheriff's Office.
"We're taking any and all staffing that we can to help out with this," St. John said. "The whole goal is to make sure this visit goes without incident. And in order to do that you've got to apply a lot of resources, and we're in a position to do that."
Billings-area law enforcement spent around $34,000 on security for Vice President Mike Pence's visit to Billings in late July.