Steve Duganz and his wife woke up early Saturday morning to what sounded like an airplane crashing above them or a tree had fallen nearby.
Duganz put on a hat, walked into the rain, and saw that his neighbor's house on 4124 Laredo Place near Westfield Drive was destroyed by boulders that had dislodged from the Rims above around 1:30 a.m. Police and the fire department responded soon after and evacuated six homes surrounding it.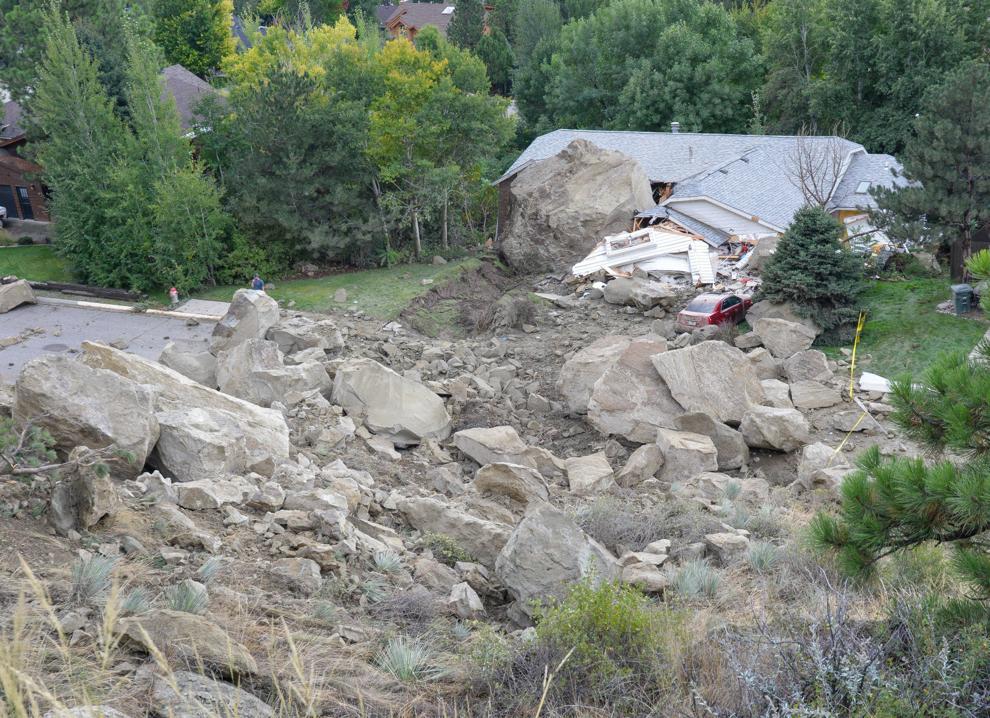 "I came out and looked down the street and that's when I saw the massive boulders," Duganz said. "I got closer and went to the house east of us and saw that it was almost destroyed."
The man who owns the damaged home, William Mercer, and those who were evacuated, were uninjured, according to Billings Police Department Sgt. Tony Jensen. Duganz' home was unaffected.
Mercer and his wife, Marci Mercer, own the house that was damaged by the rock slide. He's a Montana legislator and former U.S. Attorney who has worked in Washington D.C. for both the Department of Justice and the Department of Treasury. 
Mercer later commented on the rock slide Saturday evening, saying that he's grateful for his neighbors and the agencies who responded.
Thankfully, the rest of his family had been out of town the night of the rock slide.
One of his neighbors helped him escape the home by smashing a patio door with an ax. The patio, which was originally on the second story, was damaged to the point where the pair could jump safely to the ground outside.
Now, Mercer and his family will be staying with friends until they find out the extent of the home's damage.
"We have to take it one day at a time," Mercer said.
Police allowed the neighboring homeowners to return about 9:30 a.m., but kept a portion of the street closed. By 2 p.m. Saturday, city crews had not yet begun removing the boulders covering the street. 
Duganz has lived in the neighborhood for 40 years and has never seen a rock slide similar to this one before.
"I've loved it up here. This is a wonderful, wonderful neighborhood with great neighbors," Duganz said. "It's just a tragedy he's going to lose his home but he didn't lose his life so, all will be good in time."
On Saturday, onlookers streamed into the neighborhood to see for themselves, a few of them hiking high on the Rims to get a better view. One of those hikers said he lives under the Rims about four blocks away. He didn't want to be identified, or say exactly where he lived, saying he intends to sell his home and doesn't want to spook potential buyers. 
"This is just what you live with when you live under the Rims," he said. "We imagine this every time we hear rocks fall, and we hear them, little ones, all the time at night."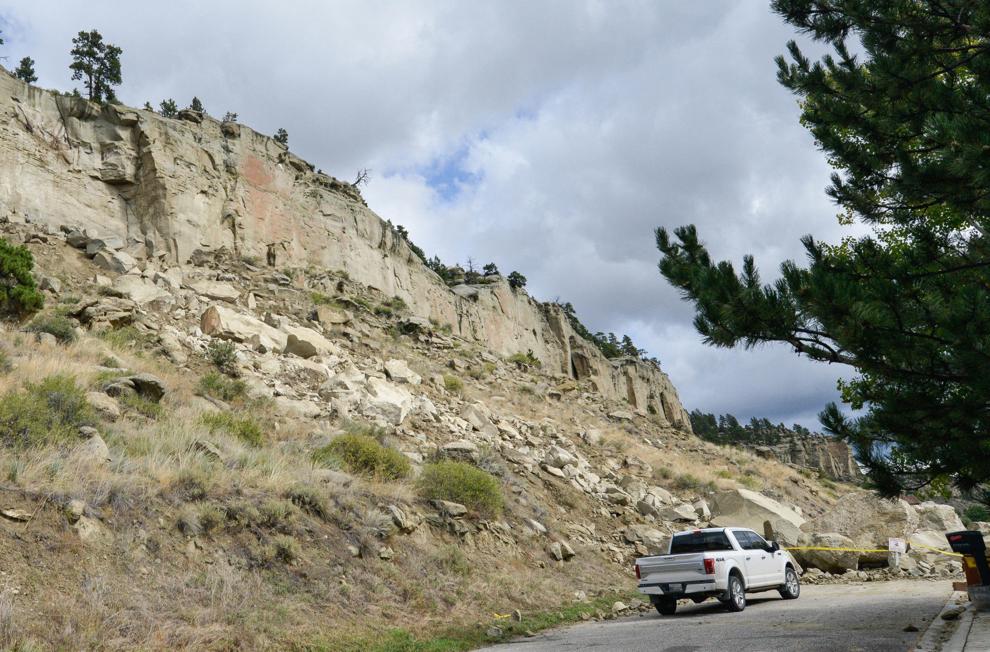 Jensen said that the City of Billings will have to investigate the extent of damage and if the area is safe.
Debris will prevent travel on Laredo Drive until it's cleaned up, he said. Jensen was unaware of any gas leaks or downed utility poles.
BPD, Billings Fire Department, Montana-Dakota Utilities Co. and NorthWestern Energy responded to the scene.
"This probably won't happen again for another 100 years, but who knows?" Duganz said.
Police have advised people to stay out of the affected area, which includes the hillside above the rock slide.