Significant rainfall during the past week in the Crazy and Little Belt Mountains has begun making its way downstream through the Musselshell River, causing the National Weather Service in Billings to anticipate a major flood stage crest near Roundup by late Friday afternoon.
At Roundup, the river could crest at about 11 feet by 5 p.m. Friday, said Todd Chambers, an NWS meteorologist. The river could remain at that height through Saturday, according to NWS stream gauge estimates.
Water was already rising in Musselshell County Thursday, closing down some roads and washing away road repairs that were underway after the most recent round of flash flooding hit the area and a thunderstorm dropped hailstones the size of tennis balls onto Roundup. 
Number Four Road, Melstone-Custer Road, Cameron Road and 4H Road were all closed as of Thursday afternoon. At about 7 p.m. the closure of Dean Creek Road was announced on the Musselshell County DES Facebook page.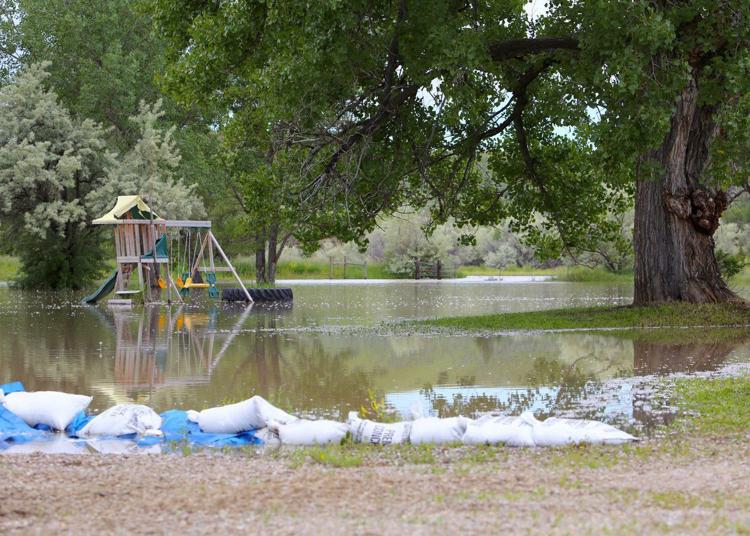 Justin Russell, Deputy Disaster and Emergency Services Coordinator for Musselshell County, warned people against trying to drive through water-covered roads. 
"It's not worth the chance of getting stranded in the middle or potentially falling through the road base and drowning," Russell said. 
Rising waters had not left anyone isolated on their properties to Russell's knowledge, something he said created problems during the 2011 flooding.
You have free articles remaining.
Keep reading for FREE!
Enjoy more articles by signing up or logging in. No credit card required.
This time around though, damage to roads repaired from flooding late last month has significantly increased travel time for some. 
Russell asked for people to be patient. "It's been a long winter, a long spring. Patience is running thin. We understand that," Russell said. "We are working our best to try and fix it."
On Melstone Custer-Road, most of the 12 loads of gravel hauled out for repairs had been washed away, and a 200-foot breach reported on the old Milwaukee Railroad bed has opened up Number Four Road to flooding.
Detouring for people traveling on Melstone-Custer Road can end up adding 40 miles to a route and flooding on Number Four Road has forced some people to take a roughly 20 mile detour, Russell said. 
The residents of one home affected by the previous flash flooding event this year have been notified of a possible pre-evacuation notice, and county officials have also contacted approximately 20 residents of structures along Mine Road and the Riverside area. 
The county also notified residents located off ranch roads around Gage, Musselshell and Melstone, Russell said.
No official pre-evacuation notices had been given out yet, Russell said around 5 p.m.