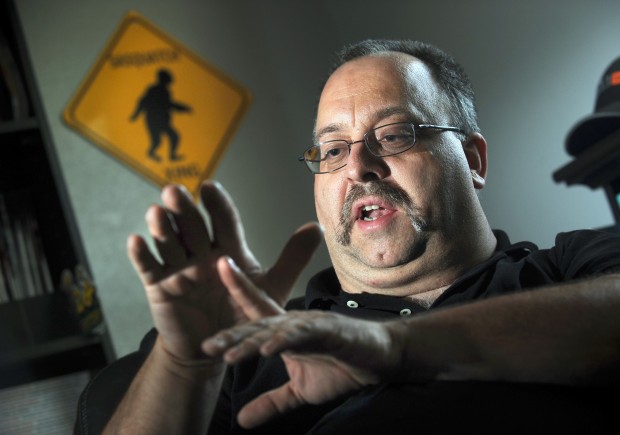 Pete Wilson is a patient man, and patience is a useful virtue for a bigfoot researcher.
After years of working in the field and investigating reported bigfoot encounters by others, Wilson has been rewarded with seeing a few likely footprints and hearing what he thinks was the howl of a sasquatch.
Also, he said, "we've had rocks thrown at us, which is a common trait among bigfoot."
But he has learned enough to give him hope that he'll actually see a sasquatch in his lifetime.
"I'm pretty convinced they're real, but I've got to get that sighting," he said. "I've got to prove it to myself."
Wilson, who moved to Billings from Virginia in June, is hoping other Montanans will help him in his quest. He has founded Sasquatch Watch of Montana and has created a website so people can report sightings or otherwise get involved in the search.
The bad news is that Eastern Montana appears to be barren ground when it comes to the bigfoot.
"The Pryor Mountains might be the closest one to have some potential, but I kind of doubt it," he said.
The good news is that there have been at least 30 sasquatch reports in Western Montana, starting at about Livingston, Wilson said.
One of the most famous sightings ever, in the Bitterroot Mountains between Montana and Idaho, was recounted by Teddy Roosevelt in his book "The Wilderness Hunter." Roosevelt told the hair-raising story of a "grizzled, weather beaten old mountain hunter" whose companion was killed by an unknown beast that walked on two legs and left huge footprints all around the victim.
Wilson is particularly interested in reports filed by Stan Courtney, a bigfoot researcher in Illinois. Courtney told The Gazette that his brother Dale, who lives in Laurel, had some strange experiences at a campground in the Little Belt Mountains near Martinsdale in 2004.
Courtney went to the campground in 2005 and recorded what he is convinced are the sounds of a "large biped" walking past his motor home. Wilson wants to go there himself, and to other likely spots in Montana.
Wilson said he grew up in Michigan and got seriously into bigfoot research after reading some books on the subject in the late 1980s. Moving around the country, he got involved in bigfoot research in Kansas, Oklahoma and Virginia, among other places.
Billy Willard, director of Sasquatch Watch of Virginia, said he and Wilson "spent quite a few hours in the woods."
"We hated to lose him to Montana, but you have to go where the work is," he said. Wilson works in avionics for Edwards Jet Center.
The highlight of Wilson's researches came in northern Oklahoma in 2008. He and another investigator were on private property where there had been numerous bigfoot sightings over 25 years.
"We found three consecutive footprints that had a 5-foot spread between them," he said.
Unfortunately, the prints were in small gravel near a stream, and attempts to make plaster casts of them were unsuccessful, he said.
He said the tracks "weren't overly large," maybe 13 or 14 inches long but quite wide, maybe six inches. And the prints seemed to show a " midtarsal break," a throwback to the apes, whose feet were made for climbing and grasping rather than walking.
Jeffrey Meldrum, a professor of anatomy and anthropology at Idaho State University, has studied hundreds of photographs and casts of purported bigfoot prints and has done much to publicize the significance of the midtarsal break.
In an interview, he said the feature combines elements of the human foot and an ape's foot and seems to be an adaptation designed for walking on steep, broken slopes.
After years of research, he said, "I'm quite confident they (sasquatches) exist. I wouldn't have exposed my career to the ridicule ... if I wasn't convinced of my evidence and my conclusions."
That's the kind of talk Wilson likes to hear.
"He's one of the few academics out there open-minded enough to the extent of believing this," he said.
And Wilson can't wait to see a bigfoot.
"I personally think it's some type of ape," he said. "They look kind of like us, only just covered in hair."