Principal Greg Senitte wants all of the families whose children attend Rose Park Elementary to know that school starts on Aug. 23. But he also wants them to know that Aug. 24, the next week, and so on down the calendar, matter just as much. 
Senitte, teachers and other volunteers gathered Tuesday to distribute door hangers with school year information that emphasize the importance of attendance. 
It's easy to assume that everyone knows when school starts, has purchased school supplies and is ready to launch into a morning routine. 
"The reality is that not every family is in that same boat," he said. 
A robust body of research confirms the importance of consistent school attendance and illustrates the consequences of missing too much school. 
Students' attendance habits are often built in early grades when they rely on parents to get them to school. If they miss more than 10 percent of school days, or about 18 school days, they're less likely to graduate high school and hit other important academic benchmarks. 
Attendance is also most important for students from poor families, who are already statistically more likely to drop out. Factors like housing insecurity, transportation issues and health problems all contribute. 
Tardies matter too; missing 15 minutes in the morning can render a lesson useless for students, and the disruption of several kids arriving late can have a wider effect on the class.
"The teacher's having to stop what she's doing, he's doing, and redirect," said Casey Black, a special education teacher at Rose Park. 
Black distributed door hangers with Cassi Kutzler, a fifth-grade teacher at Rose Park. 
It's important for the oldest elementary students to have skills to get themselves to school, Kutzler said. 
"It's building their own responsibility at this point in their lives," she said. 
That's a shift from the youngest students, like kindergartners, who rely on adults or older siblings to get them ready for school. 
The attendance campaign in Billings is spearheaded by United Way of Yellowstone County, which also works with Laurel schools. 
"It's difficult for students to learn if they aren't in school," said group president Carol Burton. Missed days add up for chronically absent kids — "by the time they're in high school, they could have missed an entire year of school."
You have free articles remaining.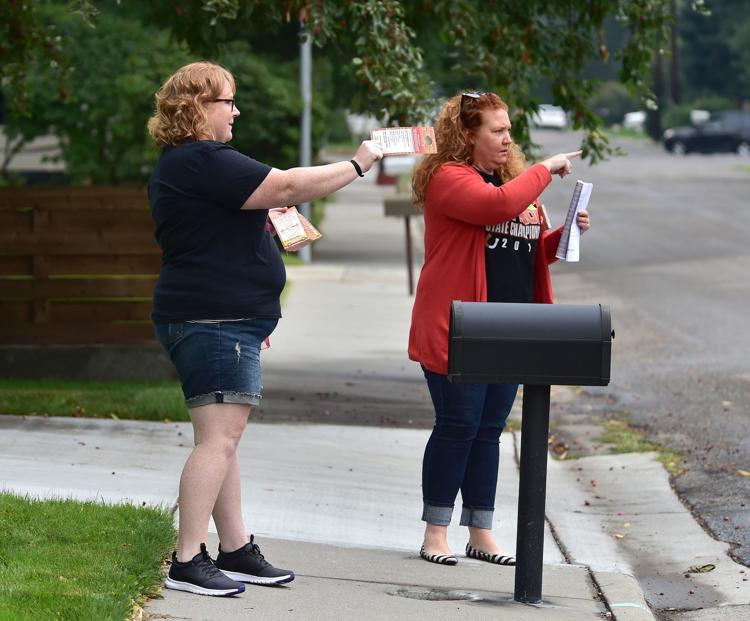 So, what can schools do?
Events like Tuesday's are a good outreach baseline. Last year, about 200 volunteers at 14 schools participated. A United Way survey sent to principals found that the vast majority reported increases in on-time registration and first day attendance, and that all of them said they increased connections with the community and volunteers. 
But identifying chronically absent students and offering individual resources is also important. 
School District 2 typically reports attendance figures based on the overall school population; average daily attendance and days where more than 10 percent of the student population was gone. 
Those figures show some gains for schools, especially those with a high proportion of students from low-income families. But it's an imperfect measure. 
A 2011 report found that a measure like average daily attendance can "easily mask" individual chronic absence issues. According to advocacy group Attendance Works, it's a mistake that "most school districts and states" make.
That makes school-level interventions, where teachers and administrators can track individual students more easily, more important. 
Some mentoring programs exist among specific schools or programs in Billings schools, but United Way is adding a mentoring program centered around Riverside Middle School and its feeder elementary schools that targets chronically absent students.
The goal is to work with students and their families to create a team approach for getting students to school.
On Tuesday, Senitte acknowledged that "life happens each month;" attendance typically starts of strong in August and September, then tends to taper off. 
But a report from United Way offered encouraging results. It examined average attendance between the 2015-16 and 2017-18 school years, looking at three groups of schools; those it doesn't work with, partner schools and a trio of pilot schools — McKinley, Newman and Rose Park elementary schools.
The increases include a period of school boundary shifts, meaning that comparisons aren't exactly apples to apples, but should be close.  
All of the schools saw an average attendance increase between 2016 and 2018; but the aggregated increase was steeper for partner schools, and steepest for pilot schools.