From his office at Riverside Middle School, principal Kevin Kirkman can peer down hallways, check on the lunchroom and scope out the school's perimeter.
Riverside has more than 50 security cameras, most of which were installed in April. While school security concerns have peaked after a school shooting in Florida, the camera installation was sparked by routine school business.
"It's not just that we're looking for pushing and shoving," said Kirkman. "If a kid says this happened in this hallway at this time, we can see what happened."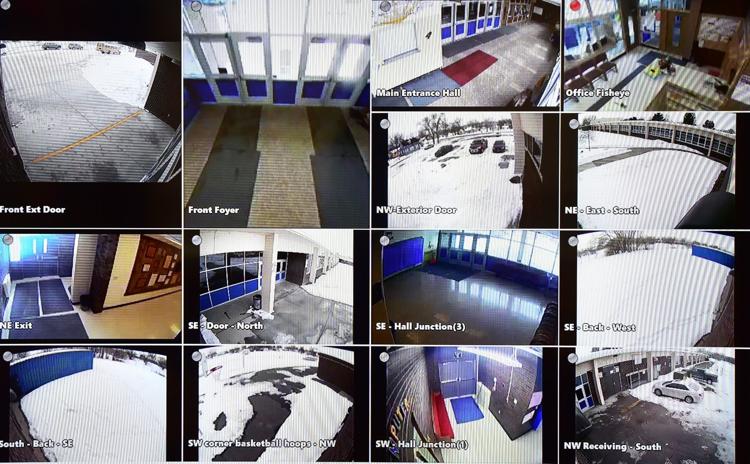 Riverside is the first of School District 2's middle schools to roll out an extensive camera system. The other middle schools are expected to follow suit this year, with systems at Ben Steele and Castle Rock near completion. The move comes as school security has taken on a new urgency since a school shooting killed 17 people at a Florida high school Feb. 14.
But it wasn't violent crime that initially spurred the move.
The district had been talking about upgraded camera systems for years, but Riverside administrators made a push after their school was hit by a spate of graffiti about two years ago.
The system includes all the school entrances and much of the perimeter. It does not include individual classrooms. It has features that allow users to zoom in and track specific individuals as they move through the school. It has a hard drive that keeps more than a month of videos.
Several school employees, like secretaries, have access.
"They can get a full view of who's coming into the building," Kirkman said.
He and associate principal Nathan Talafuse said they haven't heard privacy complaints. Parents had the opposite idea.
"We had had parents asking over and over again, 'Why don't you guys have cameras?'" said Talafuse, especially when their students were involved in a dispute.
In the week since a 19-year-old man shot and killed 17 people at a high school in Florida, the issue of gun control has been all over the news…
Riverside administrators have shown parents clips of incidents a handful of times, but they said privacy laws limit what they can show.
The American Civil Liberties Union generally opposes the use of public video surveillance, and has spoken against security cameras in schools. But their use is already widespread.
According to federal statistics from the 2013-2014 school year, almost 90 percent of high schools used security cameras. About 83 percent of middle schools had them, and about 67 percent of elementary schools have them.
All Billings schools at least have a buzz-in system at main entrances that's equipped with a basic camera to see visitors. A new, informal policy requires visitors to show identification before they enter.
Semiautomatic rifles could be coming to schools in the Florida county where 17 students were killed in a school shooting. And, in rare instanc…
Kirkman said that teachers supported the video system.
"They know it's not in a classroom," he said. "I think they see it as a good deterrent of inappropriate behavior for students. … we want this to be a positive environment."
The National Education Association has been critical of some school districts that planned to use security cameras to, in part, evaluate teacher performance.
The major impact has been on administrators, Kirkman said. They spend far less time trying to sift through students' stories after incidents like thefts, fights and bullying.
"You can go down that hall, and it'll take you the entire day to get the true story," he said. "The camera usually doesn't lie."