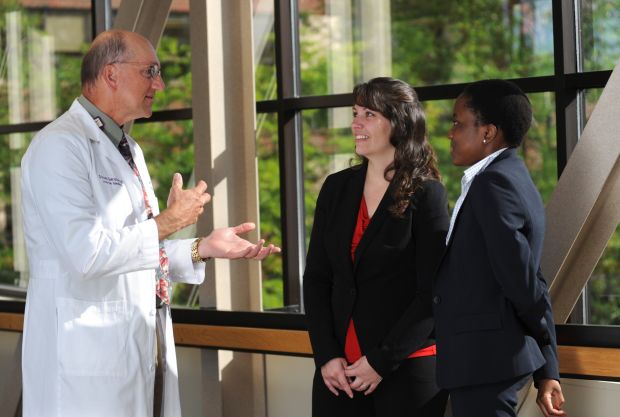 When Sindy Byington was searching for a place to complete her internal medicine residency, she had two criteria: She wanted to live in a smaller city where she and her husband could raise their three children and she wanted to make sure the training she received would not be substandard to that she would receive in a major metropolitan area.
Byington, who was living in New York City at the time, set her sights on Billings, specifically Billings Clinic and the Internal Medicine Residency it is offering for the first time.
"We fell in love with the people at the Clinic and the city," Byington, 35, said. "It had everything we were looking for. It was the perfect fit."
Byington is one of 12 first-year residents who have been selected for the inaugural program. They begin eight days of orientation on July 1 and will begin making rounds in the hospital and clinic the third week in July. Four of the 12 residents will be at Billings Clinic for one year before moving onto a specialty program such as radiology, anesthesiology or physical medicine and rehabilitation. The remaining eight will spend three years at Billings Clinic.
"Being part of the inaugural class is the best part," Byington said. "Everything is new and fresh. As residents we can help shape this program. There are no old and longstanding traditions and no pretext that this is the way it's always been done and always will be."
All of the residency spots were filled in March through the national resident matching program.
Brenda Nyamogo, 33, who has lived in Chicago and Florida and is one of the 12 residents, said she was attracted to the program because it is new and she believes that she will be trained "the right way." She was also attracted to the "open land" in Montana, as her goal is to practice in a rural area after completing her residency.
"It's not crowded here and everyone is so polite," she said.
The match uses a computerized algorithm to align the preferences of applicants with the preferences of residency program directors to fill available training positions. Billings Clinic received 1,564 applications from students interested in an internal medicine residency and invited 131 applicants for interviews.
The focus of the Billings Clinic internal medicine residency program is to help address the primary-care shortage by training general internal medicine physicians in the region.
Those chosen include learners from University of Washington, University of Kansas, University College London, University of Texas at Houston and Creighton University, among others.
"It is very exciting to have this fine group of new physicians joining us," said Dr. Steve Gerstner, associate program director for the residency. "With the advent of the residency we will be a very active learning environment that will further enhance the care we provide for our patients. We have been working hard toward this goal for the past two years and we are ready to get started."
The Internal Medicine Residency Program is the first of its kind in Montana and Wyoming. It was accredited last year for three years by the Chicago-based Accreditation Council for Graduate Medical Education, the maximum length of time for an initial accreditation. It was one of only four internal-medicine residency programs in the country to achieve accreditation.
At full capacity, the residency program could be producing as many as eight new doctors a year.
The hope is that these new doctors will choose to practice in Montana, where most counties have a shortage of primary care physicians and 10 counties have no physician at all.
Billings Clinic's program coincides with predictions that in the next decade, the country will be short an estimated 50,000 primary care physicians to meet the need. Compounding the shortage is health care reform under the Affordable Care Act, which is expected to flood the system with new patients. More than 30 million Americans will be newly eligible for health care, according to Dr. Bill Iobst, vice president of academic affairs for the American Board of Internal Medicine.
More than 20,000 Montanans live in counties without a primary care physician, according to MHA — An Association of Montana Health Care Providers. And at least 52 of the state's 56 counties are federally designated primary-care physician shortage areas.
A residency typically is the final step in 11 years of post-secondary training. A high school graduate planning to become a physician needs four years of college for a bachelor's degree, four years of medical school and then three more years as a resident under another doctor's guidance.
There are currently 385 certified internal-medicine residency programs in the country. Only one program was accredited to start July 1, 2013. Six accredited programs began July 1, 2012, according to the Accreditation Council for Graduate Medical Education.