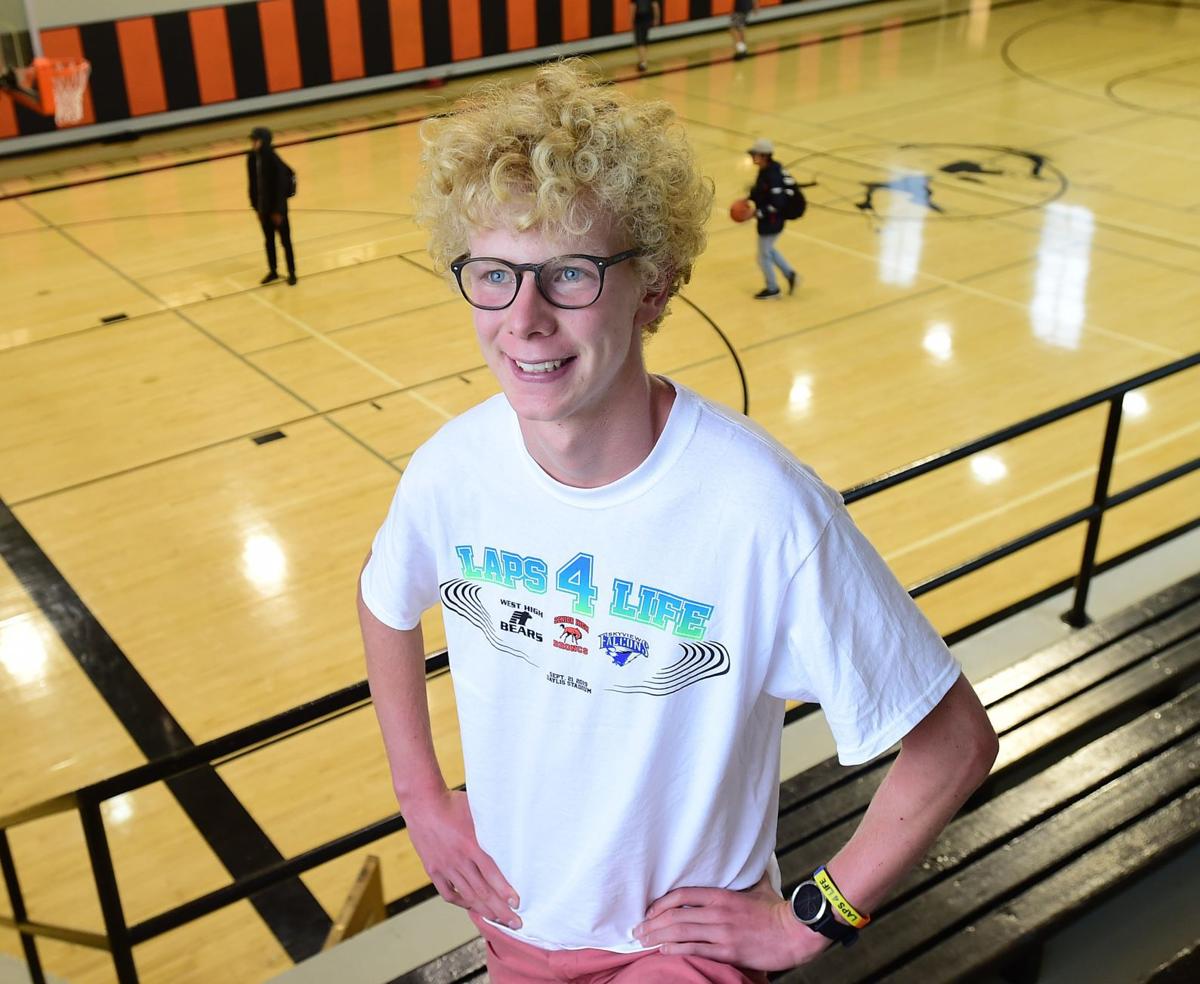 Jesse Dimich-Louvet readily admits that he didn't know much about student homelessness. 
He had no clue that there were dozens of his peers at Senior High who don't have stable housing, whose families might be bouncing between motels, or who might be fending for themselves. 
But the senior's interest was piqued when he read a story in the school newspaper about student homelessness. He decided to dig further into the subject for his Platinum Project, a high-achieving track at Senior High where students create a capstone project. 
That path has resulted in the creation of a new fundraiser benefiting the nearly 600 homeless students in School District 2, Laps 4 Life. 
"For me, that was kind of just mind-boggling numbers," Dimich-Louvet said. "I really needed to do something about it."
Laps 4 Life will take place Sept. 21 at Daylis Stadium from 4-6 p.m. Participants can see how many laps they can clock in a 15-minute time slot, with walkers using the first hour and runners using the second. Athletic teams, cheer squads, bands, and other groups from Billings high schools are slated to be at the event. 
Registration to run is $15, but business sponsorships and other donations have Dimich hoping for a haul approaching $10,000, far higher than he first hoped. Funds raised will go into the Education Foundation for Billings Public Schools before it's doled out to the homeless student program of School District 2. 
Sue Runkle, SD2's homeless student liason, "really enlightened me on the subject," Dimich-Louvet said. 
Runkle said that another high school student contacted her about project a few years ago, but that she hasn't seen this type of project. 
"We kind of coordinate together, but he's doing the work," she said. "He's kind of taken it to a new level."
Part of Dimich's learning curve included understanding different definitions of homelessness. For example, some federal definitions rely on a single-day count. Schools, however, track students throughout the year. Homelessness could include a family living on the streets, living in a shelter, or bouncing between relatives' homes. 
At the high school level, that includes unaccompanied youth who might be couch surfing or fending for themselves. 
"We all kind of think that it's just being on the street," Dimich-Louvet said. "It really can be just not having a stable place."
That's where Runkle thinks the Billings community has more to learn. 
"Awareness-wise, I still think we have a lot of work to do," she said. 
Montana has identified more and more homeless students each year, topping 4,000 in the 2017-18 school year. Part of that is due to better identification; several rural schools that previously didn't identify many students now do a better job. Identifying students can open up federal resources to help them be more successful in school. 
Awareness is part of Dimich-Louvet's goal with Laps 4 Life. 
"It's not just about the money," he said. 
The project has also taught him more about exploring beyond high school athletics. Dimich-Louvet won the state AA singles tennis championship in 2018, and has run in the AA state track and cross country meets. 
"It's really what you can do off the court that has a big impact," he said. 
A recent report trumpeted an alarming statistic; Montana has seen its homeless more than double among rural students in a four year period.
Get local news delivered to your inbox!
Subscribe to our Daily Headlines newsletter.