Severe weather conditions may have caused up to four tornadoes to touch down in Carter County Thursday night and it's possible that at least two of those tornadoes crossed over into South Dakota.
"I've been down here since 1983 and I don't remember a storm that carried the number of tornadoes that we had," said Georgia Bruski, the disaster and emergency services coordinator for Carter County. "It was a severe night of storms, it truly was."
There were no reports of injury or structural damage as of 10:30 p.m., but Bruski said an assessment of the tornado's impact on the county was ongoing. 
There were some unconfirmed reports of damage across the border in South Dakota, according to the National Weather Service in Rapid City.
Elsewhere, the weather system produced baseball-sized hail and caused flash flooding in Miles City, said Dan Borsum, a senior forecaster with National Weather Service Billings. 
"We do expect a chance for severe weather to continue up until 11 p.m. as the atmosphere remains moist and unstable and a cold front is still crossing through the region," Borsum said, speaking at about 8:35 p.m.
Bruski said that she had taken an initial tour of parts of Carter County, including an area about 70 miles south of Ekalaka. One storm chaser Bruski spoke to thought they may have seen four separate tornadoes. 
Across the border in South Dakota two tornadoes were confirmed to have crossed over from Montana, according to Alzine Foscato, a meteorologist with NWS Rapid City. It's also possible a third tornado crossed the border, Foscato said.
The confirmed tornadoes may have been on the ground in Harding County, South Dakota for five to 10 minutes, she said. 
"They were pretty long lasting," Foscato said. "The environment that it was in, it was able to sustain itself and all the ingredients in order for the tornado to keep getting its energy and stay on the ground." 
Foscato described the area where the tornadoes were reported as rural and said she had yet to hear any reports of injuries. 
A damage survey would likely begin Friday and the severity of the tornadoes would be rated according to the findings of the survey, Foscato said.
A tornado touchdown was first reported in southern Carter County at about 7:30 p.m. A tornado was later spotted about 10 miles northeast of Albion at about 7:45 p.m. and was seen moving east at about 25 mph toward South Dakota.
As of about 8:10 p.m. a "large tornado" remained on the ground near Capitol in southeastern Carter County.
It was unclear whether those three sightings were of the same tornado. Every time a funnel cloud lifts up and touches down again, the National Weather Service considers it a new tornado.
"We think the same storm produced multiple tornadoes," Borsum said. "It's probably at least two. We were watching live footage and we saw at least two distinct periods of definite tornado. There might have been a third one."
You have free articles remaining.
Keep reading for FREE!
Enjoy more articles by signing up or logging in. No credit card required.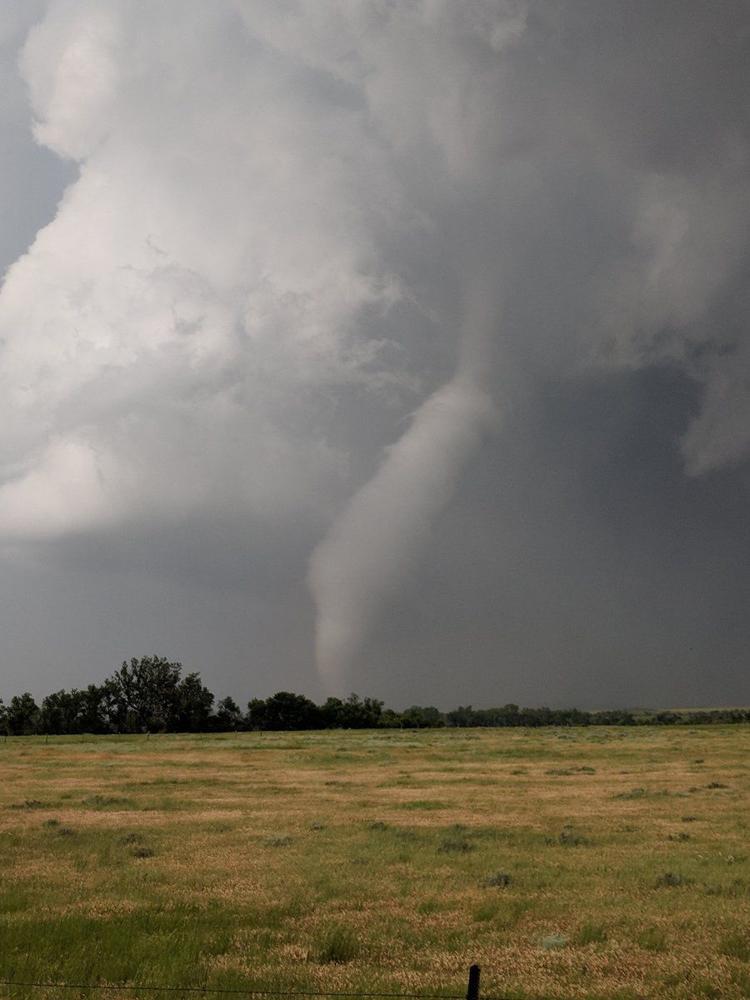 Definitive information on the size or other characteristics of the tornadoes was not immediately available. 
NWS issued a tornado watch for parts of Eastern Montana including Miles City, Glendive and Sidney earlier Thursday.
The watch also affected parts of northwestern South Dakota. A separate tornado watch was also in effect for a large part of North Dakota stretching from the Montana border to Jamestown.
The National Weather Service in Billings issued the watch for Eastern Montana and South Dakota shortly before 4 p.m. Thursday, and the watch was scheduled to remain in effect until 11 p.m. 
Counties in the area of the watch include:
Carter
Fallon
Powder River
Rosebud
Custer
Garfield
Prairie
Treasure
Dawson
McCone
Richland
Wibaux
The map provided by the weather service shows the edge of the watch area to be south of Glasgow and east of Hardin. 
NWS Billings meteorologist Shawn Palmquist said the watch was issued because "a few tornadoes are possible," in the current conditions, in addition to "large hail and damaging winds."
Significant humidity in the watch area played a role in triggering the watch, according to Palmquist.
Residents of areas under tornado watch could see scattered precipitation including softball-sized hail and may also be exposed to wind gusts up to 80 mph, according to the watch. 
People in the watch area are asked to continue to monitor news sources and social media and to take shelter inside interior rooms of buildings should the weather take a turn for the worse.
NWS Billings estimates the combined areas for the watch have a population of 60,584 people. The weather service also estimates the areas to include nine hospitals and 111 schools. 
Severe thunderstorms are also possible for Billings and beyond through the evening, Palmquist said. Those storms could produce large hail, but Palmquist said the better potential for softball-sized hail is east of Billings.