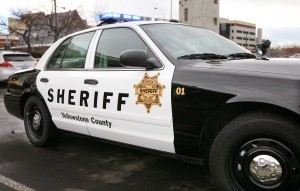 Yellowstone County and the sheriff's deputies union appeared to be making progress toward approving a new contact after months of negotiations that included mediation.
Dwight Vigness, the county's human resources director, on Tuesday presented to commissioners an updated version of a collective-bargaining agreement that includes language changes from mediation and recent discussions with the union.
The parties, Vigness said, are "very, very close to being on the same page."
Vigness also recognized Darcy Dahle, field representative for the Montana Public Employees Association, which represents the deputies, as "being very instrumental" in negotiating the proposed agreement. Both sides, he said, have made concessions.
The contract includes a 5.13 percent increase in compensation. The main sticking points as talks have evolved center on shift differential pay and the amount of compensatory time deputies can bank.
In the revised March 11 proposed contract, the county would pay a shift differential rate of 76 cents per hour for deputies working the night shift. Deputies typically work six months on night shift and six months on day shift. The current shift differential rate is 65 cents per hour. The county proposes to pay the differential rate on a year-round basis of 38 cents per hour to simplify payroll.
For compensatory time, the county proposes to limit to 40 hours the amount of overtime that a deputy can bank or accrue. The current contract allows up to 80 hours for accrual of compensatory time.
Commissioner Bill Kennedy proposed increasing the shift differential pay slightly and increasing by eight hours the amount of comp time that could be banked, as the union wants, to resolve the disputes.
"I would like to get this settled and move on," he said.
But Kennedy got no support from Commissioners John Ostlund or Jim Reno.
"We're offering what I believe is a very lucrative contract. I'm done negotiating," Ostlund said.
Ostlund also said he thought the parties had reached a tentative agreement after mediation talks in January. The county, he said, had agreed to the union's request that deputies could individually choose overtime or comp time rather than decide as a group.
Dahle, who attended the commissioners' board meeting, said she didn't know what the union would do and that no ratification vote had been scheduled.
"We'll just have to wait and see," she said.
The county has given the union until March 18 to decide whether to approve the revised agreement. If the deputies approve it, the board will ratify the agreement.
If the union rejects the revised agreement, the county will decide whether to implement its "last, best, final offer" of Oct. 17, 2013, at its March 25 board meeting.
In October, the union unanimously rejected the offer and voted to authorize a strike but set no strike date. The previous two-year contract expired in June but remains in effect until a new agreement is reached.