When and where Billings Public Schools holds high school graduation will come under the microscope as the district looks at future school year calendars.
School District 2 trustees authorized the creation of a sub-committee at their May 21 meeting to explore changes to the calendar — a topic that's proven thorny in the past.
"There are so many things to consider," said trustee Janna Hafer, who previously chaired the calendar committee. "You move one thing and everything is affected."
Holding high school graduation at the Metra on the Sunday of Memorial Day weekend has become an entrenched date for the district. And graduation tends to anchor the rest of the school year.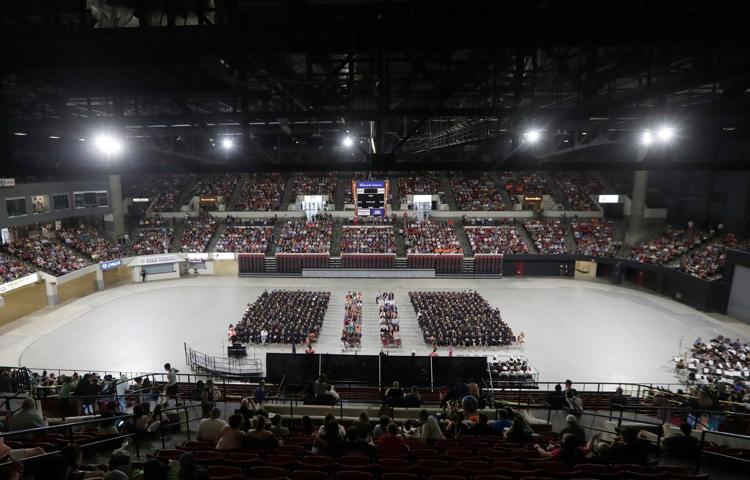 "The calendar is really dictated by graduation," said SD2 activities director Mark Wahl, who leads the current calendar committee. "You kind of work from there."
The calendar has received extra attention recently as the district issued a survey asking about calendar options and built in a snow day for this and subsequent school years. The survey included a question zeroing in on spring break, asking about preferences for a weeklong break or the district's current shorter break. 
Wahl said potential changes to the graduation date and venue would "probably be a hot-button topic."
"We just thought we probably should get a little board direction," he said.
Billings Senior High School celebrates graduation at the Rimrock Auto Arena at MetraPark on Sunday. 
Wahl said variables like the state's required number of instructional hours, teacher training days and events like the state music festival limit options for changing the calendar.
"Some of those things that are locked in created some frustration with our committee" in the past, he said.
Previous changes
It appears unlikely that moving up schools' start date is on the table.
The last major calendar revamp came in 2012, when trustees pushed back the start of school by a week. The changes took effect for the 2013-2014 school year.
You have free articles remaining.
Keep reading for FREE!
Enjoy more articles by signing up or logging in. No credit card required.
Intense heat in August 2012 sparked complaints from parents and teachers about classrooms that were too hot for instruction. Several SD2 schools have no air conditioning.
Central High School graduates attend commencement ceremony at Ralph Nelles Activity Center on Sunday.
"When you've got a temperature that's so much warmer in August (than June), particularly when we have schools that don't have air conditioning, is that really the best environment for kids and the best environment for learning?" said board chairwoman Greta Besch Moen, the only trustee who was on the board for those changes.
The district also estimated it could save about $8,000 in cooling costs by pushing back the start date. 
During that process, she said she frequently "heard, 'Oh well, it's always been this way,'" as a rationale for the calendar's structure.
Skyview High School celebrates graduation at Rimrock Auto Arena at MetraPark on Sunday. 
She and other trustees argued that the district needs to avoid that approach and explain the "whys" behind days off and start and finish dates.
"Part of the reason that we do it the way we are doing it is that that's sort of the way it worked best for all the moving parts," Hafer said.
Trustee Joe Raffiani asked whether the subcommittee's work would include sweeping options like four-day school weeks, which dozens of rural schools in Montana use, or year-round school.
Wahl said those were included in previous discussions. The motion that created the committee is more narrow, citing tweaks like moving days off for teacher training, but it does leave the door open to larger changes.
Graduates of Billings West High School attend commencement at MetraPark on Sunday.
Wahl suggested the subcommittee do another, more specific survey focused on graduation. 
"If the community is really tied into graduation at the Metra, maybe you don't do a lot of work to change the calendar," he said.
Any proposed changes would require school board approval to become official.