LAUREL — Calling Memorial Day a day "not only for silent mourning but also a day of reverent celebration," Maj. Gen. Matthew Quinn told a large crowd at Yellowstone National Cemetery Monday that he especially cherished a note someone left under his windshield wiper the day before.
He feared it was of the "sorry I dinged your car" or "nice parking job, mister!" variety, but that was not the case.
"Thank you for your service," the unsigned note read. "Happy Memorial Day."
"They saw my veteran's plate, and they wanted to thank me," said the commander of the Montana National Guard. "My daughter was with me, and there were tears in her eyes, too. To the writer I say, 'It is my honor to serve you,'" as well as the rest of the state and the nation, he said.
Presently, Quinn said, 90 Montanans are deployed in Iraq, Syria, Afghanistan or Jordan, or are preparing for deployment at Fort Hood, Texas.
Dan Edelman, a disabled U.S. Army veteran and the new chancellor at Montana State University Billings, said during brief speeches in Laurel and Mountview Cemetery in Billings that he's eager to help more veterans matriculate through the Billings campus.
"I've always worked to help veterans in higher education," he said. "When I got out of the military I was messed up in many ways, and I'm grateful for the opportunity that higher education gave me."
Billings Mayor Bill Cole said silence might be the most appropriate way to honor the men and women killed in defense of their nation.
"But I'm a lawyer and now a politician, so you're out of luck," he joked.
You have free articles remaining.
Speakers noted that for 150 years now, Americans have observed what was initially known as "Decoration Day," a way to honor the Civil War dead by tending their graves each spring.
"Americans following the Civil War had no choice but to remember," Cole said. The horror of armed conflict that left about 750,000 Union and Confederate soldiers dead "was seared into every survivor's cerebral cortex. In 2018," with an all-volunteer force that's limited military service to about ½ of 1 percent of America's population, "we tend to easily forget."
"Remembering is not enough," Cole told the crowd. "We must be inspired to action and fight for those same values in our own theater of operations," including Billings, the mayor said.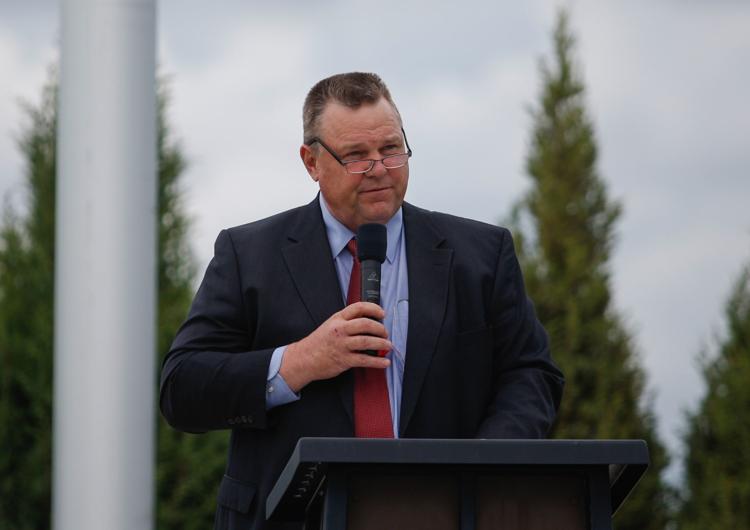 "When America needs them, Montana's men and women are there" ready to enlist, said U.S. Sen. Jon Tester, D-Montana, noting the state boasts one of the highest per capita military service rates in the nation. "When they complete their service, we want to make sure they have the best benefits and health care possible."
He said President Trump was poised this week to sign the VA Mission Act, a bipartisan effort to scrap the VA Choice program "after many of you called my office with horror stories" over difficulties scheduling medical appointments with providers. Tester is ranking member on the Senate Veterans' Affairs Committee. The new law, he said, will give veterans and doctors more say in providing health services to veterans.
"We've done good work over the last 10 years," including opening both the Yellowstone National Cemetery and the VA's community-based outpatient clinic in Billings, he said.
"But veterans know our work is not done," he said. "We understand that veterans are a bipartisan responsibility. Why? Because caring for veterans is a cost of war."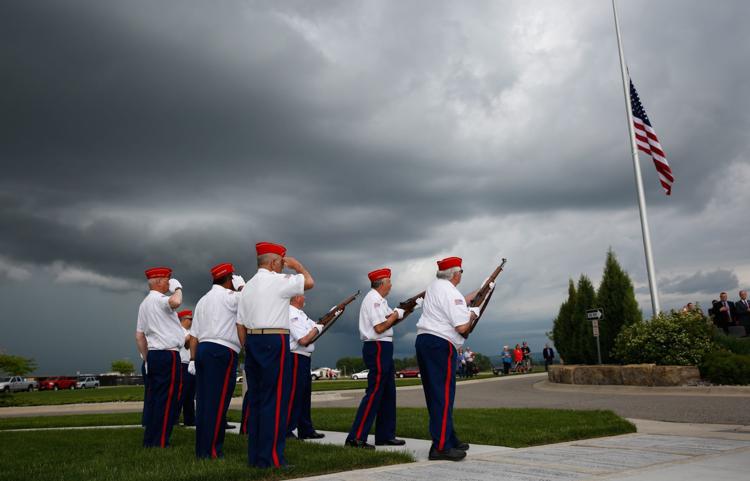 Both ceremonies featured pageantry and that added to the speakers' messages. The Billings Caledonian Pipes and Drums played a poignant "Amazing Grace," and baritone Daren Small delivered the National Anthem at both spots. VFW Post #6774's Marine Corps League Eugene Sara Detachment fired volley salutes as part of both observances, and Randy Grow played taps following each of the two volleys.
Sue Davidson, chaplain with Disabled American Veterans and herself a veteran, fit in a closing prayer moments before the heavens opened, drenching the Laurel gathering with prodigious rainfall.
"We remember their service, their sacrifice and their legacy," she said. "We will come back to these sacred grounds every year to show we remember."