When Steve Darnell started Welder Up, he was repairing heavy machinery and agricultural equipment in Shepherd. A decade later, national magazines routinely feature his shop's hot rods while he films the third season of a reality show on Discovery Channel.
Welder Up builds "rat rods" — cars that are cut, chopped and dropped to ultralow ride heights with little chrome and lots of patina. The rat rod recipe calls for a hodgepodge of parts from any source a builder is creative enough to utilize.
Darnell twisted the formula in 2008 when he dropped a 5.9 liter Cummins diesel engine from a Dodge pickup into a slammed 1933 Dodge four-door sedan. The twin turbocharged rod caused controversy among traditionalists but demanded attention at car shows. The car ended up in the pages of Hot Rod Magazine, and the notoriety came with requests for contracted custom builds. Welder Up's business model changed, and eventually Darnell moved his operation to Las Vegas, his on-again-off-again home since childhood.
That's also where he was approached by a Canadian production company. Vegas Rat Rods was pitched to Discovery, which picked it up on its Canadian network and later released the program in the United States. Since its debut in 2014 the series has gained traction and posted solid enough ratings to warrant three seasons.
"Basically this is a show that should have never happened. They called it a sleeper hit," Darnell said.
Each episode follows the Welder Up crew as they complete projects. The show is real, but there is some TV magic, Darnell said.
To receive funding in Canada, the production company must showcase a certain amount of Canadian content. That's a tricky task when the show is based in Vegas and features a man from Montana. The solution was to hire a Canadian actress to follow while she embarks on semi-scripted side stories every week.
For Darnell, the filming schedule drives deadlines. The team faces serious time-crunches, and all fabrication is completed in just a few weeks. The mechanics and cars are real and provide the main attraction. The Hollywood aspects provide a relief so viewers aren't bored by 48 minutes of welding sequences.
"What people are entertained watching is the customer's look on their face when they see what I'm going to build for them. That's pretty real," Darnell said.
You have free articles remaining.
He sits down with each customer and gets a feel for what they want in their rat rod and any non-automotive interests the Welder Up team can use to personalize the build. Darnell said each car carries so much detail that a lot is missed without seeing the rods in person.
This season will feature a car particularly special to him. Welder Up built a 1931 Ford sedan in honor of their shop manager's 2-year-old son who was recently diagnosed with kidney cancer.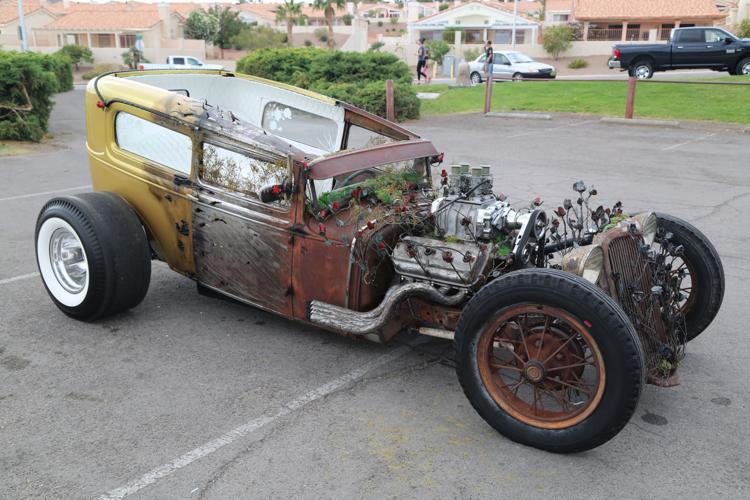 Darnell found the Ford's body in Broadus and hauled it back to Las Vegas. He fabricated three dozen metal roses and integrated them into the build. The car also boasts a supercharged 392 cubic inch Hemi engine from a 1957 Dodge.
Building a builder
While blown V8s and diesel-swapped classics are common in his shop now, Darnell's first foray into metal fabrication was a far cry from 1,000-horsepower hot rods.
Rich Malia, Skyview High School teacher and former wrestling coach, taught Darnell at Castle Rock Middle School and later at Skyview in the 1980s. Malia recognized his talent and encouraged him to enter an automotive trades program that was available at the time. He also commissioned him for his first project.
"My daughter wanted a bicycle for Christmas, and instead of going to the store I just asked Steve," Malia said.
The bicycle stood the test of time and was passed between Malia's children. He remained friends with his former student over the past 30 years, and the pair still visit when Darnell is in Billings to see his sons, who attend Shepherd High School.
Malia records every episode of Vegas Rat Rods. He's proud of Darnell's success, but he isn't surprised. He said the hot rod builder's outstanding personality and drive stood out years before he was on television. He's well suited for his current gig.
"A lot of people have dreams, but Steve is one of those people who fulfilled them," Malia said.
Vegas Rat Rods airs on Discovery's Motor Mondays starting at 10 p.m. The Hemi-powered Ford and 11 other vehicles will be unveiled over the upcoming season.