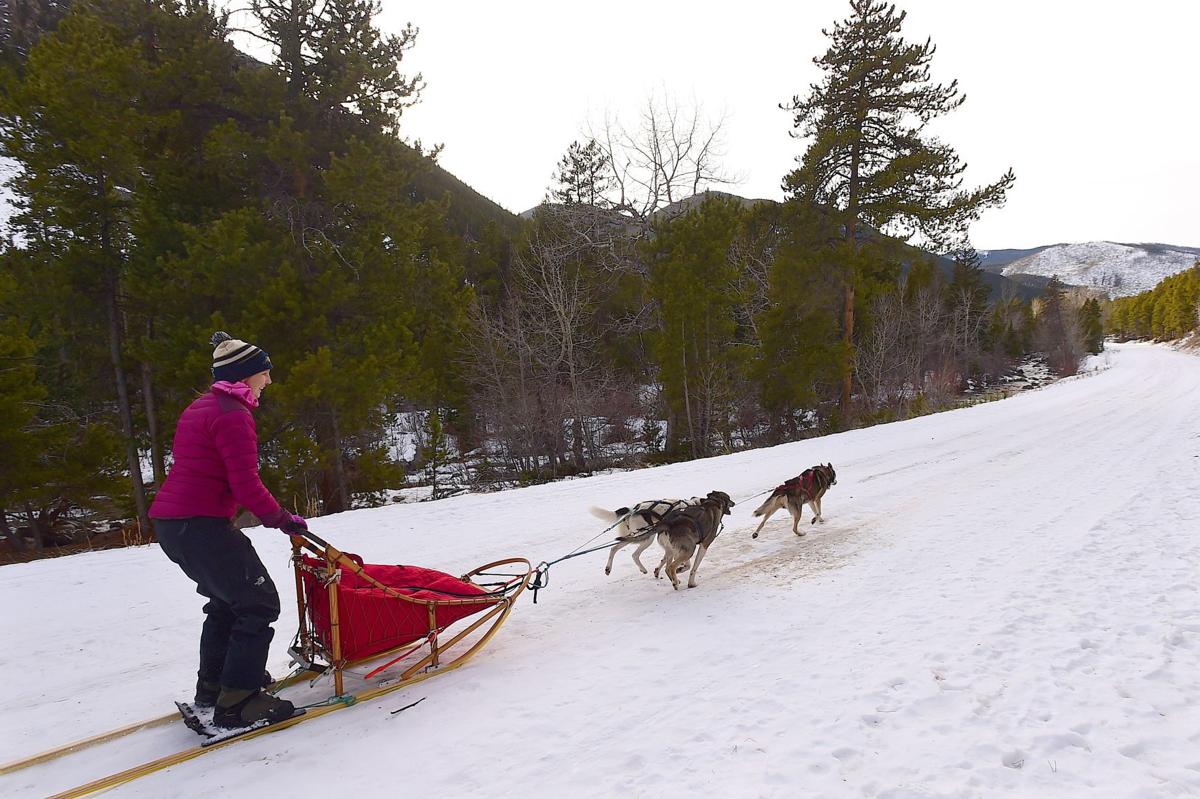 The sound of jingling bells along West Fork Road outside of Red Lodge this time of year just might be coming from a trio of bells hanging around the neck of Sloth, an Alaskan husky and the lead dog on a small Billings-based sled dog team.
During the winter, cross-country skiers, hikers and snowshoers frequent this stretch of snow-covered trails just past the nearby Girl Scouts Camp, making the bells a useful warning as the dogs approach pulling a wooden sled behind them.
When Sloth and his companions get going they can reach speeds faster than 20 mph, even while pulling a 21-pound sled and a musher.
The musher for Sloth and his team is Jen Mignard, a Billings resident who takes to sled dog racing like others might to yoga or distance running — to bring calm to a busy life.
As the nurse at Lockwood Schools and mother to children ages 2 and 6, there's plenty to keep her busy.
"It sounds corny but just kind of being one with your dogs," she said, explaining the peace mushing brings her. "It's so nice to be out there, with the quiet and the scenery and everything else. It's lovely."
Seeing Mignard prepare to get the team on the trail, something she does as many as five times a week, it's not immediately obvious where the relaxation comes into play.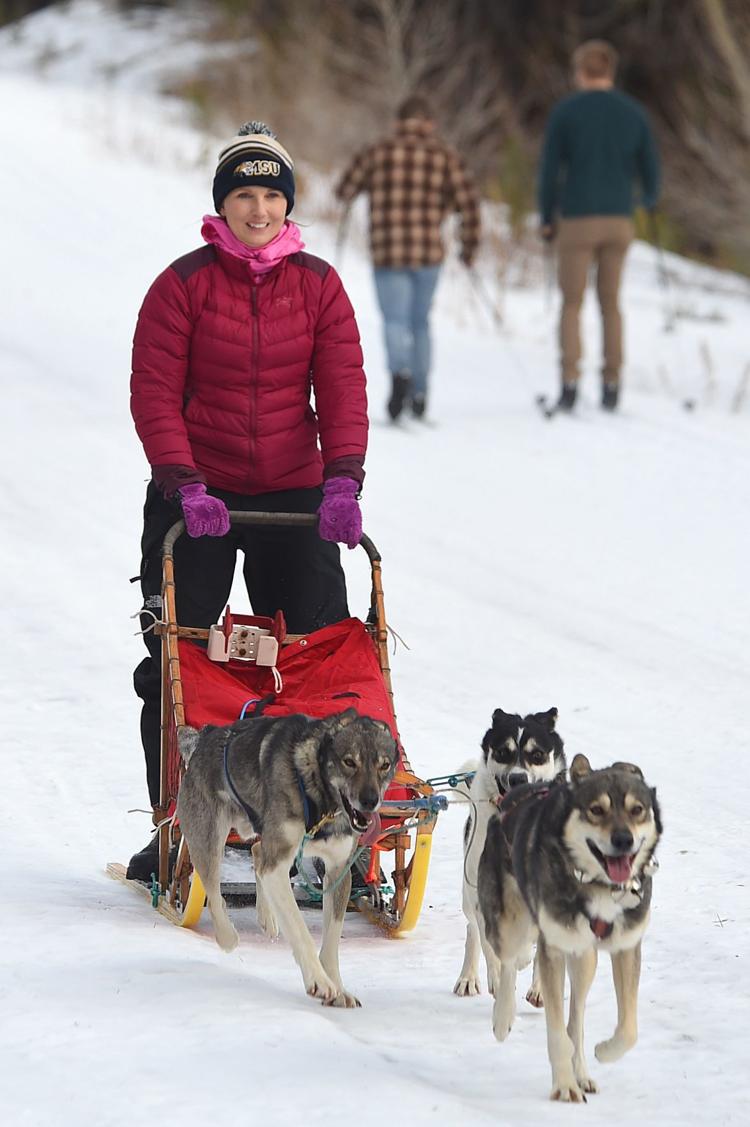 After she pulls the sled from the back of her pickup she sets up an outrigger system with a drop line stretching from the truck bed to her front tire. The dogs are attached to the line while she works on the sled.
First comes Sloth, then Polio and then Muskrat, each given names by the kennels Mignard got them from. Sloth, for example, came from a litter in which the names were inspired by the Seven Deadly Sins.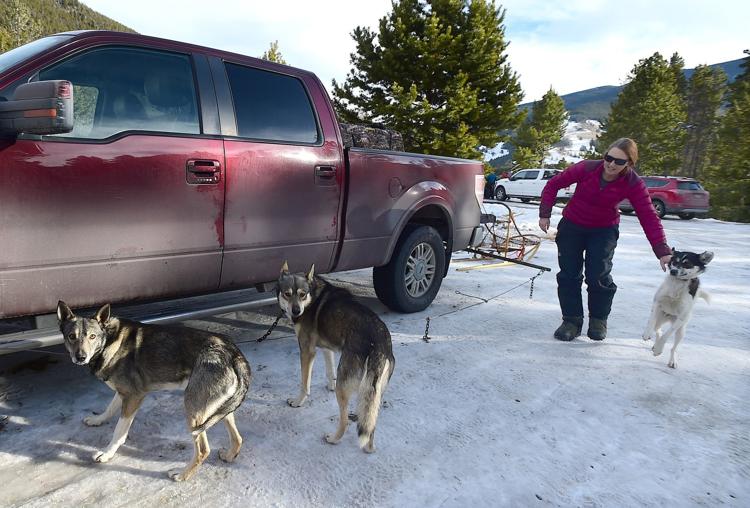 Muskrat is the youngster of the group and the one Mignard says is especially affectionate for a sled dog, something that shows in her tendency to jump up and snuggle whenever Mignard is relaxing at home.
With the dogs out and secured, Mignard starts preparing the sled, a process that involves knot after knot of cords and ropes.
The whole time the dogs take turns howling in anticipation. It's not barking, and it's not whining. It's something else. Some husky owners refer to the noises as "vocalization," and as the time for a run gets closer, the vocalizing gets louder and the sounds more chaotic.
Once the sled is ready, the dogs are brought over and attached to it in a specific order based on their age, strength and experience. When the sled takes off the howling is replaced by the sound of paws thumping on snow.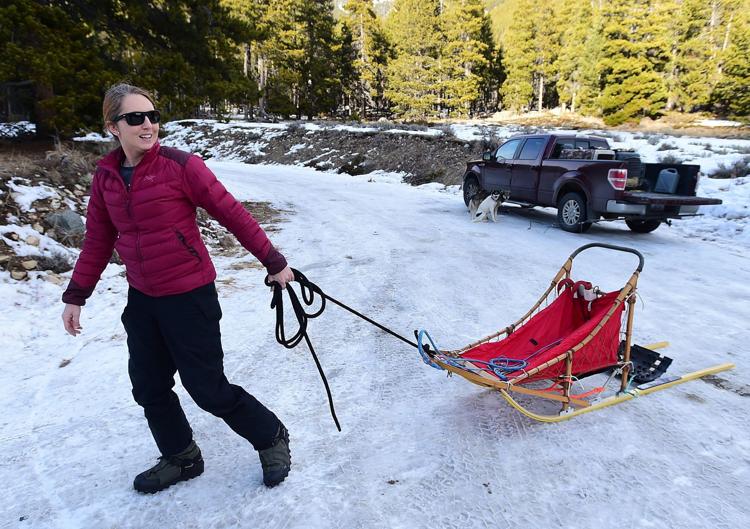 On this Sunday before Mignard and her dogs can go on an hour-and-a-half run, the combination of repairs, driving and prep work takes almost four hours.
Earlier in the day, Mignard spent almost two hours fixing warped runners on her sled.
"You really have to become self-sufficient if you want anything done," she said. She's not aware of any other mushers in Billings, and the nearest dog sled shops are in the Flathead and North Dakota.
Dog sled racing has been in Mignard's life for the last two years, ever since she took in a young sled dog not knowing what she was getting into.
The dog only seemed to find an outlet for its energy in destroying things around her house. Eventually Mignard decided since it was a working dog, it needed a job to feel satisfied. The search for solutions led her to a sport that she's come to love.
After watching YouTube videos she trained him to pull, first using an old dirt bike tire he could tug while she ran with him. But the dog kept gaining weight. She took to the internet for help and met Lev Schvarts, a musher in Alaska who has competed in the Iditarod before. He's come to be a straightforward source of advice, and some of her dogs have come from him, she said.
Mignard is running in the novice class right now. Her current team of four is down to three, after a bizarre and upsetting incident last week.
Last Friday, her dog Abby was shot in the foot with a pellet gun while she was outside Mignard's home near Optimist Park. Abby needed surgery, Mignard said; the pellet had traveled up into her wrist. It's unclear if the dog will be able to race again. Mignard said she's talked to police and they are investigating, but she doesn't know who did it.
Mignard also talked to police in October under different circumstances. On an early morning training run at Norm's Island she fell off her sled and lost control of her dogs. The dogs kept running.
Two officers from the Billings Police Department, including K-9 officer David Firebaugh, caught sight of the musher-less sled racing over the Interstate 90 overpass on South Billings Boulevard.
In a low-speed pursuit, police tried repeatedly to block the sled and stop the dogs. Eventually the dogs were stopped near Stone Street. The story spread to some national news organizations after a copy of the BPD dashcam footage was put on YouTube.
The nearly 4-minute video has been viewed 193,276 times. After her dogs ran off Mignard was "terrified," a car would hit them.
"Once I found out they were okay, I couldn't help but laugh because it was completely ridiculous what happened," she said.
"We got the name because of the police chase. I was looking for one, and it hit me in the face," she said.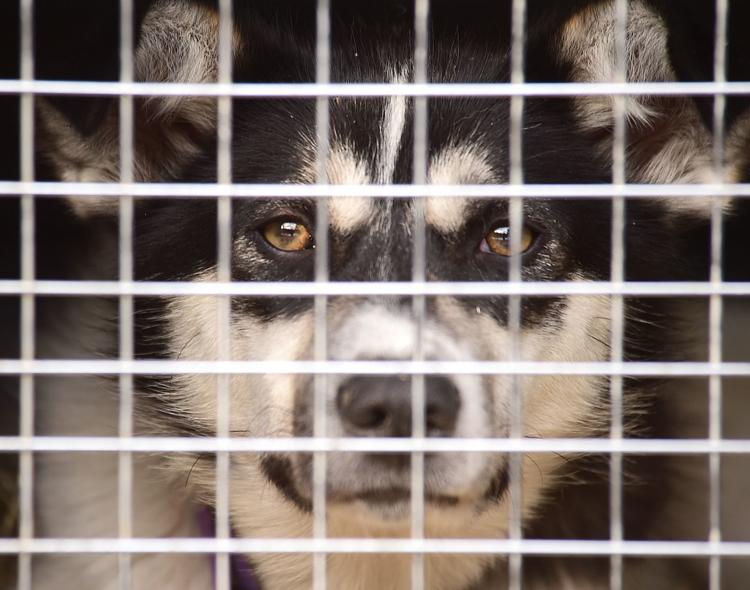 Mignard's most recent race was in West Yellowstone and she has another race coming up this weekend in Wyoming called the Bighorn Rush Sled Dog Challenge.
The Iditarod is the most well-known dog sled race and takes place over nearly 1,000 miles. Mignard's most recent race was about 11 miles. She said she frequently gets asked if she's going to do the Iditarod.
"I'm not going to sit here and say, 'Oh, I'm going to run Iditarod one day.' Because I'm about 16 dogs and $20,000 dollars short of that," Mignard said. 
Iditarod training takes months and involves 50 to 60 mile runs, Mignard said. Though her sights aren't set that high, she still pays close attention to training her dogs for the races they do run. On training runs she tracks progress using an app called Mushometer.
While snow is the surface in most competitions, there isn't always enough in Billings, and there isn't always time to go to somewhere that has it. When there isn't snow cover Mignard hooks her dogs up to a motor-less four-wheeler frame. 
Alongside training, nutrition for sled dogs is very important. Right now Mignard's dogs need up to 4,000 calories daily to maintain weight. Part of their diet includes dog quality "musher beef." Mignard said she recently got about 200 pounds of it from a friend who was picking up 700 pounds for themselves in Minnesota.
The learning curve has been steep at times as Mignard has traveled down "a wonderful rabbithole" into the world of sled dog racing. Along with all there is to learn, it's not a cheap hobby, she said. At times in order to defray sled dog racing-related travel expenses she's slept in her truck overnight.
What keeps her at it is the feeling when the sled gets going and it's just her and the dogs.
"Honestly, just being out there with my dogs is the most amazing thing. It's very cathartic," she said. "I work as a school nurse, and so around kids and people and chaos. It's just really nice to be out there with the solitude and the quiet and ... just me and my dogs. Especially here."
After she says this, Mignard pauses and looks down the snow-covered West Fork road. The sun is shining.
"This is a beautiful, beautiful road down there," she says.
Get local news delivered to your inbox!
Subscribe to our Daily Headlines newsletter.