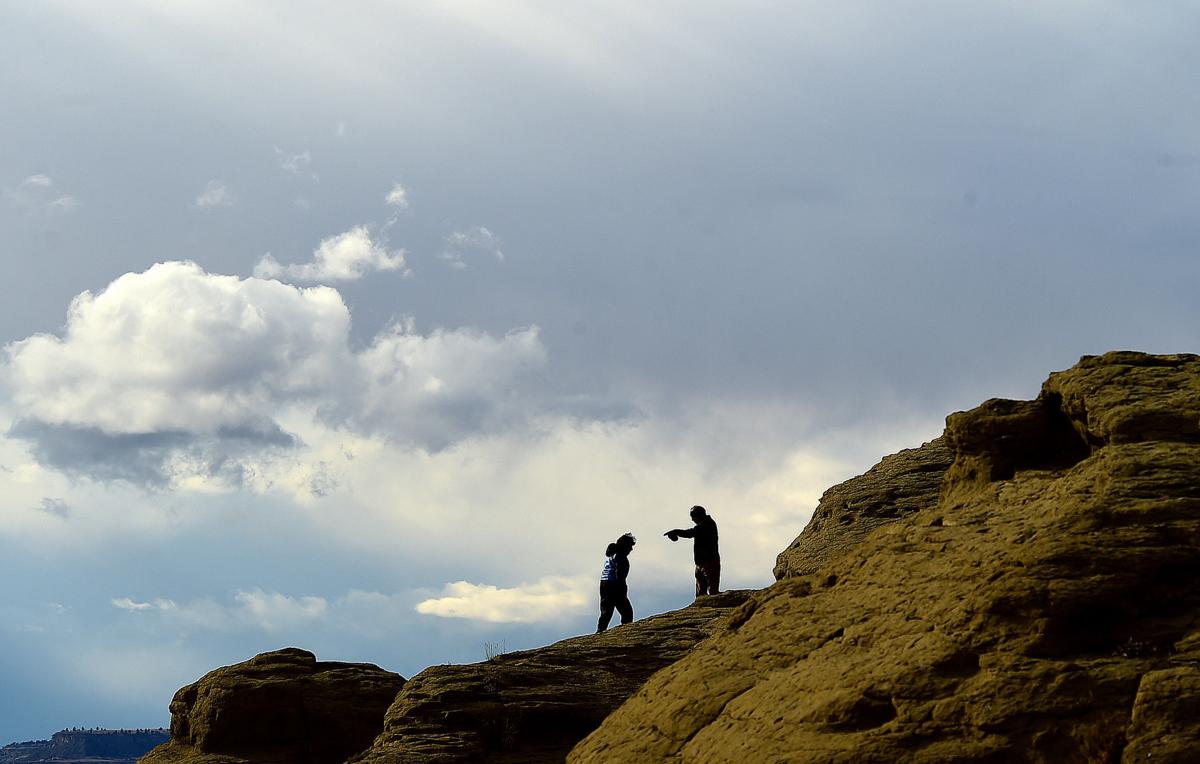 Cooler temperatures and rain transitioning into snow are both in the weekend forecast for the Billings area, according to the National Weather Service in Billings.
"There's going to be pretty much our first real good taste of a late fall, winter-type pattern this weekend," said Tom Frieders, a weather service meteorologist. "So everybody does need to be prepared for a pretty good change."
Snow could accumulate to between 2 and 3 inches on grassy areas around Billings on Saturday through Sunday. The area could get additional snow Monday and Tuesday, with forecasts showing a 40% and 20% chance of snow on those days.
Overnight temperatures Saturday could drop down to 20, making icy roads something people need to be on the lookout for particularly overnight and in the early morning, according to Frieders.
Daytime temperatures should be around 32 degrees Saturday and 34 degrees Sunday.
Billings is within a broad area with about a 70% chance of more than 2 inches of snow, according to the weather service. 
Some of the specific timing is still being fine tuned in forecasts, Frieders said. "It really does look like a wet weekend, for the most part," he said.
A Canadian cold front moving in late Friday night into Saturday morning will start things off.
The precipitation will come in waves, although it could be sustained throughout the day Saturday. Frieders said rain should turn into snow Saturday, and that snow could fall throughout most of the day Saturday.
Another round of snow could come in Sunday. 
The weekend weather to some extent will be a preview of the week ahead, when the area could experience intermittent rain and snow and overnight temperatures in the 20s.
"The pattern is changing from kind of that windy, warm, windy, mild type pattern that we've seen for the last few weeks to this cool and unsettled pattern," he said. "Throughout next week, really, temperatures will be for the most part below normal and we will see on and off precipitation throughout the week."
A Hazardous Weather Outlook was issued Thursday afternoon by the weather service for parts of central Montana, south-central Montana, southeast Montana and north central Wyoming from Saturday through Sunday.
The outlook notes that for affected areas weather will turn cold and there could be accumulating snowfall.
"There remains a great deal of uncertainty where the heaviest snow will fall and how much will accumulate, so please monitor the forecast for your location."
Areas within the hazardous weather outlook include: Musselshell County, Treasure County, northern Rosebud County, Custer County, Fallon County, northern Stillwater County, Powder River County, Carter County, northern Park County, Golden Valley County, the Red Lodge Foothills, northern Big Horn County, southern Rosebud County, Judith Gap, Paradise Valley, the Livingston area, the Beartooth Foothills, the Absaroka and Beartooth Mountains, the Crazy Mountains, southern Big Horn County, southeastern Cabon County, northern Sweet Grass County, the Bighorn Canyon, northern Carbon County, Pryor, the northern Bighorn Mountains, the Melville Foothills, northeastern Yellowstone County, southern Wheatland County, southwestern Yellowstone County, northeast Bighorn Mountains and the Sheridan Foothills.
Get local news delivered to your inbox!
Subscribe to our Daily Headlines newsletter.