Three days after his 19th birthday, Francis Crilley was killed in the Battle of Sugar Loaf Hill on Okinawa. The date was May 20, 1945.
Francis Crilley was raised in Mauch Chunk, Pa., now named Jim Thorpe. His brother-in-law, Stewart Miller, spent the majority of his life in Billings. Miller wrote home to his wife while serving in World War II that he visited her brother's grave, located in a graveyard lined with white crosses in Okinawa.
Fran Snyder of Laurel has kept her father's letters and some of the material about the uncle she never knew but whom she was named for.
In The Billings Gazette's "World At War" series, most of the recollections and words come from soldiers who survived the war and returned home. This is the story of one Marine who came home in 1949 in a coffin to be buried in Long Island National Cemetery.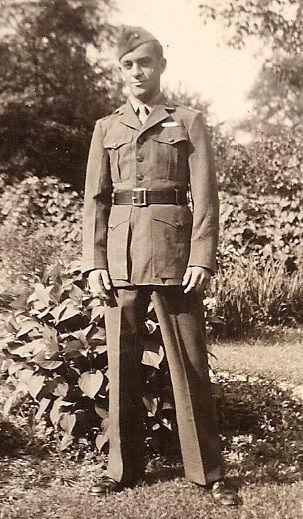 Arrival overseas
... I want to thank you for the very nice letter you sent me. Also for the card. I'm glad you liked the bracelet I gave you, they have beads around here, but the natives like to become rich on everything they sell you. They are far from stupid when it comes to money. 
... Well Elinor, I hope you had a nice Christmas. They made a tree over here out of coconut palms and decorated it with red and green tin cans. It at least gave us the idea of a tree anyway. Sorry I can't hurry home, but with plenty of luck, I may be able to get there by next Christmas. I hope so anyway!
Must sign off now as it is getting dark. I hope you do good in school and all the family is well. So long and take it easy.
Killed in action
Mrs. Harriet N. Crilley, Mother
Deeply regret to inform you that your son private first class Francis Crilley USMCR was killed in action 20 May 1945 at Okinawa Island Ryuku Islands in the performance of his duty and service of his country. When information is received regarding burial you will be notified. To prevent possible aid to our enemies do not divulge the name of his ship or station. Please accept my heartfelt sympathy.
A A Vandegrift, General USMC Commandant of The Marine
'Met his death bravely'
Chaplain's Office, Fourth Marines Sixth Marine Division
I trust you will understand and excuse this long delay in writing to you about your son, Francis. The campaign was a long one and our regiment a busy one throughout. I understand your grief and I pray that these few words may bring you some degree of comfort in your sorrow.
Your son met his death very bravely during the fierce struggle on Sugar Loaf Hill. At night, his company was under an enemy counter attack. A boy called for help in the next foxhole. Francis left his position to go to his aid, thus exposing himself to rifle fire. He was killed instantly, while in the act of helping a fallen comrade.
Like all of his comrades killed in action, he was buried with full Catholic ceremonies in the Sixth Marine Division Cemetery on the island of Okinawa. It is beautiful, overlooking the East China Sea. The graves are marked with white crosses and the names of the men are inscribed. A full military and memorial ceremony was held on July 4th to honor these men who were so brave.
Francis was a splendid Catholic boy. He attended mass and Holy Communion regularly before the operation and at every opportunity he had during it. I know that he was well prepared and the reward of his sacrifice is great.
His officers and all his buddies praised him highly and liked him very much. He was always friendly, cheerful, did his work well and was an example of a good Catholic and a good Marine.
I offered the Holy Sacrifice of the Mass for him and shall continue to offer Requiem Masses for him. I shall remember too, in my prayers, you and his loves ones that God may strengthen and comfort you under this burden of sorrow.
The officers and men of our regiment join me in expressing our deepest sympathy.
William F. O'Neill, Chaplain
'A darn good man'
Francis's brother, Hadley, who was part of the Omaha Beach invasion, wrote to the Marines in Okinawa, wanting to know how his brother had died. On July 17, 1945, the same day as Father O'Neill had written Harriet Crilley, Sidney S. Secrist wrote to Hayden Crilley:
Our commanding officer has passed your letter to me as I am one of the few left out of the old Third Platoon which, by the way, happened to be Frank's platoon. He was a Browning Automatic Rifle man in my squad and I might add a darn good man.
As to how he was killed, Frank was shot through the heart on the reverse slope of "Sugar Loaf Hill" which you no doubt know to be one of the most bitterly contested pieces of terrain on Okinawa.
It was about midnight of May 20 or 21st when we caught our infiltration attack from Jap troops, which we had bypassed earlier that day. It was during this attack that Frank left his foxhole for more ammo and grenades from the platoon.
When he returned, he found two of the enemy in his foxhole. His foxhole buddy Clarence Grey had been wounded shortly before Frank had returned. Frank opened up about four feet from his hole, killing one of the enemy. The other one got him. We got the Jap.
Frank was a quiet and very well liked fellow by everyone who knew him. Frank was the type of man who we will never get a replacement for.
He was buried in the Sixth Division Cemetery alongside many more of our boys. The cemetery was dedicated with full military honors on July 4, 1945. I had the privilege of being there and I also saw Frank's grave. 
Hoping this letter has given you all the information you desired.
Okinawa burial
A few months later, Stewart Miller, Crilley's brother-in-law, visited the grave and wrote home:
A week ago yesterday, I had the opportunity to go ashore at Okinawa ... While I was there I had one thing uppermost in mind — that was to go to Frank's grave. I was really surprised to see the lovely place the Marines put up in memory of all our boys who died in that battle. We had a few pictures taken and hope to show them to you all someday.
For the few days while in Yokohama, we had liberty and that gave me a good chance to look that place over, and it's just one helluva mess. Saw plenty of worthwhile things, and I guess plenty that I or plenty other fellows won't forget too soon. Someday I hope to tell you all about them.
Return home
Please be advised remains of the late PFC Francis Crilley are en route to the United States. Our records indicate you wish remains buried in Long Island National Cemetery, Farmingdale, New York. We cannot give a definite delivery date but superintendent of national cemetery will notify you by telegram giving date and hour funeral services will be held in sufficient time to permit your attendance at your own expense. It is expected that an interval from five days to four weeks will elapse before funeral can take place. Military escort will accompany remains to national cemetery. Payment of seventy-five dollars interment expense allowance is not repeat is not authorized in cases where burial is in a national cemetery. Appropriate joint military honors and religious services will be provided at graveside by veterans organization or naval personnel. Please confirm above delivery instructions within forty-eight hours of receipt of this message or submit new delivery instructions by telegram collect to distribution center one New York Port of Embarkation. We regret it will be impossible to comply at government expense with changes in delivery instructions received after expiration of the forty-eight hours. Include full name of deceased in reply telegram.
G.H. BARE, Colonel Quartermaster U.S. Marine Corps, 2:42 P.M.
Honored burial
Funeral services for the late PFC (Private First-Class) Francis Crilley scheduled for 10:30 A.M. sharp 5 April 1949 at Long Island National Cemetery, Pinelawn Long Island. Please advise religion. Please reply by telegram collect advising whether you will attend or not. There is no authorization for payment for travel at government expense to attend funeral services in national cemetery. Flowers permitted.