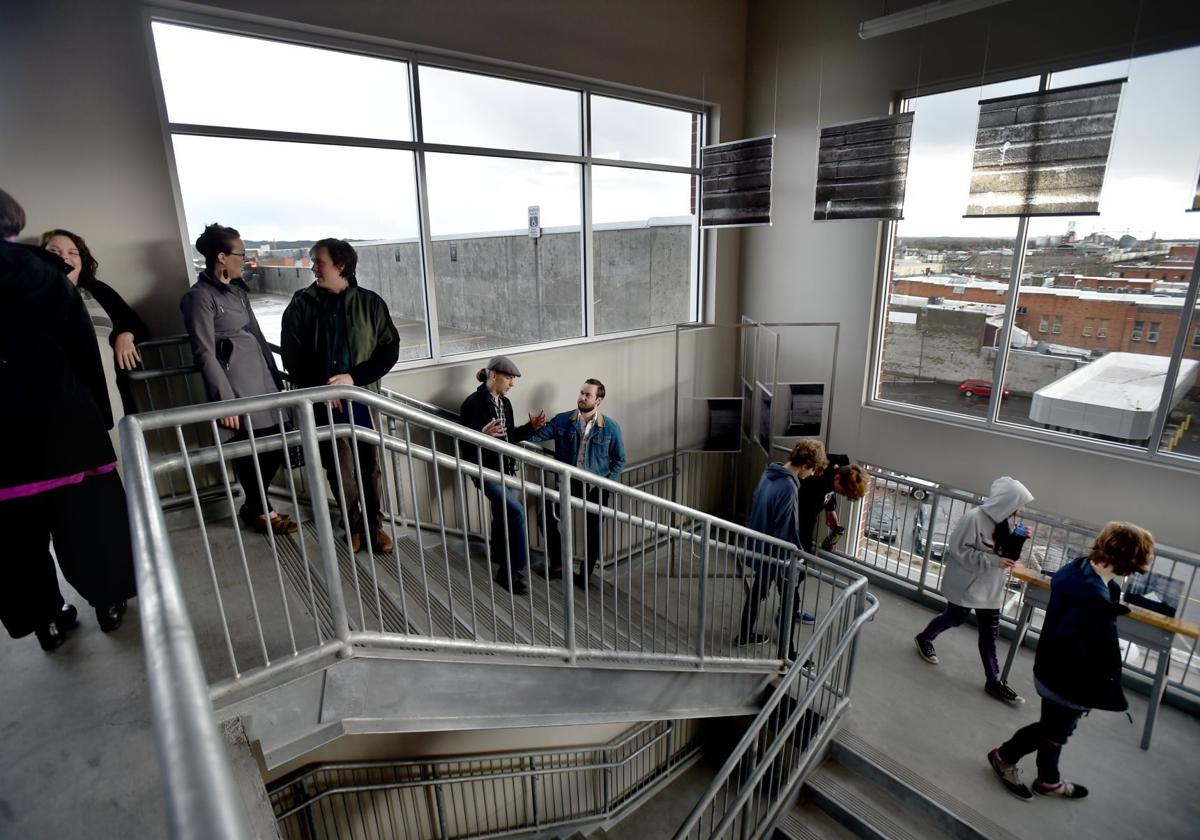 On Level 5W and Level 4W of the Northern Hotel's Empire Garage stairwell, the industrial art of a London-based visual artist was hung, projected and mounted to the walls.
In the garage itself, before a sign designating parking spots for "Permit Holders Only," the work of four Montana poets was read aloud.
Around 100 people turned out on Saturday night in Billings for the Urban Arts Platform, an all-ages art show organized by a group called the Beatnik City Council in partnership with Rocky Mountain College. 
After the poetry, attendees were invited to a concert at event venue 2905 Montana Avenue — a business named for its address — featuring four local bands. 
The event was inspired in part by the Billings City Council's rejection of a request to partially fund the construction of affordable living and working spaces for artists in downtown Billings. 
During the early hours of the show sirens and the sounds of downtown traffic seemed to at times heckle the poets. Overcast skies and wind brought a slight chill toward the end of a warm week. Rain appeared and disappeared and the acoustics inside the parking lot and stairwell were not of the carefully controlled and finely tuned variety.
Some participants expected and welcomed the imperfections, unconditional setting and resulting challenges. Some of the poets paused to let the sounds of the streets dissipate or added extra emphasis to phrases that seemed connected to the sounds and the setting.
"I think that at art events in Billings and places that don't have scenes with brick-and-mortar hubs, you just kind of have to work harder to make space," said local poet Pete Tolton. 
Rocky Mountain College professor Aaron Rosen helped organize a partnership between the Beatnik City Council — comprising local artists, musicians and writers Phil Griffin, Ty Herman and Brie Ripley — and his employer. It was Rosen who helped incorporate artist G. Roland Biermann and his visual art into the event. Biermann was fascinated by the industrial structures and imagery that abound in the city, according to Rosen.
Rosen called the event "spectacular" and expressed hope that the future will provide opportunities for similar events organized by Beatnik City Council and community partners.
"It showed the hardiness of the people but also the craving and hunger for art," Rosen said.
Establishing a do-it-yourself art space in the city remains one of the central goals of the Beatnik City Council, Griffin said before the poetry reading began.
Poets and Billings resident Ashley Warren grew up in Missoula and said when she was younger, Billings seemed to have a reputation as "the city" and "the place where work happens." Warren said the work-oriented part of the city's spirit doesn't mean Billings is without local artists and a community that wants to see and experience their work.
"I think Billings is at the beginning of an avalanche of stuff like this," Warren said. "What's unique about the art (scene) here is it's about discovery. It's refreshing. There are a lot of people that don't expect it." 
That potential for discovery came to the mind of Riley Haynie, a local musician who attended to support a friend on the Beatnik City Council, Ty Herman. 
Grassroots art and music venues offer a chance for young people to see others perform and maybe say to themselves "I can do that," Haynie said, adding that opportunities for such shows seemed to have dwindled since he was a teenager in Billings.
Reading from his book of poems "Talkativeness," Montana Poet Laureate Michael Earl Craig wrapped up the garage portion of the art show by reading a poem called "Perhaps You See Where I Am Heading." 
"It's cool to see this happening in Billings," Ana Strong Garcia, 16, said. "There's definitely a new wave, it feels like."