John Alvarez pointed to a partially submerged patch of grass just past a wire fence on his property.
"We had a garden back in there," he said. "It's gone."
Alvarez, a Vietnam veteran, and his wife, Mary, have watched the Clarks Fork of the Yellowstone River chew dozens of feet away from the shoreline. They fear their house, which sits on a picturesque lot south of Laurel, might be in peril sooner than expected.
The retired couple have shelled out big bucks over the years to reinforce the riverbank, refinancing their mortgage to pay for it. They thought preemptive actions might save their house.
But it wasn't enough. This spring's rainfall and runoff brought the river to near-record levels. The Clarks Fork wasn't just running over the riverbank; it was carrying it downstream.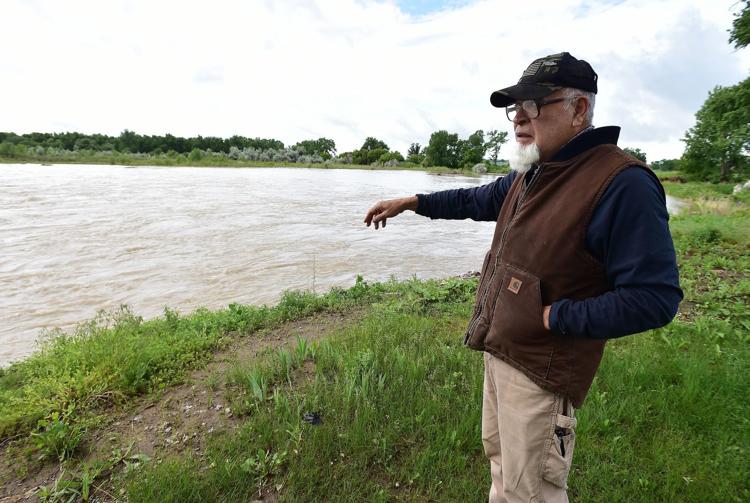 The erosion was so rapid that two weeks ago the Alvarezes hired a contractor to come and lay down more rock and soil. Like others along the water's edge, their property is shrinking.
"If you go up and down the river, everybody, whether it's their fields or whether it goes into their barnyards or house," said Darlene Schwend, Carbon Conservation District administrator. "Wherever the river comes up and down, it's washing away."
Encroachment
John and Mary Alvarez moved onto the 90-acre plot in 1995. Just off the highway, it includes their large, yellow house and a shop that's been renovated into a rec room. John Alvarez said he put in the deck himself.
Mary Alvarez said that they used to have picnic tables in the yard down at the river's edge for cookouts. The current was typically calm where they are, at a bend in the river.
This year, the water was high enough that it overtook the corner of land that formed the river's bend across from the Alvarez property. At that point, the current came right at them.
"In a matter of 24 hours, it all exploded out here," Mary Alvarez said.
A local contractor trucked in 60 or so loads of earth to try and stop the erosion. Now their grassy shore is a rocky, muddy landscape, and it could cost them as much as $70,000.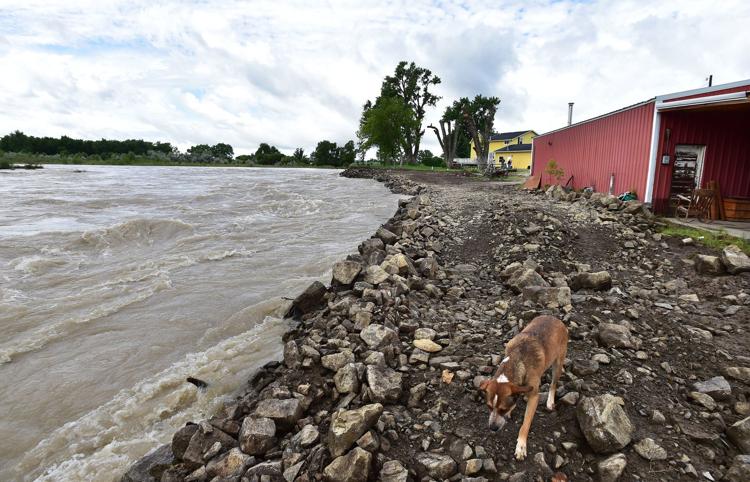 That's on top of the cost of laying down riprap over the years. Schwend knows this. The conservation district she oversees has gone out to inspect the materials and construction of the riverbank each time the Alvarezes reinforce it.
Schwend said when they shore up one stretch, the river changes and attacks another area.
The thing of it is, Schwend said, the Alvarezes might have had easier access to direct aid if they took no action and their house was hit with river water.
You have free articles remaining.
Keep reading for FREE!
Enjoy more articles by signing up or logging in. No credit card required.
"Then the NRCS (Natural Resources Conservation Service) could have stepped in and helped them," she said. "But because they've been proactive, at this point there's nothing they can do."
Pushing back
It's unclear if the Alvarezes are eligible for any pre-hazard aid.
It's possible for a local government to request emergency aid to address soil erosion work if it's the result of a single, widespread natural disaster, said Sarah Haymaker, an NRCS spokeswoman. A multitude of criteria determine eligibility.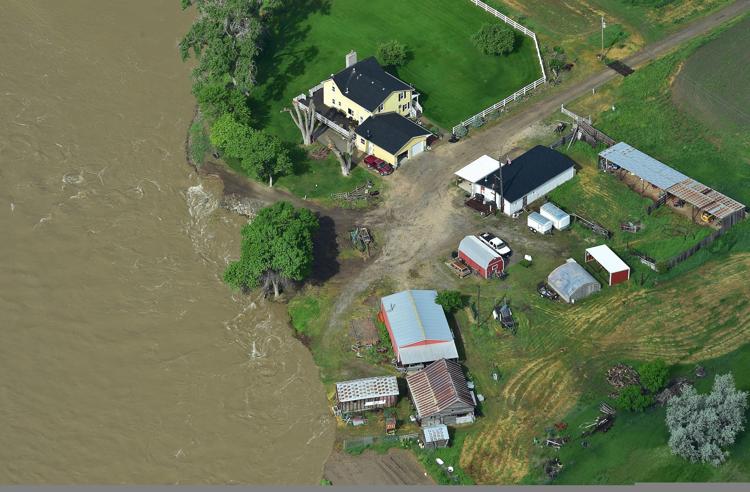 The U.S. Army Corps of Engineers doesn't have a program to assist individuals, according to the agency.
The Federal Emergency Management Agency has a flood mitigation assistance program. Eligible projects are managed through state agencies, such as Montana Disaster and Emergency Services.
Those grants are competitive. Just three requests since 2016 made it to the review stage in Montana. And the projects don't generally deal with riverbank erosion.
"That would potentially look at relocating the home outside the floodplain," said Tom Kohley, Carbon County Disaster and Emergency Services director.
Mary Alvarez said that's an option. She said they're exploring the costs of moving the whole house while looking into grant programs.
It's a lot of work for an unclear outcome, and the Alvarezes are unsure what else they can do. What is clear is that they don't plan to wait for the Clarks Fork to reach their back door.
"Why wait until it's all over with?" John Alvarez said. "This is our livelihood."
---
High water and flooding around Billings — your photos