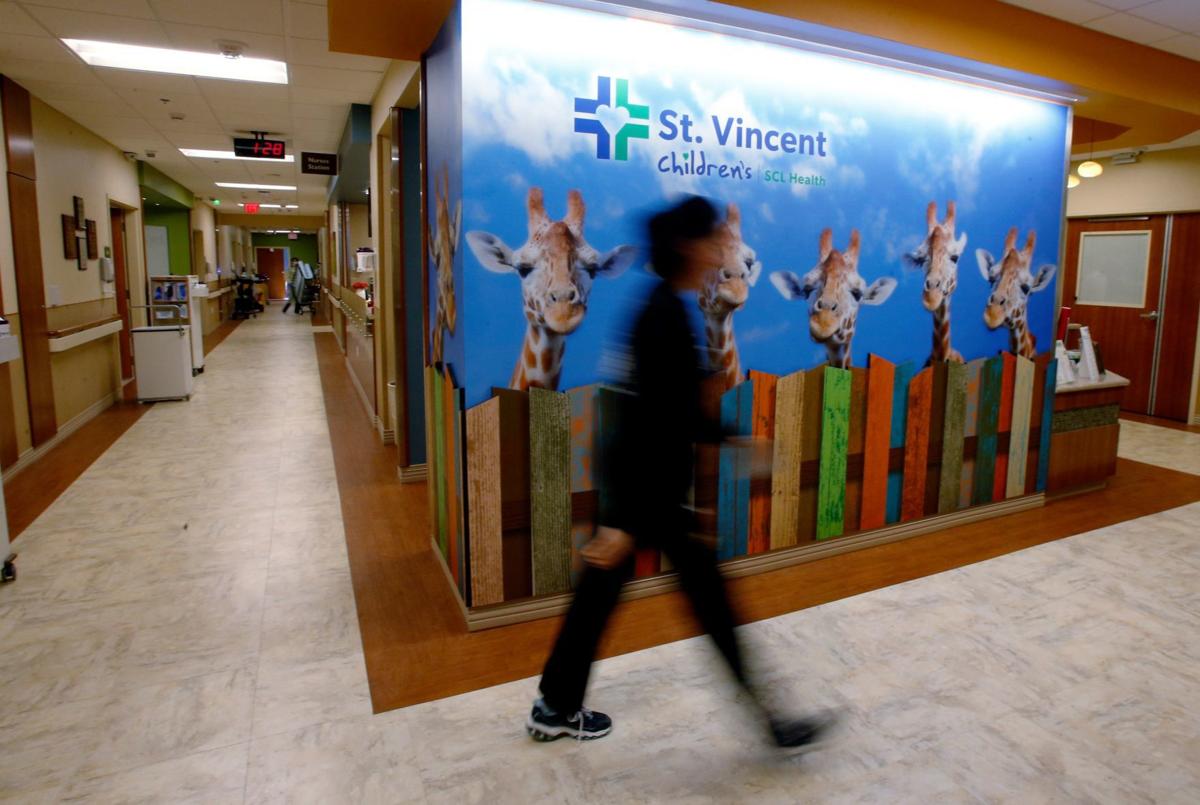 A colorful mural that features giraffes peeking over a fence and individual rooms that blend the latest technology with a family space are all part of the renovated pediatrics department at St. Vincent Healthcare.
The $3.2 million renovation was revealed Tuesday afternoon during a ribbon cutting and tours of the fourth floor unit at the Billings hospital newly named the Paul Metzger Pediatric Center of Excellence.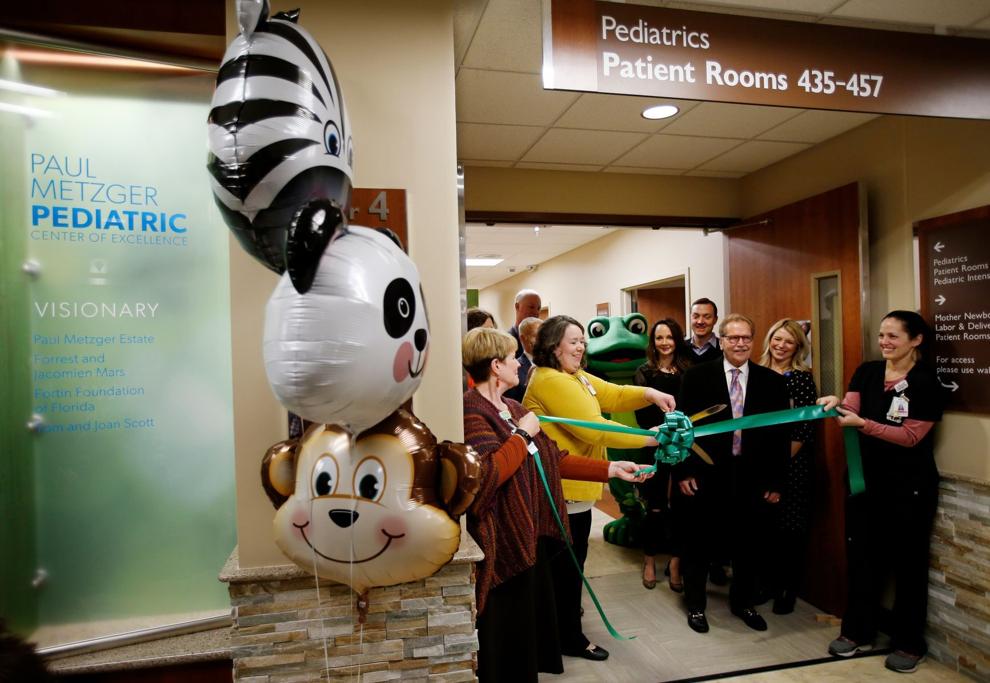 Chief Operating Officer Michael Skehan told the group on hand for the ceremony that the renovated department meshes closely with a hospital goal.
"One of the missions we have at St. Vincent Healthcare is to keep kids and families local, (knowing) the burden that exists when kids and their families have to travel far away to receive care," Skehan said.
The remodeled unit will allow more families to remain close to home when a child is critically ill, he said.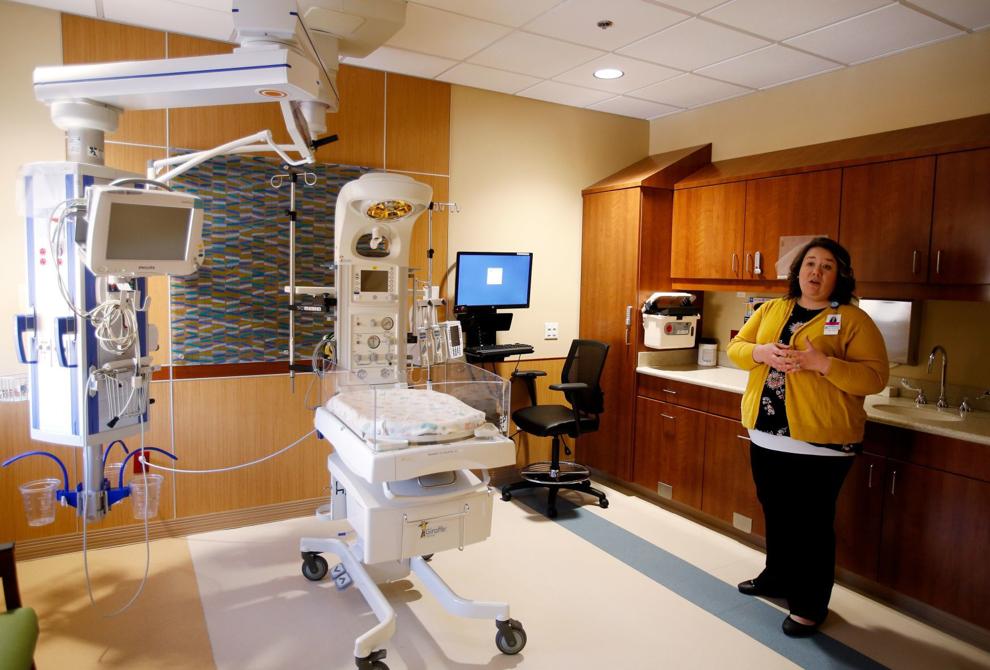 "For those of us that work here, we've been so proud of the quality of care for so long," Skehan said. "And now we feel like we've finally got a physical space that's in parity with that quality of care."
He acknowledged the generosity of Metzger, who, when he died in 2014 at the age of 97, left his entire $38 million estate divided between St. Vincent Healthcare and Billings Clinic.
That money "will have a lasting legacy for St. Vincent Healthcare and our patients," Skehan said.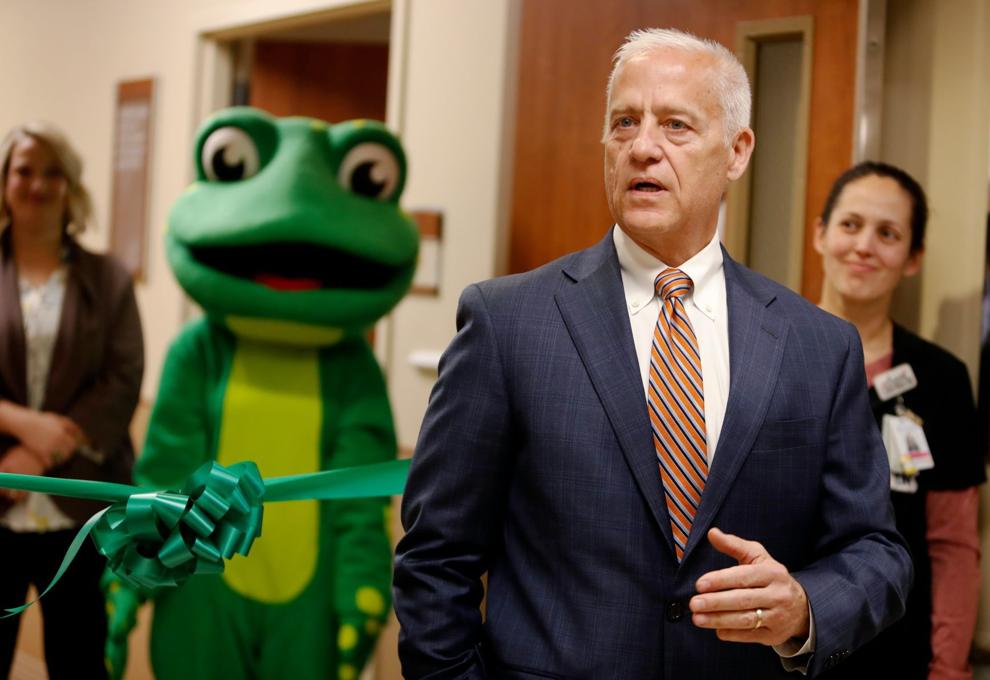 Metzger, who had an eighth-grade education, lived on a farm south of Billings on land his parents homesteaded. Preston called him "the millionaire next door" who drove a Buick and was a gentleman, always wearing a hat, a coat and a tie.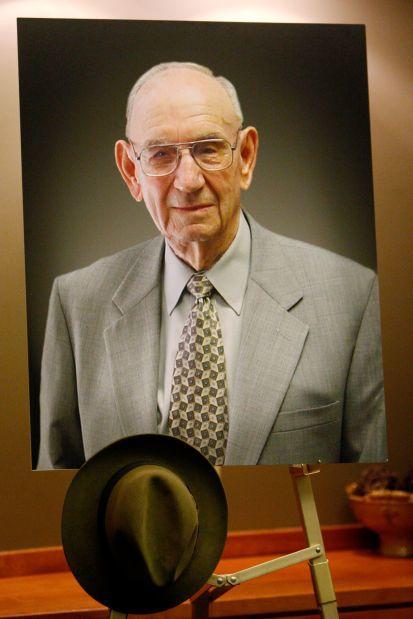 He was a frugal man, had a dry sense of humor and loved history, easily throwing out dates and places of memorable moments.
"He wanted to do something that would make a difference in the community," Preston said. "He wanted the money to stay local."
Metzger gave free reign to the hospitals to use the money as they saw fit. When former St. Vincent Foundation President David Irion got a suggestion to use they bequest to support children's services, "Paul was so excited about that," Preston said.
"And so now we're kind of seeing the fruits of that labor," he said.
During a tour of the updated pediatric intensive care unit, Amber Pisk, nurse manager of the pediatrics department, showed visitors one of the five rooms. Previously, the PICU comprised five beds in two large rooms, which weren't very accommodating to families.
Now, the unit is broken up into five large, separate rooms with updated technology and colorful, functional furniture and artwork. A couch in one corner converts into a bed for parents who stay overnight.
"So we can fit all the equipment needed for critically ill children, plus family spaces so they're places where families can be here 24/7 while their children are sick," Pisk said.
In addition to the upgraded PICU, the 11 inpatient pediatric rooms received aesthetic updates. A zoo theme flows throughout the department, Pisk said.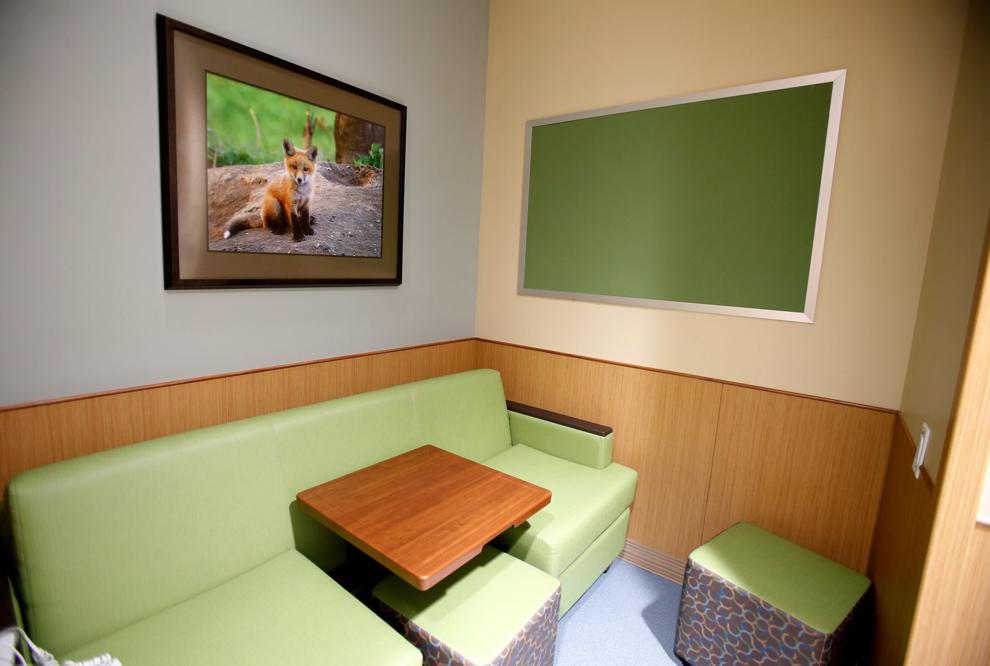 A playroom for hospitalized children well enough to be up and around was also added to the floor. It includes a kid-sized kitchenette, a bin filled with different toys and other toys.
Zoe's Therapy Room was paid for by donor Dorothe Fisher, who was joined Tuesday by her goddaughter, Deirdre McNamer. The room was named in honor of McNamer's daughter, Zoe, who died in 2013 at age 3 in a car crash near Laurel.
Fisher said from the moment she heard about the renovation she decided "this has to be Zoe's."
One distinctive feature of the room are the origami cranes arranged and mounted in shadow box frames. After Zoe's death, the community of Red Lodge, where McNamer lives, wanted to do something to honor the little girl's memory.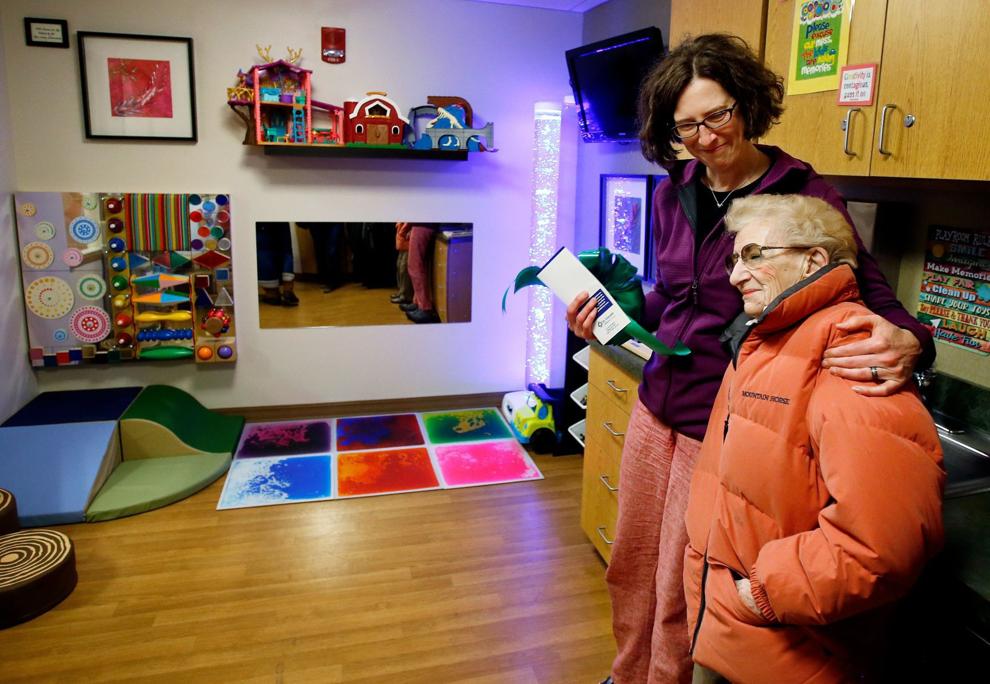 "And it kind of spontaneously happened that a friend started folding cranes in her honor and it just kind of spread that a group started folding them and teaching other people to fold," McNamer said. "And then they made it a goal of folding a thousand cranes in her honor."
The Japanese tradition is ancient. It was popularized when a young Japanese girl, Sadako, who developed leukemia as a result of the nuclear radiation after World War II, began folding 1,000 cranes, hoping to recover from the disease.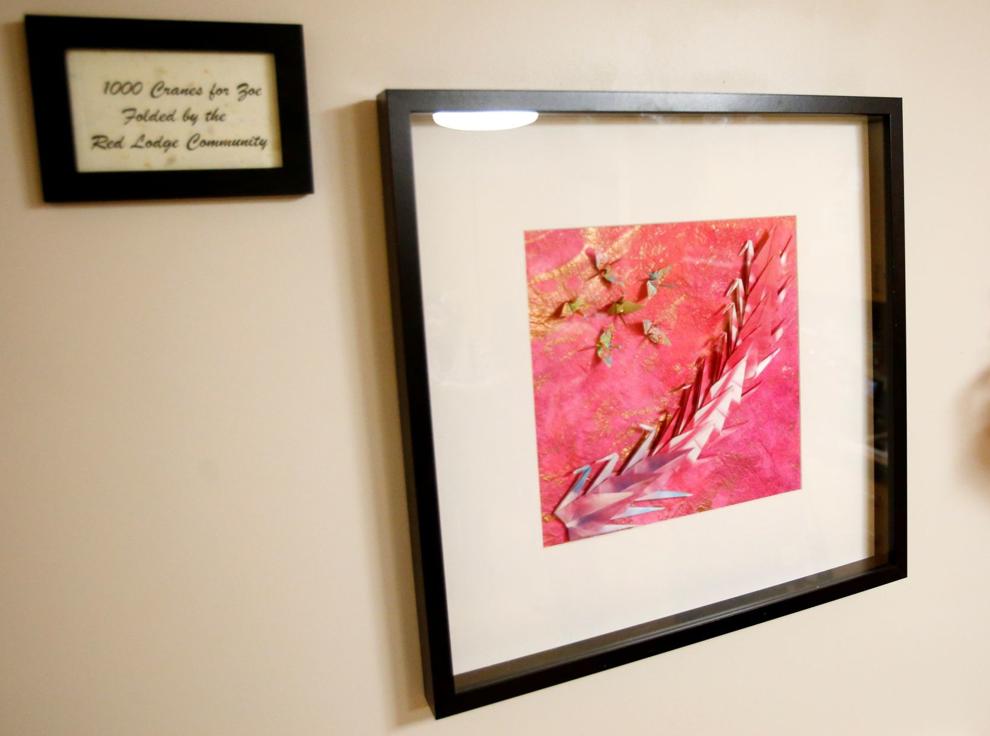 Even though Sadako died, the tradition continues and a day of peace is held in her honor, McNamer said.
"People in Japan will try to fold a thousand cranes and take them to a peace park," she said. "And it turns out that day of peace is Aug. 6, which happens to be Zoe's birthday, and nobody knew that at the time they started this crane project."