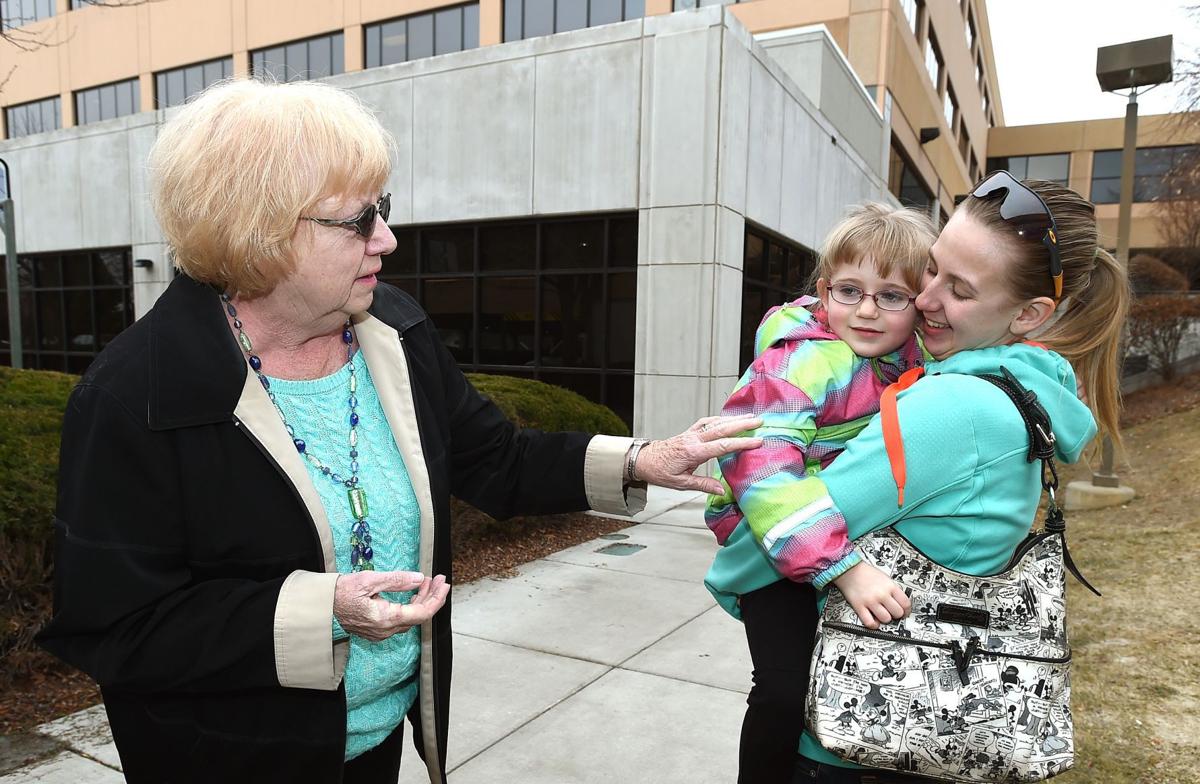 Five-year-old Layla was a tad shy getting her photo taken on Wednesday while her mom, Sarah Tipton, held her and her great-grandmother, Shirley Wegner, stood nearby.
The promise of a lollipop teased a smile out of the little girl, who was at St. Vincent Healthcare for her weekly outpatient rehabilitation therapies, both speech and occupational therapy. Layla, diagnosed with mild autism at age 2, has been involved in both types of outpatient therapies for three years.
"She's doing really well in both," Wegner said. "They have very good service, the therapists are wonderful."
Soon, though, Wegner and Tipton will have to take Layla elsewhere for therapy. On March 3, St. Vincent is closing its outpatient pediatric therapy program, which also includes physical therapy.
Michael Skehan, chief operating officer at St. Vincent Healthcare, said ending the program is related to the hospital's larger three-year strategies, called Cost to Customer.
"We want to reduce our cost to customers to ensure that we're providing the highest quality of care at the best price possible," he said.
With the pediatric outpatient therapy program annually losing $200,000, it became necessary to make the change. Skehan said the decision came through a values-based discernment process.
"That included identifying that there were at least four other providers in the area who do a really good job, as we understand it, in providing pediatric therapy," he said.
Though the hospital couldn't provide an exact number of patients in the program, the four therapists who work a total of three full-time-equivalent positions provide five treatments per therapist per day. That adds up to a little more than 14 patients each day.
Somewhere new
Wegner got the news on Feb. 1, when she took Layla for her regular morning appointments at the Yellowstone Medical Center. She was met at the door with a letter signed by Karen Costello, senior director of clinical and support services.
The letter assured patients and their families that overall pediatric services would continue to be available through the hospital. It also said that "the Billings area has many qualified pediatric therapy practices."
"I said, 'OK, find me some,'" Wegner said.
She was skeptical because three years before, when she and Tipton first brought Layla to St. Vincent, the other agencies had waiting lists of two to three months. An employee with St. V's outpatient therapy department sat down with Wegner to discuss the other alternatives. It's up to them to choose which is best for their children, he said.
Wegner found that she could get Layla into the occupational therapy program at Billings Clinic in three to four weeks, but would have to wait three to four months to get Layla into speech therapy.
St. Vincent said it would continue with Layla in speech therapy until a slot came open in the other program. But Wegner pointed out that it would be with another therapist, and Layla would be at Billings Clinic for the occupational therapy.
That kind of change can be jarring to a child with autism, she said. And then having to juggle schedules and temporarily split time between two programs is tough on parents.
"Layla will adjust OK, but change is difficult, and for some of the children it's really difficult," Wegner said.
Difficult decisions
St. Vincent has had to make some difficult decisions over the past several months related to the care of children. In July it announced it would have to close its employee child care center, which was taken over in October by a couple who had a child in the program.
In early November, it ended a decade-plus partnership with the Ronald McDonald House to provide free, mobile dental services to low-income and uninsured children across the region. A hospital official said the decision was necessary to focus on the hospital's core services.
But, last fall the hospital launched a $2.3 million fundraising campaign to renovate and upgrade its pediatric intensive care unit. Its annual SAINTS Ball in October raised $1.15 million toward it, and it received another $1 million donation that same month from Tom and Joan Scott.
Work on the renovation is underway, Skehan said. The five-bed unit will include private rooms and upgraded technology, along with improvements to the pediatric floor.
"I think it is part of our mission, making sure that we're a viable entity and can care for as many people as we can," he said. "If we can identify other organizations either to partner with or to provide those high quality services, that's OK too."
Wegner, who spoke with Skehan, said she wishes the hospital would have given all of the parents more notice.
"That day when they gave me the letter, I have to admit a few tears were shed," Wegner said. "You're comfortable with the program and the kids are progressing and still in the middle of that process. They're just not done yet."
When Layla started speech therapy, she had quit talking. So the therapist instructed Wegner and Tipton how to teach the girl sign language until her verbal skills could catch up.
Once she started talking, Layla called her speech therapist, "the bubble lady" because the therapist had her blow bubbles as part of her therapy.
"She was always so excited to see the bubble lady," Wegner said.
Get local news delivered to your inbox!
Subscribe to our Daily Headlines newsletter.