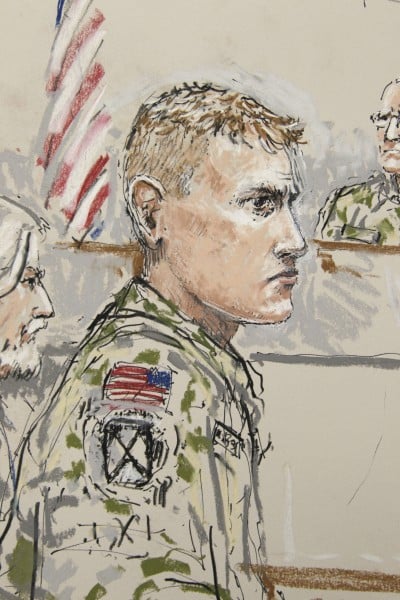 TACOMA, Wash. — Staff Sgt. Calvin Gibbs of Billings looked the part of the no-nonsense squad leader who'd keep his fellow soldiers alive when he joined a platoon three months after it hit the ground in Afghanistan.
Gibbs had two combat tours behind him when he joined the Joint Base Lewis-McChord platoon in fall 2009. He struck his new platoon mates in the 5th Brigade, 2nd Infantry Division as a "take-charge, tactically competent" veteran.
But there was a dark side. He'd rarely socialize with fellow soldiers. When he did, he started to share troubling stories about "things" he got away with in Iraq, such as shooting civilians, according to sworn statements obtained by The News Tribune.
Platoon mates said he jokingly called Afghans "savages" and espoused a "kill-or-be-killed" view of the world. Those conversations planted the seeds for three murders that he and his comrades allegedly carried out in the months after he joined them at Forward Operating Base Ramrod in southern Afghanistan.
It wasn't the kind of influence that 5th Brigade leaders hoped they'd gain from Gibbs when they tapped him to replace a wounded sergeant in the 3rd Platoon, B Company of the 2nd Battalion, 1st Infantry Regiment. Gibbs led a squad of six men.
He's due in court at Joint Base Lewis-McChord later this month. He could be sentenced to life in prison if convicted of murdering Afghan civilians, assaulting a private and keeping body parts as "war trophies." Nine of his former platoon mates have already been sentenced for crimes they committed after he joined them.
Gibbs' arrival at the forward base in November 2009 stands out as a marker in the unit's deployment. Before he showed up, the 3rd Platoon's 29 soldiers had not seen a dead body. They'd count at least five afterward, three of them from engagements the Army now considers murders.
A 532-page Army investigation into 5th Brigade leadership obtained by The News Tribune shows Gibbs was sent to the platoon after he was kicked off the brigade commander's security detail for fooling around with an all-terrain vehicle.
Investigating officer Brig. Gen. Stephen Twitty found that Gibbs quickly became a "leader of trust" to his new platoon mates despite the rumors about why he was assigned to their unit. The muscular soldier from Billings had an intimidating presence, and he gave the impression that he was a "squared away" noncommissioned officer, Twitty wrote.
Gibbs attended McKinley Elementary and Riverside Middle School. He took some classes at Billings Senior High before moving to an alternative school and enlisting in the Army. Those who knew Gibbs during his pre-high school days described him as a friendly, pleasant boy.
Some platoon mates were already spurning Army rules by the time Gibbs joined them, Twitty's report shows. Several were smoking hashish that they picked up from locals and sneaking away to get high in Stryker infantry vehicles, according to their own testimony in court.
One soldier testified that he engaged in conversations about how to cover up questionable kills even before Gibbs showed up. That soldier is the Army's main witness against Gibbs — admitted killer Pvt. Jeremy Morlock.
Court testimony at past hearings and hundreds of pages of sworn statements given to Army criminal investigators reveal a sometimes-frightening picture of Gibbs, now 26.
He is accused of plotting murder schemes based on how "easy it would be to toss a grenade at someone and kill them."
He had tattoos of skulls on his limbs that he claimed represented his five kills from previous deployments. Several soldiers said they saw him display fingers he cut from dead Afghans to intimidate a whistleblower who talked to officers about misconduct in their platoon.
Gibbs' attorney, Phillip Stackhouse, won't address questions about those gory allegations. What matters, Stackhouse said, are the three killings that could send Gibbs to prison for the rest of his life.
Those convictions could come down to Morlock's word against Gibbs. Gibbs insists the shootings took place in legitimate combat; Morlock counters that they were cold-blooded murders.
The Army's strongest case appears to be on the third killing. Morlock and one other soldier, Spc. Adam Winfield, have pleaded guilty to helping kill an innocent man in May 2010, and they've agreed to testify that Gibbs had a role.
Yet Morlock didn't mention Gibbs when he wrote to a friend over Facebook describing that killing on the day it took place.
"You missed out on me and Winnie having to handle some dude," Morlock wrote to friend and fellow murder co-defendant Pfc. Andrew Holmes.
Morlock linked up with Gibbs soon after the staff sergeant joined the platoon. Morlock has said he believes Gibbs was "feeling out" his fellow soldiers to see who might go along with him.
Morlock said in court that Gibbs told him about civilians he killed in Iraq without consequences. It'd be easy to do the same in Afghanistan, Gibbs allegedly told Morlock, as long as the engagements took place in Taliban-controlled areas where officers would assume enemy contact could take place.
Gibbs allegedly gave Morlock a weapon to carry out one of their schemes in December 2009 when he handed him an unauthorized hand grenade that Morlock could use to stage a murder.
"The way it would play out, we would pull the pin on the grenade, and then spin the story so that it sounded like this guy came toward us or was acting like he was going to throw the grenade at us, and we would have to kill him since he was a threat," Morlock told an Army criminal investigator last year.
Morlock went looking for a fight when his platoon headed out on a patrol the morning of Jan. 15, 2010. He ordered Holmes to grab the grenade from its hiding place on a Stryker vehicle and told the private to get ready, Morlock said in court.
Morlock picked his target when he saw a young farmer — a 15-year-old named Gul Mudin — standing in a poppy field. Morlock beckoned the boy toward him and ordered Holmes to join him as they stood behind a wall.
"Grenade!" Morlock yelled as he ordered Holmes to shoot.
Mudin fell dead. Gibbs allegedly cut a finger from the boy's corpse. Soldiers took photos of Morlock and Holmes posing with the body as if it were a hunting trophy. Gibbs passed the finger on to Holmes that night, Holmes has testified.
When officers asked, Morlock told them he and Holmes shot Mudin because the Afghan tossed a grenade at them.
Holmes was 19 at the time, just a few years older than his victim. He knew about the murder schemes and later felt unsettled as he realized he took part in one, he testified at his court-martial last month.
He kept his mouth shut during his mission.
"What happens in Afghanistan stays in Afghanistan," he said in court.
Village elders rejected the Army's story that Mudin attacked the Stryker soldiers. They insisted he was harmless.
They raised their complaints on a visit to the forward base, where soldiers had taken Mudin's remains.
Their arguments didn't gain traction. Officers believed the shooting was a legitimate engagement.
"The Taliban had been using all kinds of unconventional tactics," Lt. Col. David Abrahams, who met with the Afghan elders, later told investigator Twitty. "We simply chalked this up as either a suicide attack or as a miscalculation."
Abrahams' commander, Lt. Col. Jeffrey French, ordered an investigation based on the elders' concerns. It didn't go far.
"Because all three of the men directly present at the time of the killing were co-conspirators, there was no other information available other than the false reports they gave to cover up their misdeed," Abrahams told Twitty.
Aside from Morlock, three others allegedly killed civilians with Gibbs. An officer who knew them believes those suspects were vulnerable to a charismatic soldier such as Gibbs.
"Morlock was, in my opinion, a loudmouth and a soldier who was looking to intimidate others to develop a reputation," Capt. Matthew Quiggle told an Army investigator last fall. Quiggle oversaw the 3rd Platoon as the commander of the company to which it belonged.
"Gibbs likely targeted those soldiers he thought he could both bully into participating in his 'kill team' and those that may have thought that they had something to gain from joining him."
The combination of Gibbs and Morlock soon would stand out to the soldiers who served with both of them.
"Every time they get together, something happens," Sgt. Eric Skinner told Twitty.
Get local news delivered to your inbox!
Subscribe to our Daily Headlines newsletter.