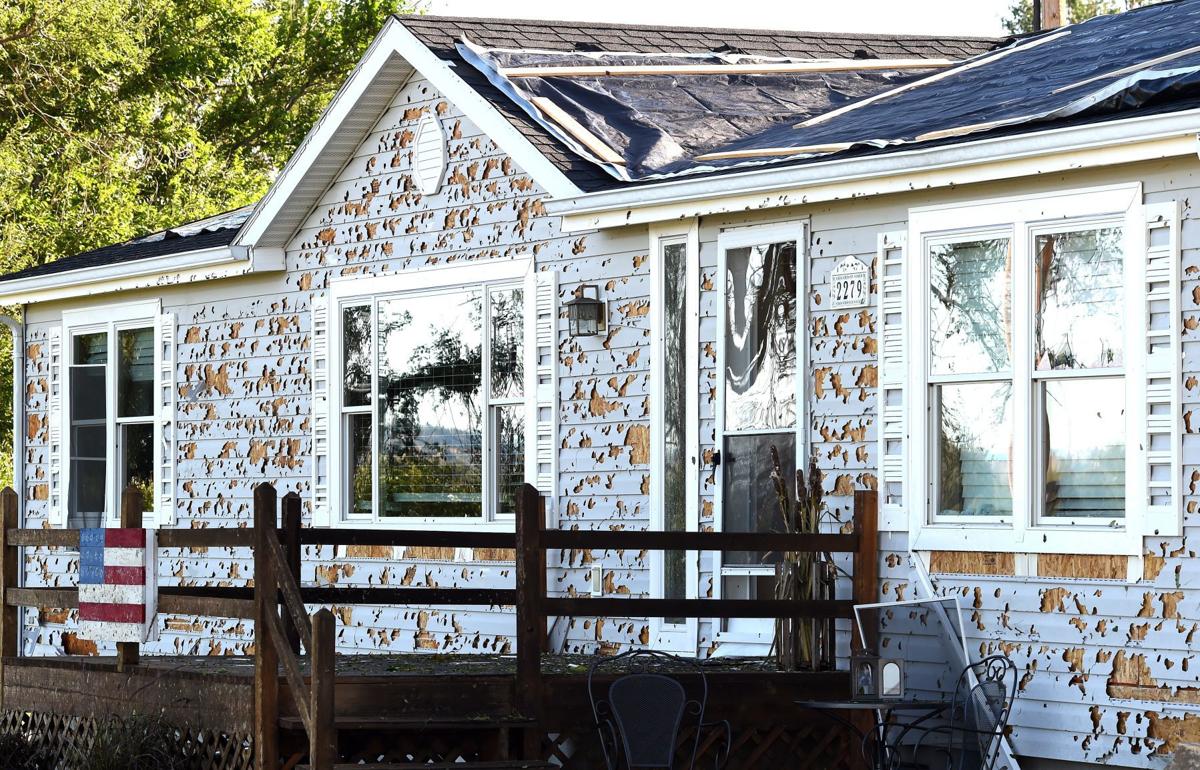 Tim Christensen attended a hail damage and insurance public meeting with the Office of the Montana State Auditor Thursday to see if he could get some answers.
Seven windows on his home needed repaired after the metal cladding received hail damage. However, the company that made the specific metal cladding for his windows is no longer in business.
He wasn't sure if his insurance company would cover them.
"I'm getting estimates to replace the cladding and I'm finding out I can't do it," Christensen said.
Sharon Richetti, the Policyholder Services Bureau chief for the state auditor's office said Montana has an advisory memorandum that requires insurance companies to follow a "matching" doctrine.
"If all your roofing shingles matched, or all your siding was the same before the loss, in order to make you whole or put you back as close as possible to your pre-loss condition, the insurance company owes for the stuff to match after the loss," Richetti said.
Under this memorandum, insurance companies may have to replace all of Christensen's metal cladding, since the same materials aren't manufactured anymore. 
"It's just a matter of knowing how the rules are, what we have available, and the support you have through the state. The insurance commissioner's office has always been great and their support in anything I've done," Christensen said. 
At least 50 others were able to get answers to hail damage questions during the meeting at the Billings Public Library, with Richetti emphasizing the importance of reaching out to the state's auditor's office with questions and concerns.
The policyholders bureau assists with 1,500 complaints in Montana each year, and recovered about $5 million for Montana consumers last year. During Wednesday's meeting, Richetti and fraud investigator, Cheri Meier, talked about what Montanans should keep in mind when it comes to insurance and contractors.
Many insurance companies can require hail-damaged cars to receive paintless dent removal instead of body repair. Many shops in Billings don't have paintless dent removal staff on-site. Richetti advised that some shops claim to waive a policyholder's deductible, to pay a deductible, or to prevent out-of-pocket expenses when they receive service.
"Frankly, that's illegal," Richetti said. "You have a contract with your insurance company."
If a shop offers a discount, the discount must go to the insurance company. Policyholders are legally bound to pay the deductible when they buy a policy.
"Body shops are not in the habit of giving money away," Richetti said.
Meier said that insurance fraud amounts to over $9 billion across the United States, and much of it has to do with deceitful contractors.
Meier suggested calling insurance companies right away after hail hits, and to keep in mind a few tips when looking for contractors.
Homeowners should be present when contractors are there and assessing damage. "Storm chasers" are contractors that follow in the wake of severe weather in order to find repair work, and some try to scam homeowners.
Looking for contractors through the Home Builders Association of Billings, Inc. is the first step to preventing scams.
"You have now become victimized twice," Meier said. "Once by the hail, and once by the storm chaser."
Jessica Iverson, a deputy with the city's building division, noted that many of this year's roof and siding permits were a result of the hail storms in August.
About 1,078 roof and siding permits were issued in September for homes in Billings, while in September 2018, 94 were issued. August 2019 saw 173 permits, while August 2018 saw 74.
"When roofs get damaged by hail, occasionally if you have huge hail stones, you might get a hole in a roof," Iverson said. "But really, it's damaging the integrity of those asphalt shingles and it really would take some weathering to actually break down to the point where you'll have leaks."
Homeowners and contractors need to apply for a permit through the city before work is done on the house, Iverson said. After applying for a permit, homeowners should request a visit by an inspector through the city to ensure that contractors and insurance adjusters are aware of building codes for the area.
Permits are also required for other buildings projects.
"It's really to protect the homeowner because if they don't know that's how it's supposed to be installed, and our inspectors aren't out there looking at it, then they might have issues five or 10 years down the road," Iverson said.
The building division has also increased red tag fees, which are charged to contractors who don't apply for a permit through the city. The red tag fee charges an additional $90 on top of the $45 permit fee, and increases with every offense.
"We're trying to improve compliance," Iverson said. "Our number one priority is to protect the homeowners in Billings and making sure they're getting a quality roof that's built to code."
Get local news delivered to your inbox!
Subscribe to our Daily Headlines newsletter.