Thursday could see more thunderstorms, a day after meteorologists warned of golf ball- and softball-sized hail in large parts of Montana, according to the National Weather Service in Billings. 
The NWS warned of tornadoes as well, but most of Montana avoided the severe storms, said NWS Billings Meteorologist Julie Arthur on Wednesday evening. Big Horn County and southern Rosebud County were hit the worst with Wednesday afternoon and evening storms. The areas reported hail, but there were no tornadoes.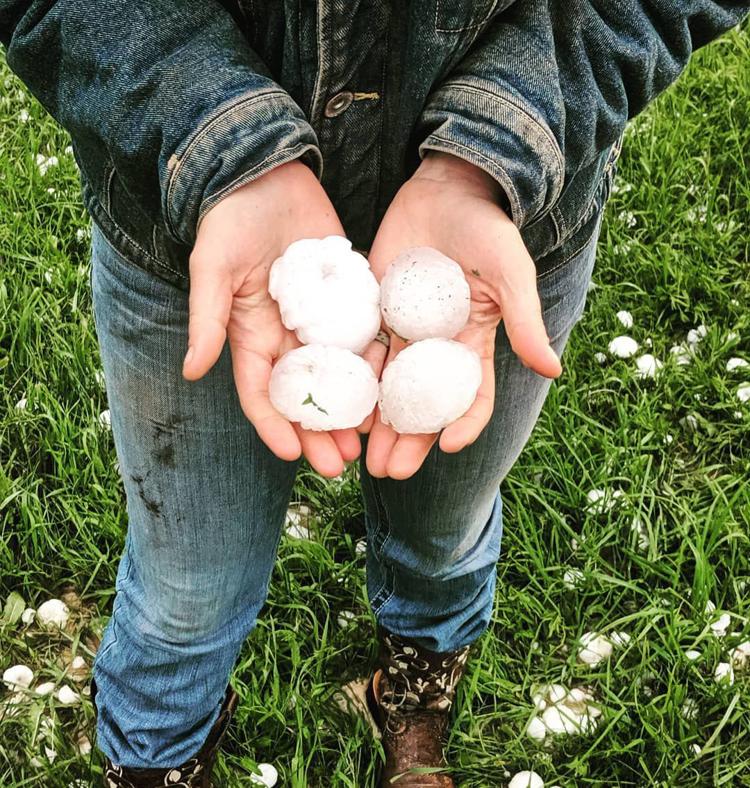 Baseball-sized hail and bigger hit in western Powder River County, and golf ball-sized hail hit about 16 miles southeast of Birney in Rosebud County. Areas of Big Horn County got quarter-sized to pea-sized hail. About 20 miles of Busby got quarter-sized hail. 
Broken windows on homes and damaged crops were reported in Powder River County, according to NWS. The hail-laden storms were moving east, and there were still warnings for severe storms in Fallon, Carter and Custer counties until 10 p.m. on Wednesday. 
Despite areas of heavy rainfall, there had been no reports of flooding or flash flooding, she said. There was a flash flood warning for Coalwood until 1:30 a.m. Thursday.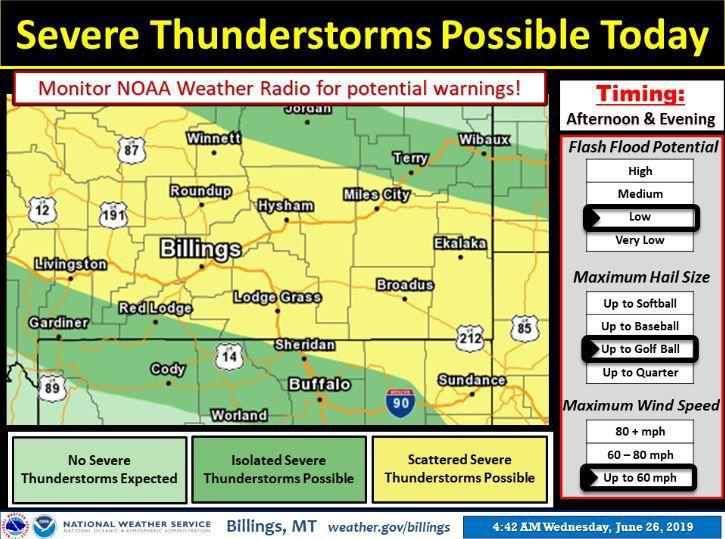 A strong southwest flow of air is over the region, accompanied by an easterly flow developing at lower levels. 
The flow aloft is strong, and the easterly flow will raise dew points under the scenario in which the severe storms take shape. Impulses, or bursts of energy are also expected off the mountains. 
"It creates a lot of good spin and sustains a lot of updrafts," NWS meteorologist Brian Tesar said Wednesday morning. Those strong updrafts keep hail aloft longer, increasing its size before it falls to the ground. 
"Historically, the parameters we're looking at today have produced up to baseball, softball-sized hail in parts of Montana," Tesar said.
By Wednesday evening in Billings the storms seemed to have passed and weren't particularly severe. Billings saw light thunder, but no hail within the city. That seems to show a bit of a trend for Billings, which has avoided the big storms so far this season. 
"If we get some rain during the morning and early afternoon that stabilizes the air mass in the area. If it's stable you can't get severe weather," Arthur said.
Arthur theorized that has been happening frequently in Billings because the spring and beginning of summer have been particularly moist.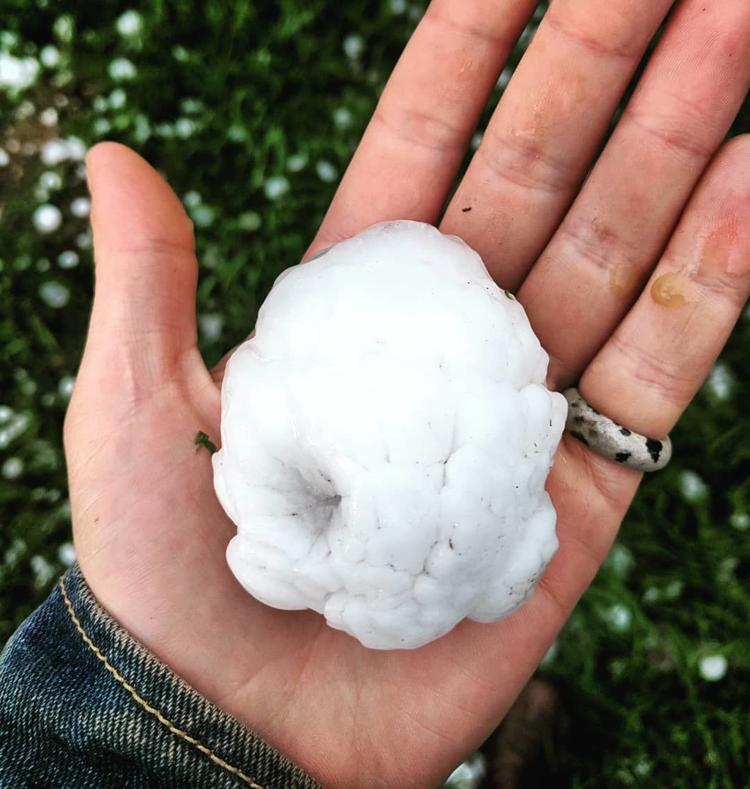 "When the moisture evaporates up into the air it's much easier to make more cloud cover and light rain," she said. "That could be one of the limiting factors of the severe weather." 
Conditions could also produce thunderstorms earlier in the day Thursday, although that weather may end up more concentrated to the north and east of Billings. The storms seem less severe, but both Arthur and Tesar advised vigilance against the weather. 
"We advise people to pay attention to our website, the radio and any weather apps to keep abreast of the latest warnings," Arthur said.