A massive rock slide in Billings Tuesday night sent huge boulders from the Rimrocks crashing into a neighborhood below, and more could fall, city officials say.
Billings Parks and Recreation closed portions of Mountain View Boulevard and the top of the Rims fearing more of the cliff could break off.
Geologists and engineers are visiting the site to determine which areas are still at risk and what work can be done to secure them. The closed area at the top of the Rims will be marked with caution tape "for the foreseeable future," parks supervisor Cole McQuillan said Wednesday.
Standing below the Rims Wednesday morning, Billings City Engineer Debi Meling said an initial survey indicated that at least two sizable chunks of cliff face, on either side of the slide area, remain compromised.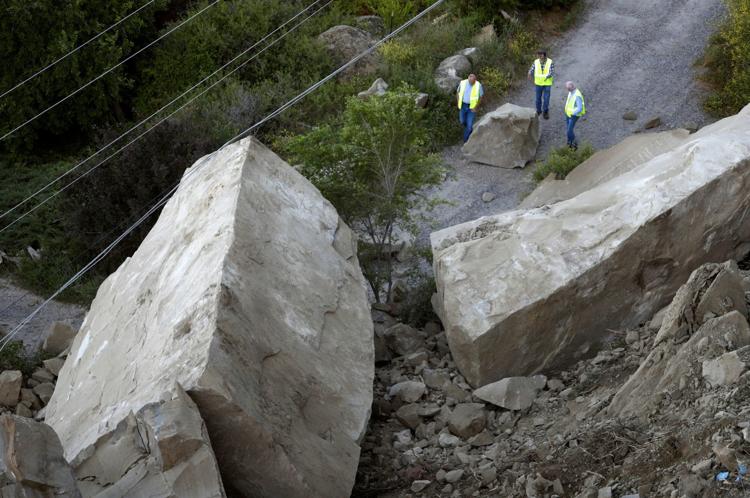 "That one, it's just a matter of time," she said, pointing to a portion of the Rims adjacent to the 150-yard section of cliff face that fell. "It could be hours, it could be days."
Residents in two houses along the road — including the one that received substantial damage Tuesday night — have been asked by the Billings Fire Department to leave their homes, Public Works Director Dave Mumford said, although the evacuation isn't mandatory.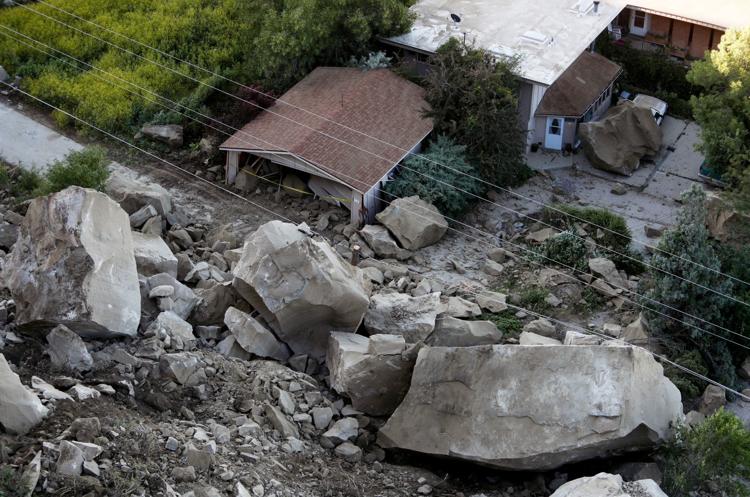 "To the east, there's a large fracture line between the rock face and the wall itself, so that's making me uncomfortable," Mumford said. "There's also some large rocks that are caught on ledges up above that could still come down. The whole area looks fairly unstable, and we need to find out how bad it is before we start trying to move anything."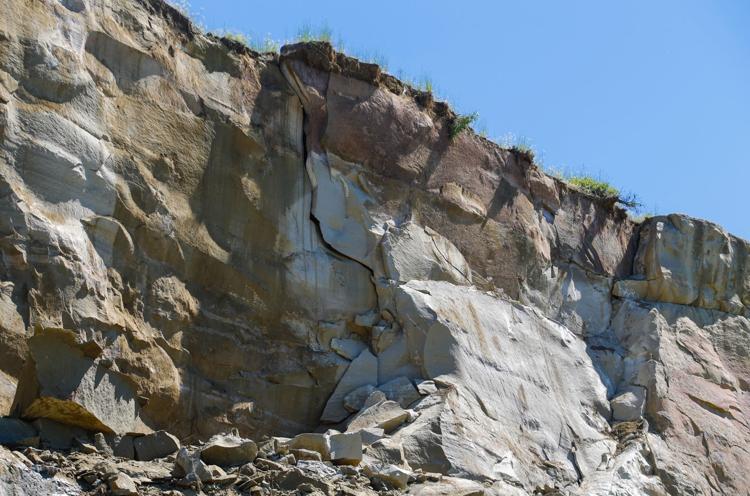 Giant boulders still cover about 75 yards of Mountain View Boulevard, and some remain precariously balanced along the hill leading up to the cliff face from the road. Mumford said he's looking into finding a contractor able to move them.
"We don't have the equipment to do it," he said. "Those rocks are bigger than anything we ever play with."
Although rock slides are somewhat routine along the Rims, Mumford said this was the largest one he's seen in his 17 years with the department.
The rock fall crushed Sheri Lee's SUV, with huge boulders narrowly missing other portions of her house. Lee's garage, however, was smashed in and filled with rocks. She said Wednesday she hasn't begun to estimate the damage, although a truck that was parked in her garage may also be totaled.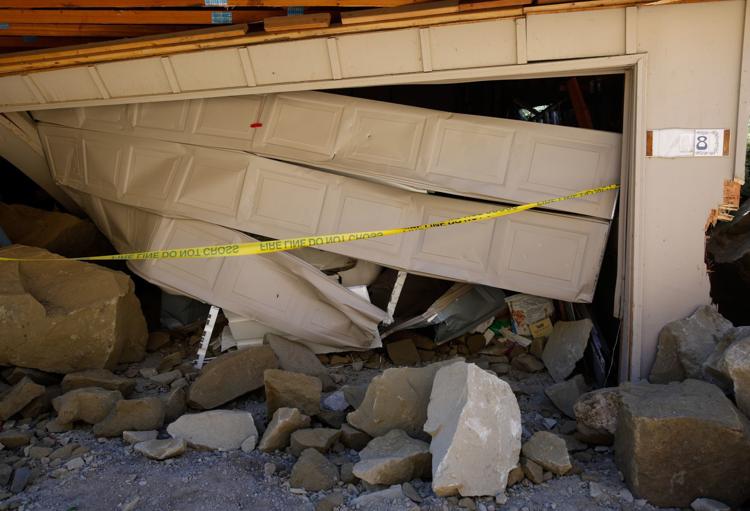 You have free articles remaining.
Keep reading for FREE!
Enjoy more articles by signing up or logging in. No credit card required.
"It could have been worse. My house wasn't touched," Lee said. "All the puppies and my two cats were safe, so who cares? Everything else is replaceable."
She said her insurance agent "sounded hopeful," but it wasn't yet clear what would be covered. Her neighbor to the west appeared to have fared much better, but also had large boulders blocking the driveway.
To the east of Lee's house, her neighbor Lance Renstrom described the noise from the rock fall as akin to a dump truck unloading a large load of gravel — but much louder.
"You hear that big rush, when the box goes up and all the material flows out," Renstrom said, recalling a sound that became familiar to him from when his father was a heavy equipment operator. The rushing sound, he said, was followed by "a big 'bang' sort of thing. But it wasn't a 'bang' — just a big noise."
When he stepped outside, he couldn't see five feet in front of him due to the cloud of dust, he said.
It may be the largest slide in recent memory, but Tuesday's rock slide wasn't the first for Mountain View Drive. A portion of the road was closed in 2014 after a succession of boulders — one of which was almost the size of a small school bus — tumbled into the neighborhood.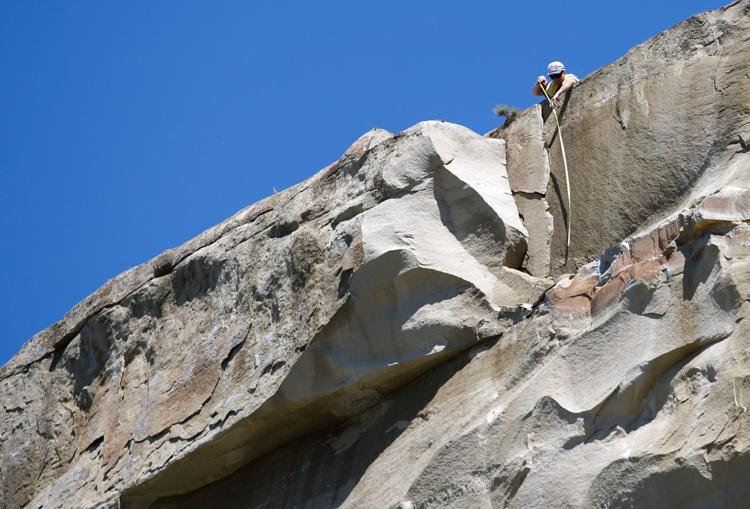 Two years earlier, the Montana Department of Transportation removed a sandstone formation along the Rims known as "Monkey Face" after a rock slide onto Zimmerman Trail. A crew from Grand Junction, Colorado, was hired to blast the massive chunk of unstable sandstone from the cliffs as part of a $718,220 rock stabilization project.
In 2010, a massive slab of rock fell from the Rims, hit the ground and splintered into dozens of pieces, one of which was a 25-foot boulder that destroyed a house on Granite Avenue. The homeowner told The Gazette at the time that just 10 to 15 minutes before it happened, he had been inside one of the bedrooms demolished by falling rock.
Outside the immediate area above Lee's house, Mumford said he doesn't expect any near-term risk, although he acknowledged it's an ever-present danger on some level.
"The whole face always has a potential," he said. "I mean, all that rock below came from above. But at this point we're just focusing on the area at the slide and on either side of it."
---
Photos: Rock slide off Rimrocks damages two homes, closes road