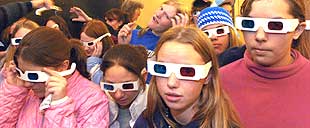 Eighth-grader Jeff Mohl cringed as the eight-wheeled space rover crawled over his back and into a sea of blue jeans, sweatshirts and giggling students from Roosevelt Middle School in Red Lodge.
"That was cool," Mohl said Tuesday afternoon. "It feels like a back massage."
When the rover's trek was over, volunteer Fred Magers was ready with his one-liner: "Now you can tell everyone you're official NASA roadkill."
Opening day for the Mission to Mars exhibit at Montana State University-Billings included visits from several local schools and curious onlookers in search of a close encounter with the Red Planet.
The weeklong exhibit by NASA's Jet Propulsion Laboratory includes a full-scale model of the Sojourner Rover, which is about the size of a golf cart, the latest images from Mars, interactive displays, a 3-D photo of the surface of Mars and, of course, the pint-sized rover that drives over willing volunteers.
The exhibit, free and open to the public, runs through Saturday in the Student Union Building at MSU-B.
NASA's traveling Mars exhibit typically shows up in urban areas but arrived this week in Montana in the hopes of finding future scientists among rural-state students. Local organizers said they feel lucky to have the Mars exhibit here.
"Many of these students would never have an opportunity to see something like this, an exhibit of this magnitude and importance," said Shelley Van Atta, director of university relations at MSU-B.
So far, 1,100 students are signed up to visit the exhibit. Another 4,000 may pass through without being part of an organized tour, Van Atta said.
Stephen Seder, a seventh-grader at Castle Rock Middle School, took the afternoon off school to visit the Mars exhibit.
He zoomed in on a counter with two colorful globes of Mars and Eric Bailey, a senior staff engineer from JPL.
"I had a thousand questions," Seder said.
He grilled Bailey about life on Mars, its similarity to Earth and details of landing sensitive equipment on the planet's rocky surface. Bailey was ready with answers, demonstrations and even images from his laptop that showed how certain pieces of equipment work.
"He did a good job," Seder said afterward.
His intellectual curiosity satisfied, Seder made his way toward the roaming rover.
"I have to go get run over," Seder said. "You don't get to say that every day."
When students from the Red Lodge school came in, they flocked first to the 20-foot 3-D photo of Mars, fumbling with the red and blue glasses and then breaking out with "oohs" when the image came into relief.
The rolling rover, though, stole the show.
Students lined up for the chance to lie shoulder to shoulder so the eight-wheeled rover could climb across them.
"That was the best part," said Samantha DeTienne, an 11th-grader at the Career Center.
DeTienne visited the Mars exhibit with her biology class. Science isn't necessarily her favorite subject at school, she said, but the exhibit offered a different view of how science might be applied in the real world.
"It's better than book work," she said. "This is more of a hands-on thing."
If you go
The Mission to Mars exhibit, part of the Deaconess Billings Clinic Science Expo, is at Montana State University-Billings this week.
The free exhibit opens at 10 a.m. daily and lasts until 6 p.m. tonight, 7 p.m. Thursday, 8 p.m. Friday and 5 p.m. Saturday.
John D. Rummel, NASA's planetary protection officer, will give a presentation from 5 p.m. to 6 p.m. on Friday at the Petro Theater in the Student Union Building.