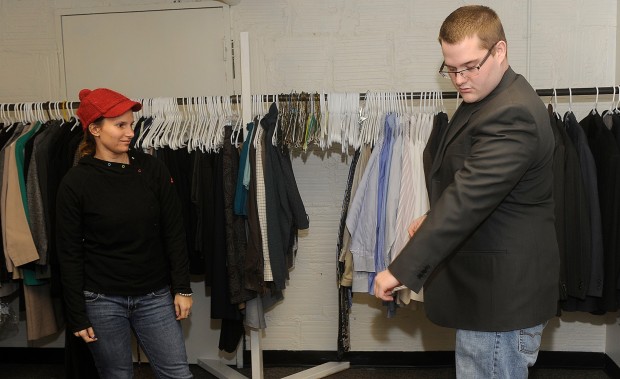 Like knights readying themselves for battle, Rocky Mountain College students will "Suit Up" for job interviews with the help of a new program.
The average college student may not be interested in changing his or her mode of dress to dark, conservative business attire. But students are interested in finding a job, said Karen Beiser, the faculty adviser for a business group known as Students in Free Enterprise, or SIFE.
SIFE students launched the SUIT UP! program this month to help prepare RMC students for job interviews and internships. The program will provide advice on how to build a career wardrobe and offer the free use of an interview outfit.
The SIFE students converted a basement room on campus into a makeshift dressing room, with a rack for business suits that have been bought from thrift stores or donated by Rocky board members and others.
The genesis of SUIT UP! came after Elizabeth McNamer, an assistant professor of religious thought at RMC, lamented how poorly students dressed for church. Beiser responded that students often don't dress any better for job interviews.
"There are a lot of people at Rocky, and probably at colleges across the U.S., who are graduating in a couple of months that have never had to dress professionally," Beiser said. "What you wear to the interview is not the same as when you have the job. Getting the job means being very conservative."
When Beiser takes students to SIFE competitions, she requires them to wear a suit.
"Most of them have not had a suit before," she said.
For an interview, conservative is the key to appropriate dress, said SIFE member Amelie Holmquist. Being "overdressed" for an interview is preferable to being dressed too casually.
"I'm a fan of dark colors with maybe an accent color," Beiser said. "You don't have to turn into a drone."
SIFE has partnered with RMC's Career Services Department to talk to college juniors and seniors about appropriate interview behavior as well as clothing.
While some students may assume they have to spend hundreds of dollars on business clothing, the SIFE team shopped at thrift stores to pick out items in various sizes for both men and women. They also accepted donated clothing.
"We hope members of the Rocky family can help us keep the inventory full enough to help every student in need of assistance," Beiser said.
The project got $800 in startup funds from the Associated Students of Rocky Mountain College. SIFE members intend to track interview results to gauge how Suit Up! makes a difference for students on the verge of a new engagement with the world.