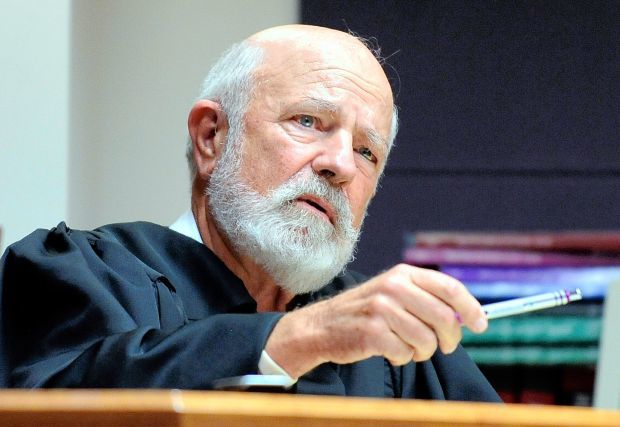 The Montana Supreme Court on Wednesday ordered suspension and public censure for District Judge G. Todd Baugh, of Billings, who during a sentencing said a 14-year-old rape victim appeared older than her chronological age.
In a six-page ruling, the court said Baugh's actions warranted suspension without pay for 31 days. Noting Baugh's term expires at the end of the year and that he did not seek re-election, the court said the suspension would begin on Dec. 1.
The court also set July 1 as the date for a public censure.
"There is no place in the Montana judiciary for perpetuating the stereotype that women and girls are responsible for sexual crimes committed against them," the court said.
Baugh earlier waived formal disciplinary proceedings and asked the Supreme Court to decide his punishment.
The judge said in response to a complaint from a judicial oversight panel that his comments and actions in the case appeared improper and failed to promote public confidence in the courts.
Baugh said Wednesday he is reviewing the opinion and has not made a decision on how he will respond.
Baugh has been on the bench for 30 years, having been first elected in 1984. After the controversy erupted, Baugh announced he would not seek another six-year term.
The Judicial Standards Commission, which filed the complaint against Baugh, had been investigating the judge's actions since last summer, when his comments about a rape victim who had committed suicide sparked public outrage and prompted calls for him to leave the bench.
The case involved Stacy Dean Rambold, a former teacher who pleaded guilty last year to sexual intercourse without consent. In sentencing Rambold, Baugh drew national condemnation for suggesting the victim shared responsibility for her rape. Rambold was 47 years old at the time and the victim was a student in his class at Billings Senior High School. The girl committed suicide while a trial was pending. 
The commission had recommended the Supreme Court accept Baugh's acknowledgement of violations, waiver of formal proceedings and consent to discipline. The commission further recommended the high court publicly censure Baugh.
The Supreme Court's order, however, went further. In addition to public censure, the justices also concluded that Baugh should be suspended.
The opinion was written by Chief Justice Mike McGrath and joined by Justices Mike Wheat, Beth Baker, Patricia Cotter and Jim Rice. Justice Laurie McKinnon dissented in a 24-page opinion.
Baugh's comments in open court, McGrath said, disregarded "longstanding Montana law" that a person under the age of 16 is legally incapable of consenting to intercourse.
Baugh's later attempt to retract his sentence and rationale was "inconsistent with Montana law," McGrath continued. "Finally, Baugh made additional inappropriate public statements attempting to justify his actions," he said.
Baugh has "eroded public confidence in the judiciary and created an appearance of impropriety, therefore violating the Montana Code of Judicial Conduct," McGrath said.
"He has caused Montana citizens, as well as others, to question the fairness of our justice system and whether prejudice or bias affected the outcome of the Rambold case," McGrath said.
Because Baugh had not consented to a suspension and because the commission did not recommend one, the Supreme Court's order gives him until June 19 to withdraw his consent to judicial discipline.
If Baugh withdraws his consent to discipline, the matter will return to the commission for formal proceedings.
If Baugh does not withdraw his consent, he is ordered to appear before the court at 9:30 a.m. on July 1 for public censure. And the suspension will begin on Dec. 1.
In dissenting, McKinnon said she disagreed with the court's decision to impose a sanction more severe than the one recommended by the commission when "we have not articulated a single rule, standard or analysis justifying this decision."
The court's decision may be viewed by some as "arbitrary and predicated solely upon the personal opinion of any particular Justice," McKinnon said. "As a result, we have ultimately exacerbated the breach in public confidence initially wrought by Judge Baugh," she added.
"Without a doubt there has been a 'public outcry' against Judge Baugh and his statements at sentencing, and the easiest thing for this Court to do is to respond with an increased sanction demonstrating our intolerance for such stereotypical characterizations," McKinnon said.
"However, the independent judgement of this Court will surely be threatened if we respond to the public outcry without applying identifiable rules of analysis," she added.
Meanwhile, the Supreme Court on Tuesday denied Rambold's request to reconsider a ruling that is likely to send him back to prison to serve more time in the rape case.
Rambold's attorneys had asked the court for a new hearing to argue that the one month he already served in Montana State Prison was sufficient.
After prosecutors from the state Department of Justice appealed, the high court unanimously ruled in April that Rambold's original sentence was illegal under a state law that says he should have served a minimum of two years.