Contrasting with the sage brush and prairie grass plastic pink markers dot the Boothill Cemetery.
From a distance they almost look like wildflowers, but the plastic markers aren't for aesthetics. Each pink stake represents one of more than 150 grave sites that were recently identified during an academic survey of the site — three times more graves than were initially thought to be in the cemetery. 
During the past four months, Montana State University Billings students surveyed the cemetery to determine an accurate number of grave sites. With the semester now over and the surveying complete, MSUB professor Tom Rust is now tasked with aggregating the data and figuring out just how many people were laid to rest in the historic cemetery. That data is in the center of talks for re-vamping the graveyard and turning it into an interpretive site akin to the Yellowstone Kelly site in Swords Park. 
At just less than 28,000 square feet, the small hill was originally thought to have about 50 grave sites. Rust now estimates there are at least 150 grave sites in the small hill.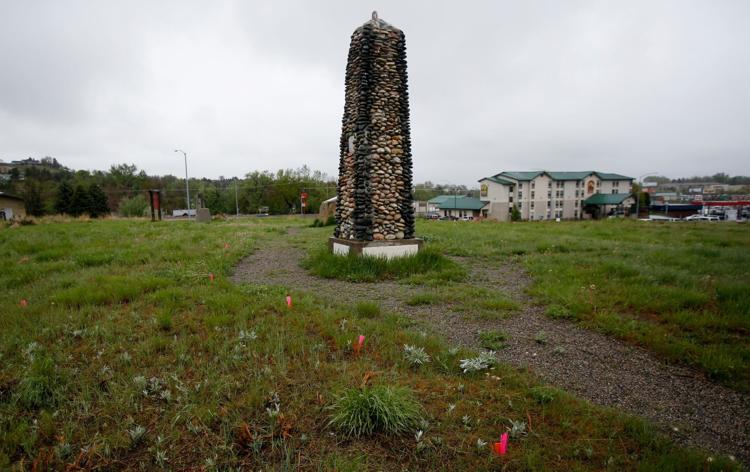 That number could grow to more than 160 bodies, but Rust is still in the arduous process of cross-referencing GPS data with magnetometer data. Large rocks and other underground debris could be misinterpreted as grave sites by the equipment, and vice versa. Rust has to go in and look at the data himself to distinguish those areas.
"We have about 165 targets, but those are not all necessarily graves because some had kind of fuzzy readings," he said. "Until we completely correlate it with our magnetometer we probably have a little more than 150 graves."
One mound contains at least seven distinct body signatures, Rust and his class found.
"Right on the edge of that mound there were two hard hits, but I'm wondering if those aren't just stones," he said. "I'm guessing there are seven people, but there could be nine."
Many of the bodies found didn't coincide with older grave markers, which were placed by Boy Scouts in the early 1980s, and some before that in the early 1900s.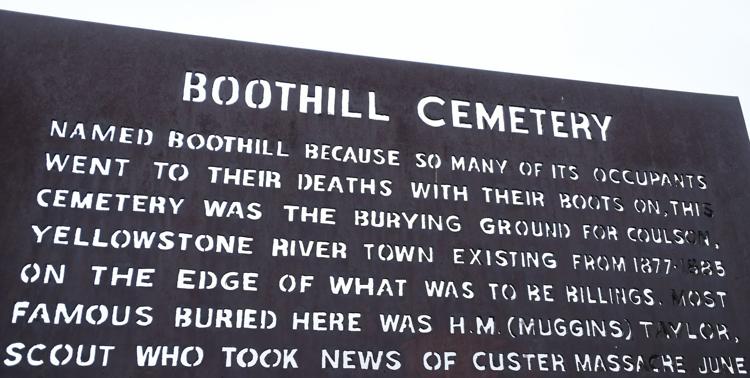 Vandalism of markers in the 1970s further skewed accuracy of the remaining grave markers, and with impartial records of the grave sites it would be virtually impossible to match the 50 or so known people to the correct grave, Rust said. Some too, may have been moved to Billings Cemetery, which was founded in 1882, now merged with Mountview Cemetery. 
The number of graves and their locations surprised Shelli Mann, manager of the Boothill Inn, who has frequented the cemetery for the past two decades.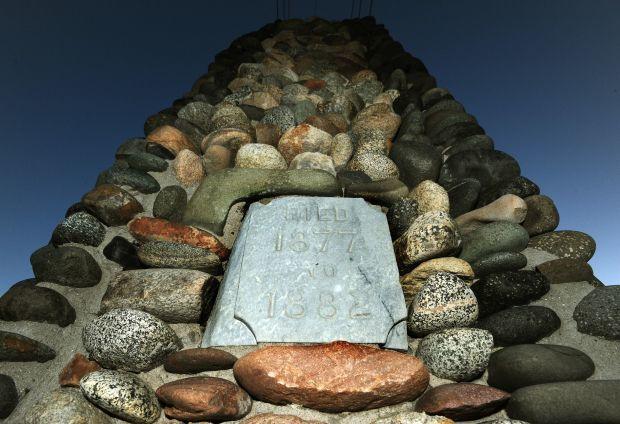 "I was surprised where some of the grave sites are. They're not where the crosses were and they are in areas that were covered in vegetation," she said. "They're not in nice pretty rows. They wouldn't have been back in the 1800s."
Historically, Boothill and the surrounding hill, going up to Swords Park, was a burial ground for the pioneers and known resting places for Native Americans.
Now called "Skeleton Cliff," the hill on the far end of Swords Park was once known as the "Place of Skulls." According to Crow history, remains were placed on the side of the hill after a smallpox epidemic decimated the Crow population. 
"The people of Coulson saw those (burials) and that's probably why they chose that little spot for their cemetery," Rust said. "Even if they're from a different culture, people have the tendency to respect burial sites."
That whole hilly area, including the Applebee's, could have once been final resting places for both Crow Indians and colonizers. As Rust pointed out, some of the graves in Boothill were pushed beyond the boundary of the hill. 
"There's a big line of rocks that mark the edge, and there are bodies right in front of those," Rust said. "There's a series of bodies right there that were completely unmarked."
You have free articles remaining.
Keep reading for FREE!
Enjoy more articles by signing up or logging in. No credit card required.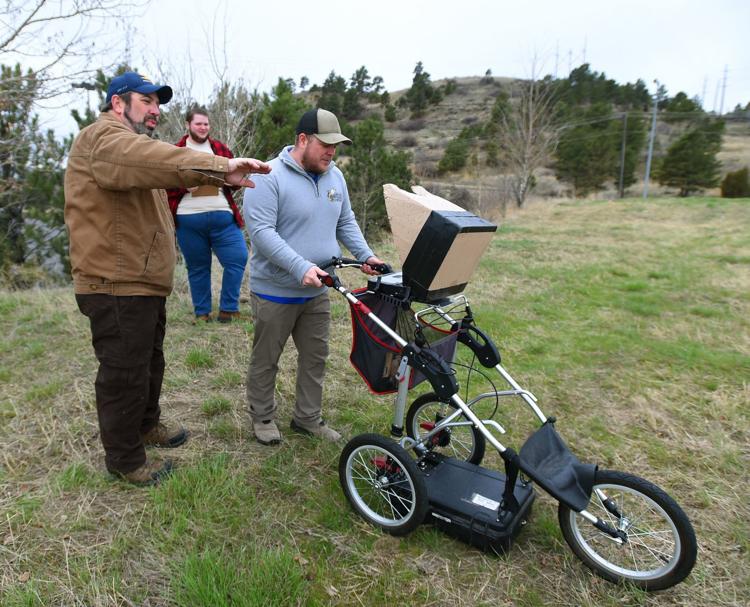 The discovery of bodies beyond the boundary, or at least the understood boundary of the cemetery, has called into question whether bodies have been lost due to development of the surrounding area. 
"Three sides of that hill became a gravel pile in the '50s and '60s. So there might have been more (graves) beyond that. On the fourth side of it is where the road is," Rust said. "They could have dug up bodies there too, but my guess is not because I think that road followed an existing road already."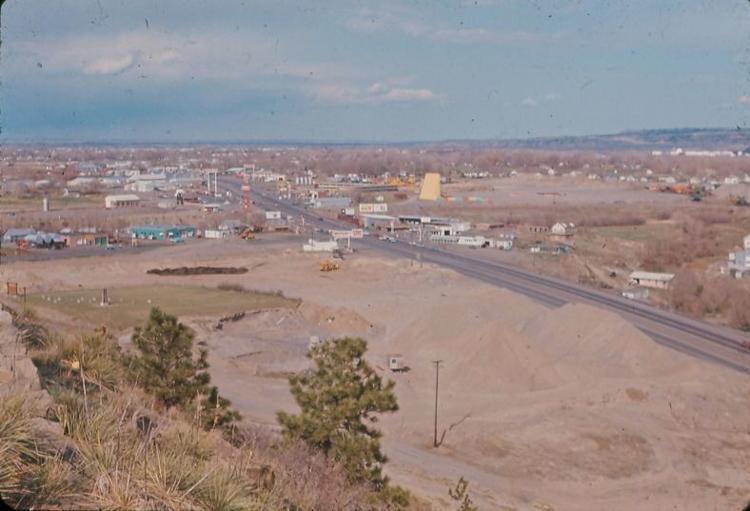 The history of Sacrifice Cliff goes back to a bout of smallpox. Two Crow warriors or scouts returned home to find a tribal encampment wiped out by the disease, including a wife or significant other of one of the warriors. Distraught, on a white horse, the two dressed in war regalia rode off the cliff, or, "The place where the white horse went down." 
For some reason in the 1900s people began to say the cliffs near Four Dances were the site of the event.
"The place where they were talking about is probably behind the Metra or Target," Rust said. There is a commemorative sign of Sacrifice Cliff at Boothill Cemetery. 

Now, both the past and future of Boothill are up for debate as the Parks and Recreation Department decides how to maintain and develop the park. 
Largely pushed by the survey, the parks department says it's ready to do more to recognize the history, and maintain the largely forgotten site. 
"The city basically ignored it and allowed it to be a native area," said Mike Pigg, superintendent of parks for the city. "We didn't really understand the historical aspect, and we're better at maintaining parks than historical aspects."
Kevin Kooistra, director of the Western Heritage Center, said WHC will be involved with some of the planning, especially with the historical aspects. 
Planning for the site is still in very early stages, and results depend mainly on what they receive in funding, Pigg said. Mann is planning on writing grants to help fund a better-marked interpretive site. In the mean time the parks department has already begun maintenance, like installing the temporary grave markers.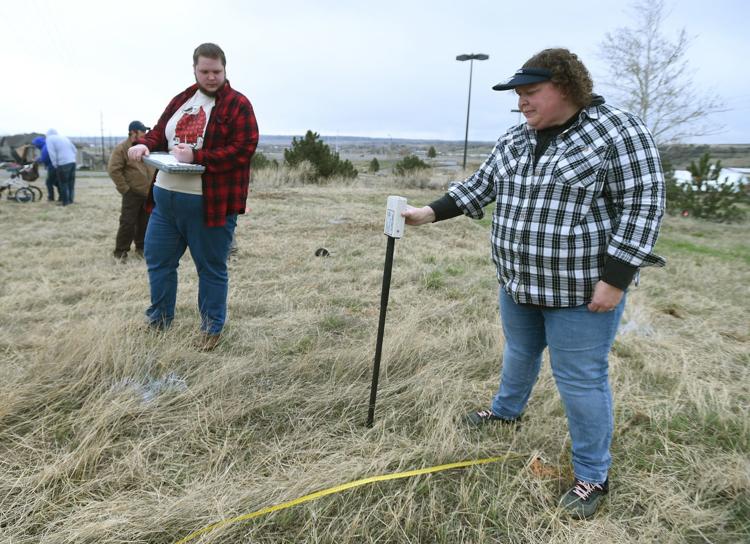 "We'll start on a maintenance plan right away. So if we decide to maintain it at 6 inches tall, or keep sage brush, we'll start that process now," Pigg said.
Pigg has already begun researching other cemetery sites across the country that are similar to Boothill to get a better idea for maintenance and potential future designs for the site. 
"I remember seeing country cemeteries, and around Memorial Day everyone comes and cleans it up and then it kind of grows back," Pigg said. "I kind of envision something similar to that."
Both Mann and Pigg want to see something more interactive, whether that means more community engagement similar to Memorial Day cleanups, or better walking paths and informational brochures. Mann has seen that news of MSUB students surveying the cemetery has already led to an uptick of visitors to the site. 
"I've had so many people saying to me, 'I didn't even know we had a Boothill Cemetery,'" she said. "I do believe the locals will seek it out more, and certainly visitors; they're looking for that wild, Wild West history."