U.S. Highway 212 south of Laurel temporarily closed Monday after a two-car crash on the new highway sent three people to the hospital.
The crash occurred at about 10:10 a.m. on a two-lane section of highway near its intersection with White Horse North Road. 
It appeared that the crash occurred when an SUV attempting to pass a semi struck another SUV "nearly head-on," Montana Highway Patrol Trooper Barry Mitchell said.
Two people were inside one SUV and one person was inside the other. Mitchell said that one person was taken to an area hospital by air ambulance helicopter, and the other two were taken by ambulance. Emergency crews used hydraulic rescue tools to open up the damaged vehicles and remove the injured people.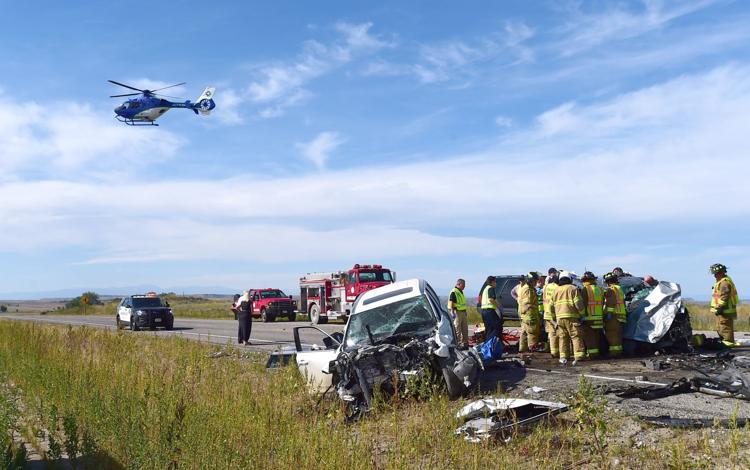 You have free articles remaining.
Keep reading for FREE!
Enjoy more articles by signing up or logging in. No credit card required.
"Everyone had to be transported because of serious injuries," Mitchell said.
MHP is working to confirm more information about the crash before releasing more details, Mitchell said. The crash remains under investigation.
Speaking after 1 p.m., Mitchell said traffic was just about to open back up.
Traffic was initially being routed around on the old highway between Laurel and Joliet.
Montana Highway Patrol, Laurel Fire Department, Joliet Fire Department, HELP Flight and AMR responded to the scene.