Greg Upham has a poster in his office at the Lincoln Center. It features Chief Plenty Coups, an icon of the Crow Tribe, and his famous quote: "Education is your most powerful weapon. With education you are the white man's equal. Without it, you are his victim."
Upham doesn't know whether he's the first Native American superintendent of Billings Public Schools. He doesn't assume that he, an enrolled member of the Blackfeet Tribe, is. But longtime education watchers from around the state reckon it's likely, not just in Billings, but among AA districts in Montana.  
Identity matters to Upham. He often talks about his mother, a Head Start director, and chokes up talking about her passing. During his interview for the superintendent job in 2018, he played up his Montana roots. And during speeches, he frequently cites how important it was for him to see himself as someone who could lead a school district — something that didn't always come naturally to him.
His vision for Billings' students is also rooted in identity. Upham's plans lay a path that pushes students to figure out who they want to be. New academic tracks plot out career focuses beginning early in high school, and he envisions a district where students have ample opportunities to earn both college credits and workplace experience while in school, where parents chit-chat with middle schoolers about future careers at the dinner table. 
He sounds like a wonk when chewing on how to improve ACT scores. He sounds like a former football coach (he is) when he talks about how to "not get our asses kicked by Bozeman" on such tests.
It sounds nice and neat, but the reality of a roughly 17,000-student school district is messy. Large swaths of students need extra academic help. Many can handle advanced courses. And there's often not money to fully address both sides of the scale, plus everyone in between. Throw in disputes among staff, parent complaints, shaking hands with other city leaders, and unforeseen yet inevitable crises.
Should Upham endorse a summer school program aiming to close achievement gaps? Or should he try to expand AP chemistry to all the high schools? Or can he do both, or neither?
"As a superintendent, you're accountable to so many stakeholders — parents, teachers, communities, staff," said Todd Buchanan, a local financial adviser who led the spring pro-levy campaign.
That's without getting to the $4.5 million structural deficit in the elementary district this year, part of a three-year trend that Upham will be tasked with reversing. Through early talks about that deficit, he's maintained that the district has to avoid cutting programs that show results and help students.
"I didn't want to have any regrets about doing something because the magnitude was too large," he said during a March interview. He's talking about both himself and students when he says too many people let fear get in the way of ambition: "afraid to take a chance, afraid to extend themselves, afraid to fail."
Value system
Upham wasn't the first choice for the Billings job. Trustees first pegged Ross Kasun, a New Jersey superintendent who pitched an idealistic vision of Billings as a "lighthouse" district. Kasun turned down their offer, and he later took a job at a different New Jersey district in August 2018, shortly before school started.
Trustees instead offered the job to Upham, then Helena's #2 administrator, who jumped on it.
"The welcome here has been, I would say, off the charts," he said.
He's lauded a "small-town" feel in Billings, but acknowledged that "you can feel the size of the district … that much more email, that many more people to call, that much more effort to make sure that you're available."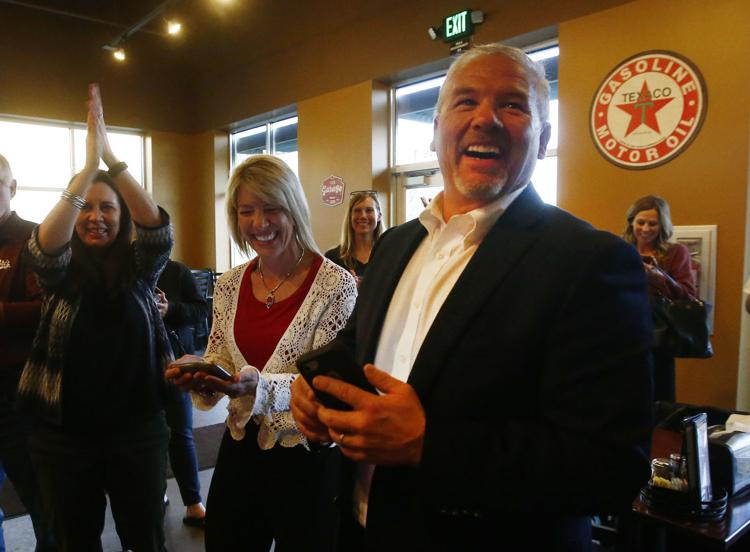 But, during the pro-levy campaign, the elementary district lingered in his mind. Trustees, on Upham's advice, chose not to run an elementary levy, instead focusing on the high school district.
Montana's school funding system asks local school district taxpayers to contribute up to roughly 20% above a state-mandated floor to school budgets through local elections. Those increases roll forward from year-to-year, and as a district's tax base and enrollment change, the ceiling goes up and a levy can raise taxes — and revenue.
"There's $700,000 sitting there," Upham said before the May vote, ticking off programs the money could fund. "There's angst in my gut."
Throughout the spring, he repeated a theme.
Upham knows it's not a reality yet, and especially not for multimillion dollar bond projects. He and trustees recently pondered a question related to 2013's $122 million elementary bond.
"How soon can you go back again?"
Finding a vision
Billings trustees have almost always been on the same page as their superintendent dating back to Upham's predecessor, Terry Bouck.
So it was a little bit perplexing to see them confused by what Upham was suggesting during a recent series of board work sessions in early August. Some awkward moments recalled silences in a classroom among students hesitant to raise their hand with an answer.  
The meetings revived high school bond talks that have been mostly dormant since Bouck announced he was retiring. But Upham wanted trustees to take several steps back before moving forward — to get past the basic warm, safe and dry upgrades.
"Is the bond just to put new roofs and new boilers in? Or is the bond to support a vision?" he said, pushing trustees to consider the latter. "I think you really have to wrestle with it. It's a deep-thinking question."
It hearkened back to a focus of his during the March interview.
"The education format, the education system, should define the facility," he said.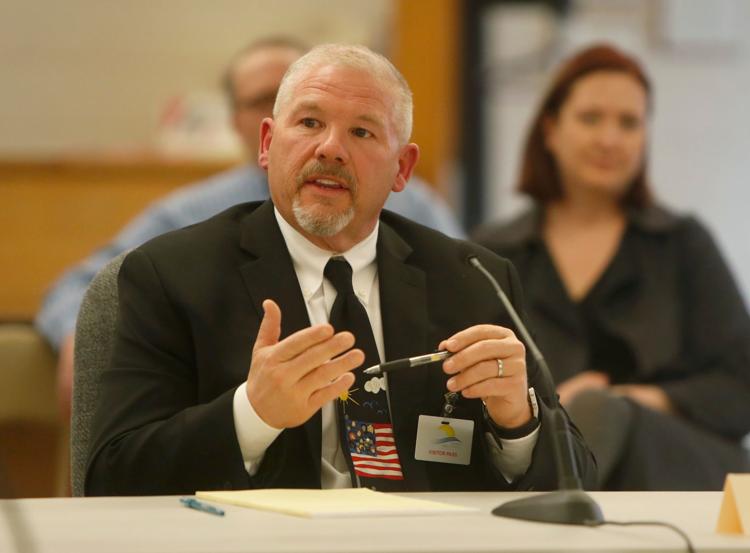 Does SD2 want to operate three high schools and a career center? Or should the career center have more of a satellite model, moving some subjects away from the West End facility? Exactly what courses do primary high schools need to offer, and how does middle school tie in?
That's not to say there were no guardrails on the exercise. Upham noted things like:
"The numbers aren't showing that we would build a fourth high school."
"The cost to go to a seven-period day is several million (dollars), for three high schools."
"I believe in my heart of hearts that the current location of the Career Center is a challenge."
But some trustees pushed for more clarity, some rules for the wrestling match.
You have free articles remaining.
Keep reading for FREE!
Enjoy more articles by signing up or logging in. No credit card required.
"What's the ask, and what are the options… A, B, C?" trustee Russ Hall said.
It's not to say that trustees are rethinking their superintendent choice. Upham received glowing evaluations for his first year and a contract extension through 2022. And trustees appeared to accept Upham's declaration, when gauging their tentative reactions, that "we're not ready. We're not even close."
Rather, Upham himself acknowledged after the meeting that he should have communicated more clearly — something that others have said is critical in Billings.
Pushing bigger
Buchanan, the levy booster, started off just hoping for a modest job shadow program. Working with other leaders in Billings' business community, he felt like schools could partner more with local businesses, with an eye toward maintaining a stable workforce.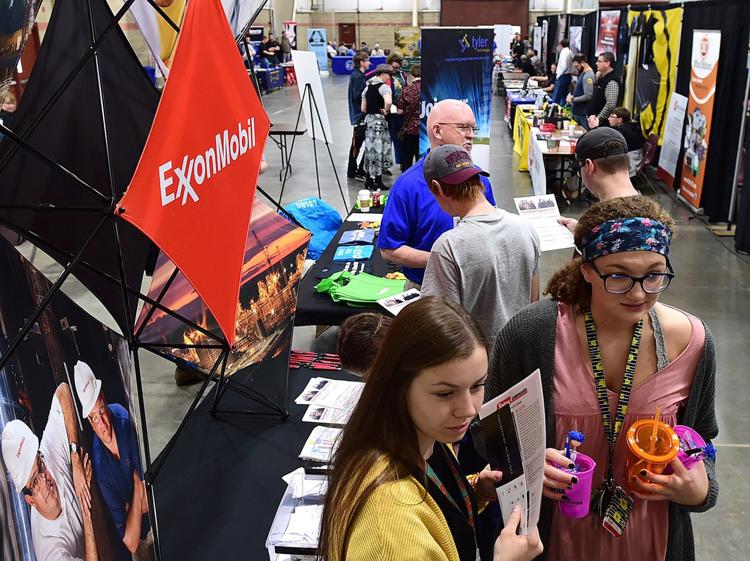 It's not like previous administrators had ignored business groups. But Buchanan said Upham pushed students to the front of the line.
"He gives them the opportunity to be the point of contact with the community," Buchanan said.
The pair worked well together to the point that Buchanan quickly said yes when Upham called him about leading a pro-levy campaign.
Tax hikes are rarely an easy sell in Eastern Montana, including for school districts. But Buchanan felt like SD2 had momentum after passing elementary levies, and that the 2013 bond had built trust. He also felt like the levy proposal — to fund career counselors and textbooks — was solid.
"The community understood where this money will be invested," he said.
That kind of communication has bolstered Upham's relationships with movers and shakers, Buchanan said.
"Many of them say, 'it's clear you're listening to the community, Greg.' And that's a real compliment," he said.
He suggested a similar approach for future tax requests:
"Keep it simple, and keep it on point."
The unexpected
Everything got a lot more complicated for Billings schools this summer.
Chief Financial Officer Craig Van Nice, in early budget projections, realized in May that the K-8 district would face a structural deficit. It got worse as the budget solidified over the summer. The $4.5 million hole could be filled with temporary budget moves, but the structural trend stretched back three years and needed to be addressed.
"Everything's on the table," Upham said when it come to addressing the shortfall. But he's insisted that the response needs to be calm and avoid knee-jerk cuts.
He points to improvement for Billings schools on ACT scores this year, and on internal standardized testing of elementary and middle school students. He's emphasized that those gains are hard won, and highlighted shifts like teacher use of Professional Learning Communities, the collaborative approach that spurred early-out Wednesdays.
The shortfall emerged as Billings opened two new middle schools, part of the 2013 bond. Those projects, and others, addressed a class-size crisis that led the state to threaten SD2's accreditation. Upham endorsed them as the right move, even after the shortfall was found.
He has already said that he'll recommend a levy, but that won't fill the full gap even if it passes. Finding a solution will hearken back to the balance of how to spend limited money to address a wide variety of student needs.
Upham has lauded things like music, theater, art and sports as "a lot of the reason students want to go to school." He frequently gripes about the state's 400-1 counselor-student required ratio as insufficient to deal with both academic and career counseling and mental health issues for students. He wants to target parents and families to push career conversations with their kids in middle school instead of waiting. He also green-lit a new small-scale summer preschool program this year.
He also knows the district has to pay its bills. 
The expected
He doesn't shy away from the achievement gaps between American Indian and white students that plague almost every school district in Montana.
"That experience of being an American Indian gave me an appreciation for education," Upham said. "It is the great equalizer. It does shift the norms."
Too often, it hasn't been equalizer. Students from dozens of different tribes attend Billings schools. They're more likely to come from poor families than their white peers, and they're less likely to graduate, perform well on standardized tests, or attend college. Reasons for the gaps are complex, and some American Indian students earn accolades, but the large-scale gaps are real.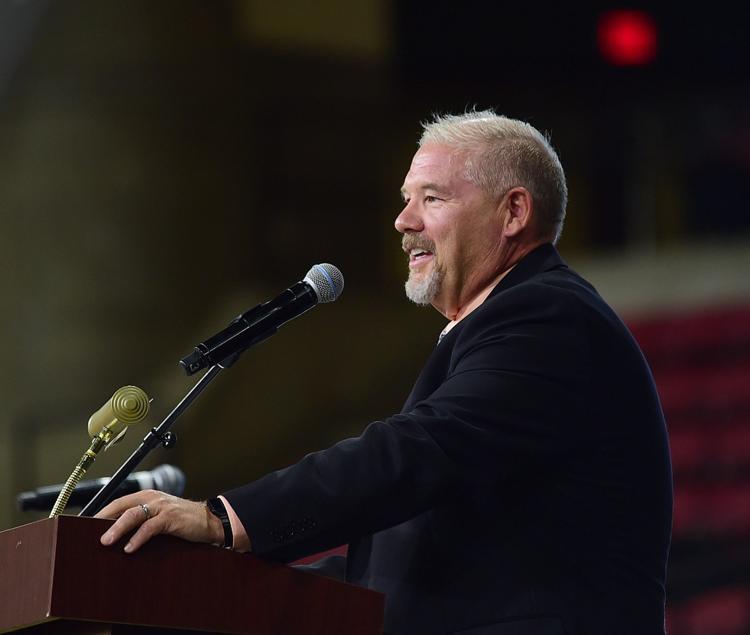 Upham grew up around a program focused on closing those gaps — Head Start, a federally funded preschool program that targets kids from low-income families. His mother ran a program before her death at age 53.
Upham was largely raised by his grandparents early in life, but after that, "it was just she and I," he said. "My role model was my mom."
That's informed his belief that "young people need role models." But he doesn't see his identity as an extra weight, or more pressure, to close racial achievement gaps.
"I don't. I just see students as students," he said.
But there is another part of his identity that Upham seems poised to double down on, whether he's pursuing a high school bond or trying to close and elementary shortfall.
"I believe in my heart of hearts that at the end of this, kids are going to find success," he said, "because we had the courage to take risks."