Perhaps the best thing that students and teachers could say about textbooks at Billings Senior High is that they rarely get stuffed into a backpack.
Stripped spines, missing pages, and cratered covers show some of the damage that textbooks in subjects like history, biology and English bear. Fearing the books will fall apart, most teachers don't allow students to take them home.
And, then there's the content of the books. Students said that some teachers won't use books because they're too old, like history books that pre-date the 9/11 terrorist attacks.
"The kids want to learn," said English and history teacher Judy Barnes. "(But) there are so many things not in these books."
The textbook complaints aren't new, but their center-stage role in a levy campaign for Billings public high schools is.
The district is asking voters for a tax increase that would boost property taxes about $5 a year per $100,000 of home value. Billings has passed elementary levies in recent years, but it's been 12 years since a high school operational levy passed.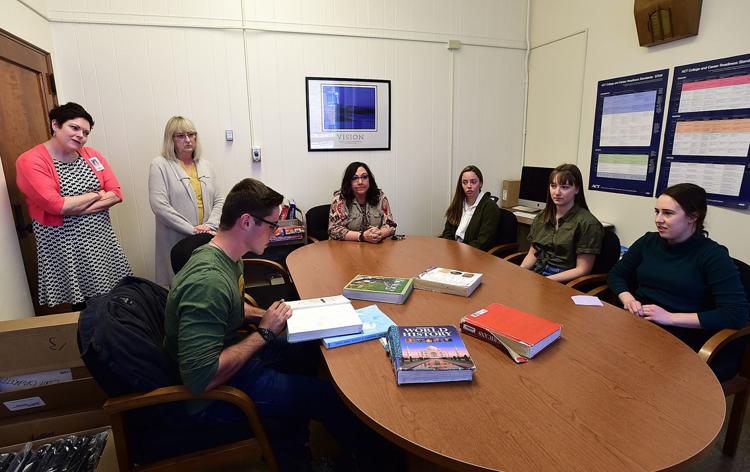 Ballots for the mail election will go out Friday and are due back by May 7.
Montana's school funding system sets budget floors that include state, federal and local money. Schools can exceed that floor by about 20 percent, but only if local voters approve.
If the levy passes, it will raise almost $1 million per year. Most of that money would go toward textbooks and other curriculum materials, like online resources. The rest would fund four career-specific counselors, one for each high school plus the Career Center.   
That textbooks have most of the attention isn't surprising. The books are one of the most accessible barometers of education for students and parents, a tangible brick in an often jumbled world of education policy.
A handful of teachers have applied for grants or other measures to get small book buys for specialty courses like Advanced Placement biology. Teacher Lisa Hatlestad pleaded her case to a textbook company rep.
"I gave him a sad sob story," she said.
But overhauls for core classes can cost hundreds of thousands of dollars, if not more than a million dollars. 
Right now Billings Public Schools spends about $60,000 per year on replacement of high school materials, which isn't enough to keep pace with replacement schedules.
That's left students to resort to measures like snapping smartphone pictures of book pages.  
"When you only have five minutes in class to take your pictures, you don't necessarily know what you need," said junior Quinn Sanderson. "You have to rush through it to finish."
Junior Parker Kraske called the textbook situation "pathetic."
"I should have the opportunity to take the book home and read through it," he said, while acknowledging it's not many students' idea of a good time.  
If a book breaks beyond repair, students are on the hook to pay for a replacement. Students said that happens with alarmingly little additional stress on the books.
"It's not like people are throwing their books around," said sophomore Rosa Marie Roccisano.
Some research shows how students feel about the physical condition of a textbook affects how they soak in information from the book — the worse shape the book is in, the worse they learn.
Students and teachers said they related to that idea and that they felt like poor textbooks affected academic outcomes, like ACT scores. 
"We want (students) to feel supported and valued," said English teacher Jenny Fleek Airne. "(The books) send a non-verbal message. … The message I would recognize is, 'I'm not valued.'"
She related that message to the cost of the levy — "that 'I'm not worth three cups of coffee.'"
Barnes spoke to a theme that new Superintendent Greg Upham has repeated this spring, that levy passage needs to become more consistent in Billings.
"We need to change the culture of supporting our high school kids," said Barnes.
Kraske offered his thoughts on how the district can work to change that.
"It's a lot of money. We shouldn't act like we don't know that, we do all know that," he said. "I hope (if the levy passes) they're using it appropriately and effectively."