Tracy Linder has been listening to the voice of Montana's prairies since she was young. On Nov. 12, she unveils a retrospective of her work at Yellowstone Art Museum.
The exhibition represents Linder's artworks since 2007, crafted from the fabric of the earth. Tiny birds shaped from cottonwood leaves, fallen tree limbs wrapped in leather, beeswax-coated objects, animal bones, grasses, and crops intertwined into sculpture create an elemental excavation of Montana's land.
The prairie has long been part of Linder's operating system. She grew up on a farm west of Billings and maintains an artist studio at her home between Acton and Molt, where she and her husband have lived for nearly 30 years.
"A lot of my work is about the life cycle," Linder said. "Death is just such a part of every day, even when you don't want it to be, but you have to face it."
Linder's sense of how life and death unfold plays out through leather, stitched seed pods, resin wings, and other representations of the natural world. This is her second solo show at the YAM and her second of 2020. Her exhibition "Omnivorous" is currently on display at the Lewistown Art Center.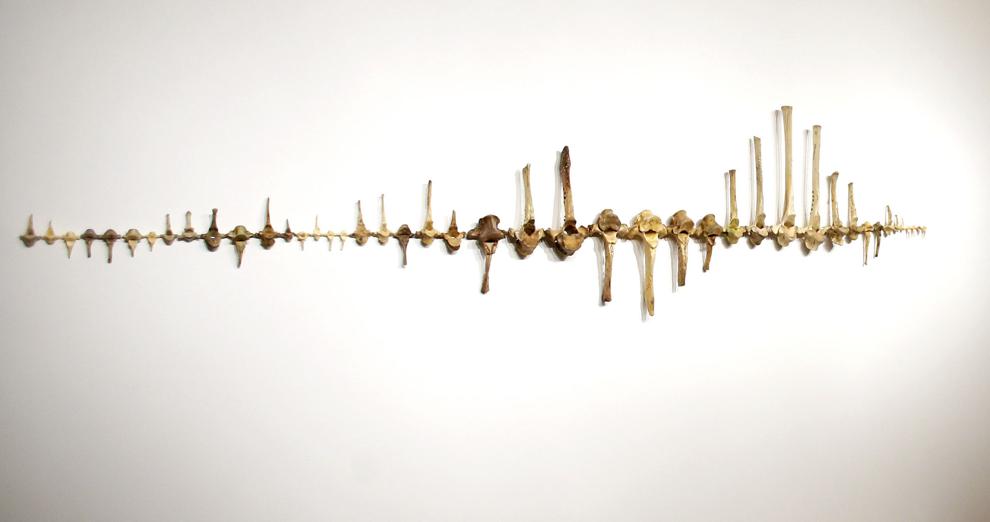 A centerpiece of the YAM show, "Horizon," is 40 feet in length, comprised of various animal bones Linder has collected across the years, encased in beeswax and embedded with wild and domestic seeds and weeds. She describes "Horizon" as a voice track or heartbeat of the wild spaces she has long enjoyed and worked upon.
Linder's upbringing in farming informs her work. "Everything is cyclical," she said. "And so much of it is repetitive. You are driving up and down a field with a tractor over and over and over again all day long. It was my innate sense of how work happens."
Ranch life has so much loss, Linder said. "It's the sensibility of knowing that the dead animal becomes coyote feed ... Calves and cows that passed on before their time ... Every rancher has their bone piles."
Circle of life
Linder's show occupies the YAM's expansive upstairs gallery, and she didn't shy away from using the space in an nontraditional way. Spread across the gallery floor is "Pound of Flesh," a haunting think-piece based on the practice of grafting, where the skin of stillborn calves or those that die soon after birth can be tied to a living, orphaned calf.
As Linder explained, "sometimes it's a twin, or a mother that dies. For whatever reason, you have a calf that needs milk." Because cows don't typically adopt another's calf, and they are smell-oriented, the process of grafting can give an abandoned calf a second chance.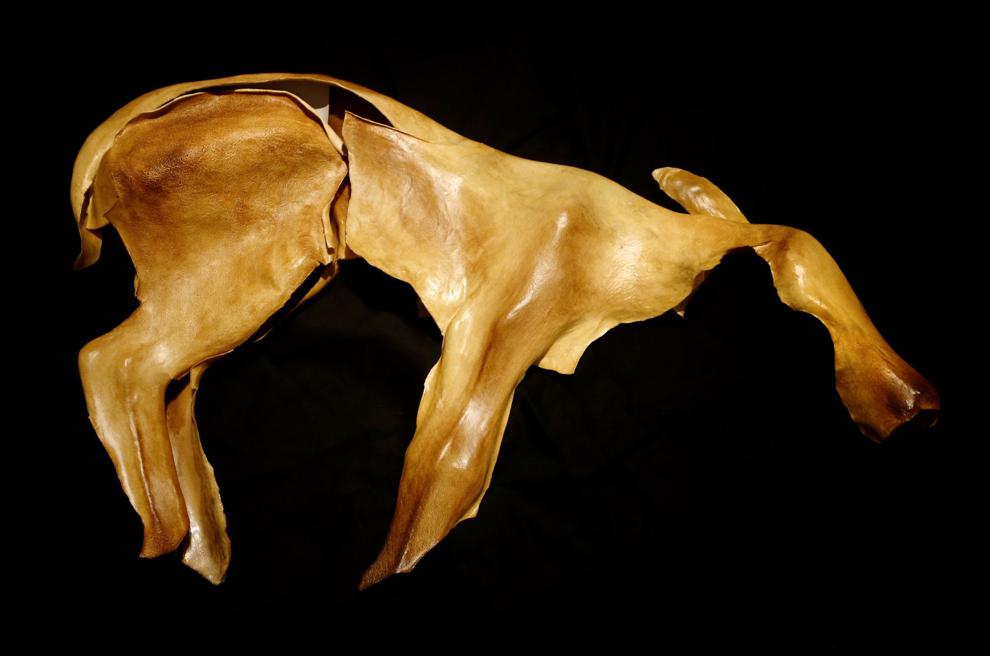 "The full circle of life happens in such a short time-span, and it's so automatic when it happens. If the calf is dead and you have another calf, you go right to skinning. There is a process."
That process, which Linder has experienced, isn't talked about often. "It's a difficult moment," she said. "It's sad. It's not just an economic loss to them; they have taken care of this cow throughout her pregnancy, and disaster strikes, and you just have to make the best of it."
A dozen calf sculptures shaped from leather are on display across the ground of the main floor gallery, placed gingerly atop mulch. After researching Chicago's Field Museum practices, Linder approached the YAM for permission to use mulch in the museum, which has been frozen, thawed, and refrozen to kill any insects or eggs. "The last thing you want to do is infest (the museum)," she said.
The piece contrasts these grafts with the ideas of eating beef. Three are hanging, reminiscent of pulling the calf from its mother, as well as a slab of beef hung at a butcher's shop.
"We are so withdrawn from the source of our food when we go to the grocery store. It's so easy to buy a steak and not think about the life," said Linder, who was inspired by Wendell Barry's statement that "eating is an agricultural act."
"This is not to shame people for not knowing where their beef comes from, but to introduce them, that there is a life that took place for you to have this protein on your plate and the whole gamut of decisions that the rancher has to make — whatever takes place during the lifespan of that calf until it hits your plate."
Experimentation, and failure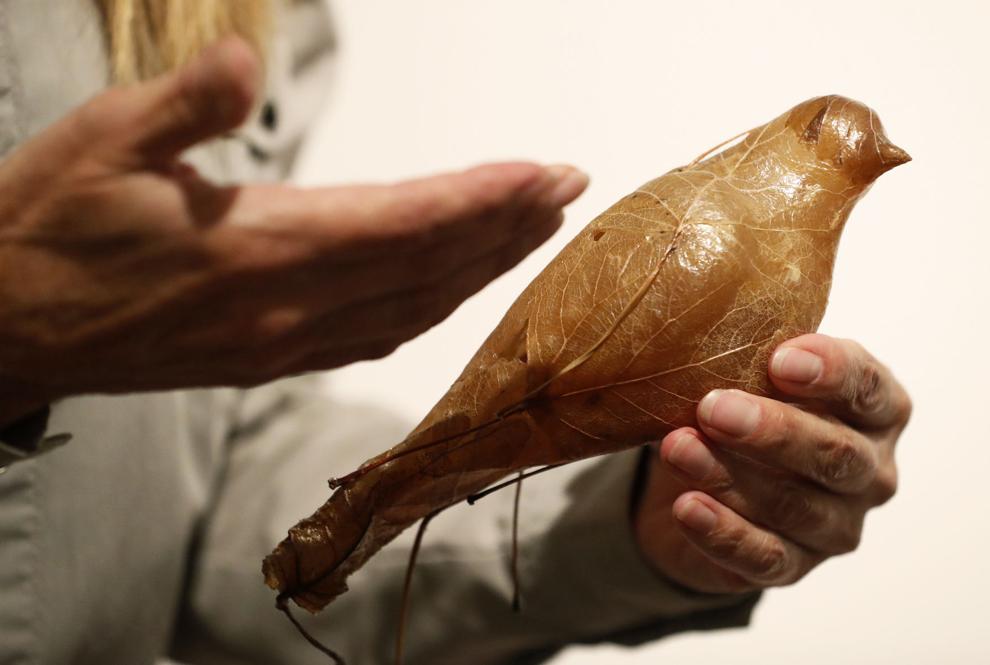 Linder's creation process takes time and experimentation. "I've learned, get it started and be prepared to sit with it for a while until you really know what it's about."
She often creates one or two pieces based on a vision. "Everything starts as an experiment … And I get excited, which happens all the time, even when it's massive failure."
The YAM exhibition includes 36 "Sacrificial Limbs," fallen branches Linder collected. She was examining how trees can sacrifice a limb to keep growing, either through natural attrition, storm, or human intervention.
Each limb has hand-sewn leather atop it, crafted with meticulous and tiny stitches. "I am probably an obsessive artist," said Linder, whose work is often repetitive and done in series. The limbs are amplified through repetition, each accounting for hours of time on an object that was discarded. "I wanted to offer it some resurrection."
Smaller works, such as "Sowers," seed pods made from rabbit hide stitched and turned inside out to represent milkweed, or the "Shill Shell" birds made from leaves are a bit fairy tale — and a bit unnerving in an extraterrestrial appearance.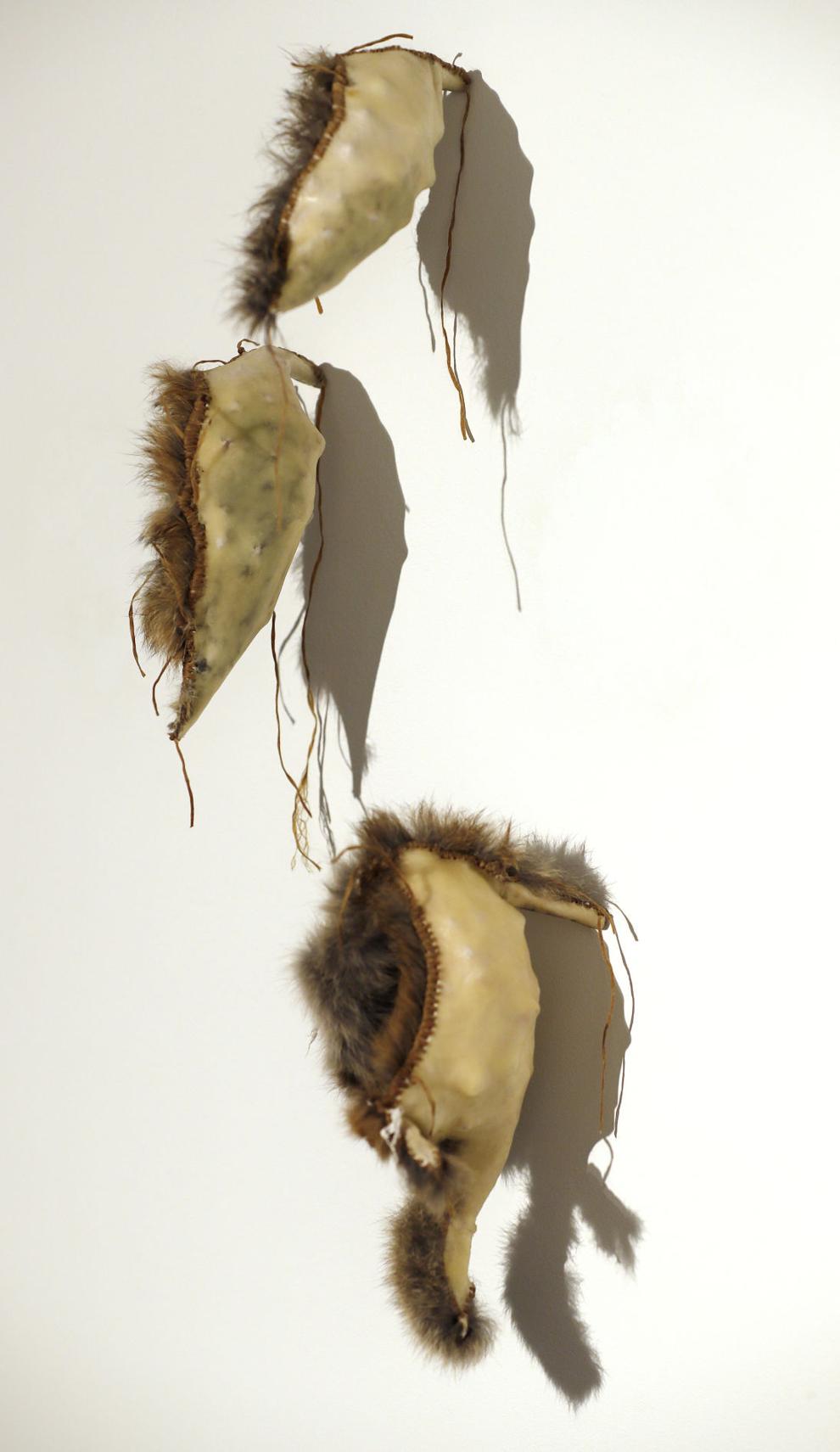 Utilizing what she can get her hands on, Linder's sense of environment showcases the adaptability of animals and farmers alike to the shifting land and climate.
With her husband, Yellowstone County Sheriff Mike Linder, she maintains 20 acres and helps her neighbor with the annual grain harvest. Graduate school was the only time she was removed from farming life. From her experience with plows, she made "Windswept," a series of translucent wings in varying sizes that shimmer indoors in deliberate lighting. "Especially during harvest, the birds wait for the earth to be overturned, taking advantage of harvest."
That cut earth also inspired four life-sized plowshares, made of resin and harking back to agriculture practices. Each represents one of the four elements. Encased are ashes from grass fires and burnt branches, seeds for planting, grasses turned for sod busting and crops grown in its place, pebbles from river bottoms, and imprints of birds.
"Every material has a memory," said Linder. "I capitalized on that … Everything I put in my work resonates with the history."